10 Birthday-Themed Toys To Give Your Pup The Best Day Ever
He deserves one of each 🎁
We independently pick all the products we recommend because we love them and think you will too. If you buy a product from a link on our site, we may earn a commission.
Though you definitely don't need a special occasion to treat your dog to a new toy, celebrating his birthday gives you a great excuse to pick him up a new plush (or 10).
The Dodo rounded up some of the cutest dog birthday toys online that will take your pup's birthday party from good to great. And after the cake and ice cream are gone, your BFF will have these toys to carry the party into the next year ahead.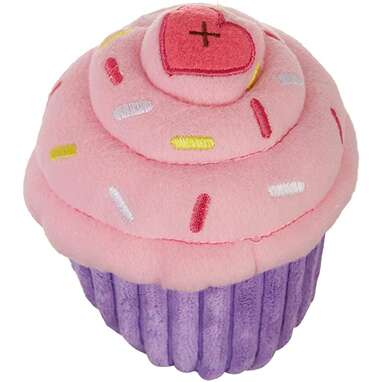 Soft and squeaky, the ZippyPaws cupcake toy is the perfect gift to bring to any dog birthday celebration. It's super cute and stands up to even the biggest birthday pups. "I bought this toy for my 165-pound dogue de Bordeaux for his 6th birthday," one pet parent wrote. "He LOVES it! And my 6-month-old DDB puppy loves it too! Great quality, almost one week in and still intact! I would buy this again!"
The squeaky plush dragon from goDog is crafted with a chew-resistant lining that can hold up to even the most aggressive chewers. And if it rips, goDog will give you a one-time replacement. "Let's be real here. No dog toy is indestructible. [However] these goDog toys are incredibly durable, relative to anything else on the market," one dog parent wrote. "I bought this brand years ago and the only thing that killed them was the mower. The squeaker lasts a long time and they wash well in the washing machine."
Pop the bubbly and cheers to another year! This plush bottle of rosé from ZippyPaws isn't stuffed, but instead holds an empty water bottle, which satisfies your pup's crunch craving. "My dog is OBSESSED with this thing!" one five-star reviewer wrote. "When the water bottle that came with the toy became too crushed, I put a new one in very easily … She carries this around all the time. She usually destroys everything but treats this toy pretty delicately. Love this!"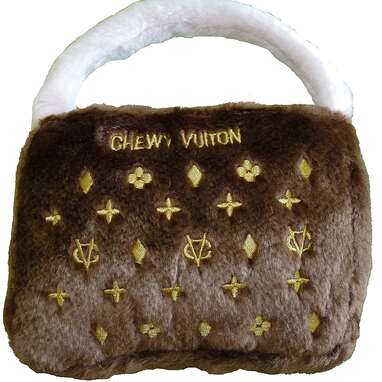 If your pup enjoys the finer things in life, gift her one of these hilarious "haute couture" handbag toys from Dog Diggin Designs. Designer names include Chewy Vuitton, Diane Von Furstinbone, Gucchewi and more — all of which are plush, squeaky and runway ready. "Lemon Drop got a Chewy Vuitton for her birthday. It's her favorite purse LOL!" one pet parent wrote. "I ordered this in size small and as you see in the pic it fits and she enjoys carrying it around. Just like a lady holding her clutch!"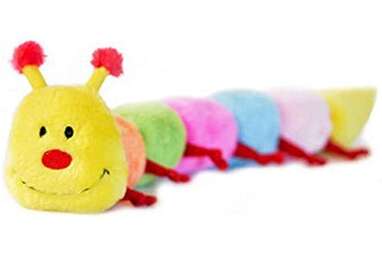 With six squeakers, your pup will have a heyday with the ZippyPaws caterpillar plush toy. It comes in two sizes (large and deluxe) and is perfect for pets of any size. "My dog, a 60-pound Aussie/doodle/Old English sheepdog, has a toy box filled with her doggie toys … This toy is a winner," one pet parent said. "She loves it. It has several squeakers that seem to hold up to her chewing. When she's done chewing, running after it and throwing it in the air, she loves to cuddle with it. Reasonably priced. Lots of fun."
This realistic cut mango toy cleans your dog's teeth and keeps him entertained with its treat-dispensing mechanism at the bottom. It comes in three sizes (small, large and extra-large), and is great for aggressive chewers. "My 1-year-old German shepherd likes to chew!" one five-star pet parent wrote. "Toys that are labeled tough and 'for aggressive' chewers last about 10 minutes. This toy has lasted for days (so far). I have spread peanut butter on it and she really likes that."
She's shiny, she's squeaky, she's adorable and she's ready to become your little dog's best friend. This cute and cuddly unicorn is a favorite among small dogs, and her festive colors make her the perfect dog birthday toy. "Bought this for my mini Aussie [and] she absolutely loves it!" one five-star reviewer wrote. "She's been playing with it nonstop [and] I've seen no rips or signs of destruction so far. I'd definitely recommend this cute little squeaky toy for growing puppies!!"
With over 30,500 five-star reviews, it seems that all dogs love this fun hide-and-seek squirrel toy from Outward Hound — so your pup absolutely deserves one for his birthday. It comes in several different sizes depending on your dog's breed, and pet parents say it's the best toy a pup could ever have. "We have a boxer mix pup that is wild and stubborn. I have bought her countless toys, bones, etc. She never really holds interest in any. Enter the squirrel log," one five-star reviewer wrote. "She generally destroys everything but instead nuzzles and loves on these little squirrels. This dog is generally unimpressed by all dog toys but actually plays with this one, so this pup mama is impressed."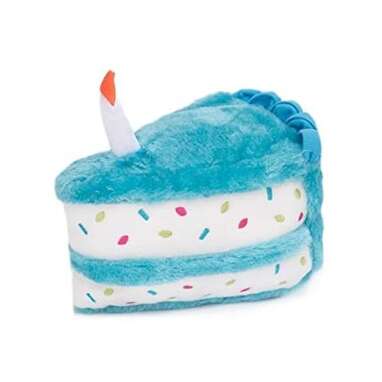 Of course your dog needs a birthday cake toy for his birthday. And this one from ZippyPaws is not only soft and squishy, but it contains a "high-quality blaster squeaker" that will keep your pup coming back for more. It's almost as good as a real piece of cake. "I have two dogs and for one of their birthdays I bought two of these — one for each of them. These quickly became their favorite toys in the house," one pet parent wrote. "I have no idea why these cakes are so great to them, but they seem to derive great joy in being as loud as possible with them."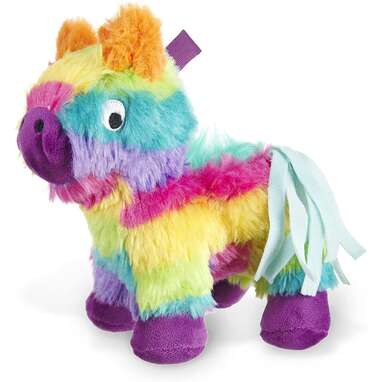 Every party needs a piñata — but instead of candy, this one is just full of fluff and fun. The BarkBox piñata toy provides hours of fun with multiple squeakers, a tail that's meant to be shredded and festive fur that's party-ready. "I purchased this toy piñata for my sister's dog … and he loves it!" one five-star reviewer wrote. "He destroys most toys, but he has not destroyed this one. He loves to carry it around and constantly squeak it. I love the bright colors and it is so soft."