11 Dog Birthday Outfits That Will Let Everyone Know It's His Special Day
He's a star 🌟
We independently pick all the products we recommend because we love them and think you will too. If you buy a product from a link on our site, we may earn a commission.
Ringing in your dog's birthday is fun no matter how you choose to celebrate. But going all out with dog-friendly cake, ice cream and presents can make the day so much more special. And, of course, an adorable dog birthday outfit ups the cuteness factor by a lot.
So if you're looking to dress your BFF for the occasion, The Dodo found some great dog birthday outfits online that are both party-appropriate and photo-ready. From bandanas, to hats, to tutus, your dog will enter into their next year in style.
If you want to go super extra, dogs in tutus always make for a good time. And this tutu set from ADOGGYGO not only comes with a pink fluffy tutu, but also a glittery pink crown, "Birthday Girl" bandana and a banner to hang for photos. "This was the cutest little set!" one Chihuahua parent wrote. "We did a cute little photo shoot with her." (And the photos this parent attached to their review are enough to convince you that this is the cutest birthday set ever.)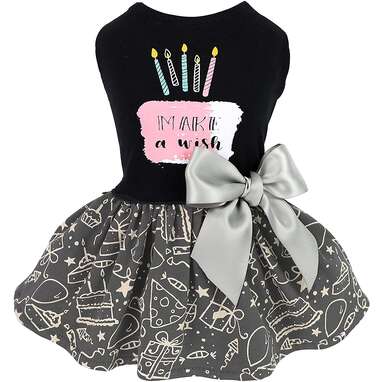 Your birthday pup will look like a princess in this "Make A Wish" birthday dress from Fitwarm. It features a colorful design on the top and a birthday-cake-and-presents print on the skirt. "So cute. Got so many compliments on it," one five-star reviewer wrote of their Yorkie's dress. "It washes really well. This is my favorite brand."
If you're looking for something more lowkey, this super bright and cheery birthday bandana from MIAPETTB has a nostalgic '90s print and comes in two different sizes. It securely ties with two strings at the back of the neck and withstands "a birthday romp in the dog park," as one pet parent wrote. "Bright colors and festive."
What's cuter than a dog in a bow tie? This kit from ADOGGYGO comes with a glitter-coated bow tie, a pom-pom party hat and an adorable bandana that says "It's My Birthday." You can grab the set in either blue or pink, and as over 1,100 pet parents will tell you, "it [is] a hit!" "Great price, fast shipping and smiles all the way around!" one parent wrote.
When a party kit comes with a toy, it's an instant winner. This kit from HOMIMP comes with a sparkly party hat, an "It's My Birthday" bandana and a squeaky toy that looks like a piece of birthday cake. "This is so stinking cute and I can't wait to gift it to my dad for his Lab mix," one five-star reviewer wrote. "For the price I was expecting something cheap, but it's actually a really good quality and I expect the cake squeaky toy to hold up." You can grab the kit in either pink or blue.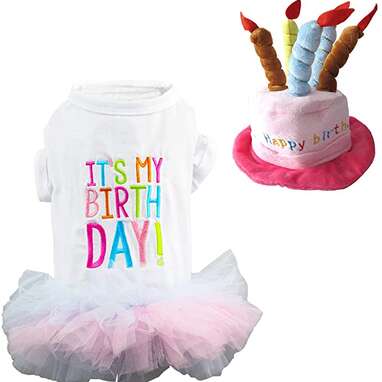 This tutu dress and matching hat will definitely make a statement at your pup's birthday party. The "It's My Birthday" message on the back of the dress is actually embroidered into the material, and pet parents say that detail makes this set feel super high-quality. "LOVE this birthday dress!" one five-star reviewer wrote. "The quality is so good. The T-shirt has beautiful embroidered lettering and the tutu is full and stays up. It's perfect and my pup was a little star on her birthday wearing this around!"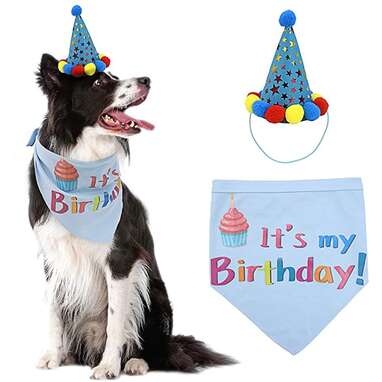 Nearly 1,500 pet parents have given this bandana-and-hat kit a five-star rating, saying it's the perfect addition to any birthday celebration. "Bought this for my dog's 1-year 'gotcha day' with us," one pet parent wrote. "He's 5 years old [and was] given to us by another family. This was the perfect finishing touch to his birthday pictures. I absolutely loved it." Both the hat and the bandana are made from high-quality fabrics, so you can keep them around for more birthdays to come.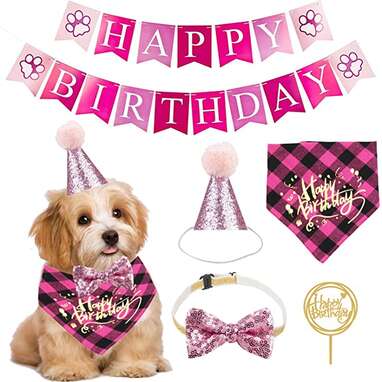 This plaid bandana kit from ADOGGYGO also comes with a hat, sign, bowtie and cake topper so you can go above and beyond when celebrating your dog's birthday. The kit comes in both pink and blue colorways, and over 1,200 pet parents have given this set rave reviews. One parent wrote, "This was the perfect package for my dog's 12th birthday party. The hat, bow tie and scarf were so adorable and the sign was great for decoration!"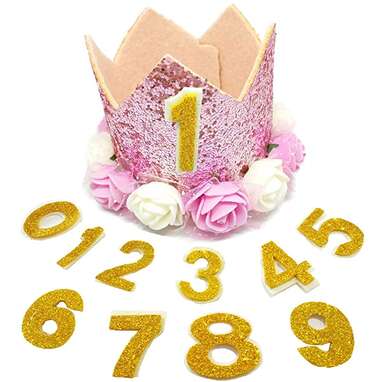 When it's your dog's birthday, they're the king or queen of the house. So, treat them to their very own PET SHOW birthday crown. Each crown — available in both blue and pink glitter — comes with a set of numbers zero through nine so you can customize your dog's crown each time they turn a year older. "I loved this!" one dog parent wrote. "The crown stayed on through about three head tosses. It is well made and will hold up through the years."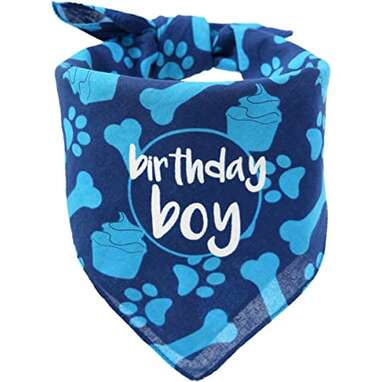 Over 1,000 pet parents have given this "Birthday Boy" bandana from Hecho a five-star rating, with many saying it's a large enough size to fit the biggest of birthday pups and is made with high-quality material. "I bought this for my dog's first birthday," one dog parent wrote. "I searched through other birthday bandanas on Amazon and the others looked like cheap quality or they were too small for large dogs. This is the perfect bandana."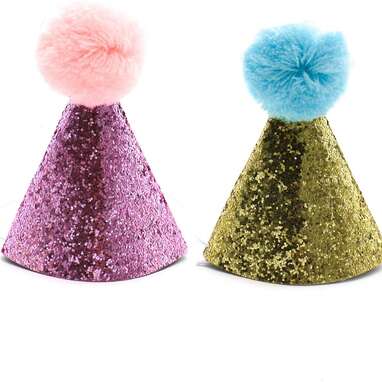 Party hats are a must for a dog birthday outfit, and this set of two from HUELE will make for a dazzling party. They're made with glitter-covered felt, and each one comes with a long elastic strap that can be adjusted to fit any sized head. "Yes … I'm THAT dog mom," one five-star reviewer wrote. "But so are you if you're looking at these. I loved these. The material is nice and thick."