Dog Bathrobes Are A Thing, And You Know You Need One
Make those post-bath zoomies even cuter 🥰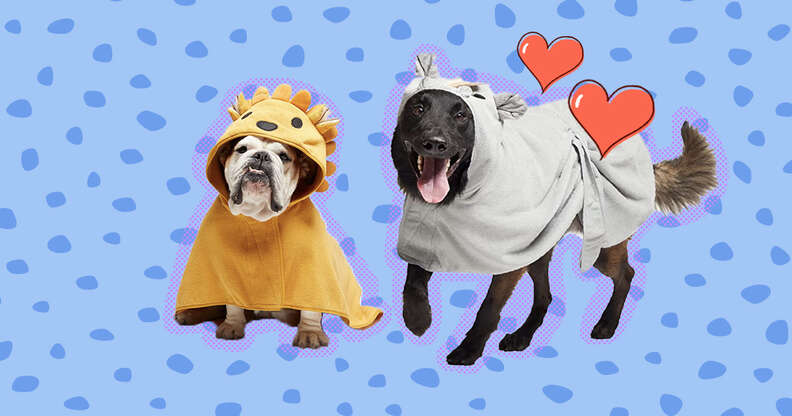 Amazon
Amazon
We independently pick all the products we recommend because we love them and think you will too. If you buy a product from a link on our site, we may earn a commission.
Bath time might not be every dog's favorite activity — but they all like to snuggle up when it's over.
And if there's one thing that can wrap a dog in coziness, it's a robe. Plus, they just look really, really adorable.
These are some of the cuddliest and most absorbent bathrobes to help your dog dry off super quickly — even while he's running around doing post-bath zoomies.
Benefits of a dog bathrobe

Dog bathrobes are amazing for so many reasons.
Putting a bathrobe on your dog after a bath or a walk in the rain will keep him dry and protect your couch, rug or car from getting wet.
And your dog will dry off faster in his bathrobe because it'll absorb the water in his fur the whole time he's wearing it, which he'll definitely appreciate.
A bathrobe can also keep your dog warm until he's dry, especially when bathing him in the winter. This can be particularly useful for dogs with short fur or hairless dogs who might need more help staying warm.
How to find the best dog bathrobe

Here's what you should look for when buying a robe for your dog:
Material — Most dog bathrobes are made of microfiber, which is absorbent and great at removing water from your dog's fur.
Machine washable — You'll probably want a robe that's machine washable so you can throw it in the wash to get rid of any wet dog smell or dirt.
Adjustable — You should look for a robe that's adjustable so it'll be comfortable for your dog.
Best dog bathrobes

These are some of the best and coziest dog bathrobes you can buy:

This bathrobe has a cute rubber ducky print on it, which is perfect for bath time. It has a Velcro closure to easily secure it around your dog's neck and a waistband to tie it around his stomach. Plus, the hood will keep your pup extra warm. The robe is made of microfiber to be super absorbent, and it's machine washable. And it comes in adorable lion, rhino and rabbit versions, too.
This dog bathrobe has a Velcro closure at your dog's neck and a removable belt. The inside of the robe is made of a longer microfiber terry cloth material to easily absorb water from your pup's fur. It also has a hood to keep your dog warm as he dries off.
This microfiber dog bathrobe is basically like a towel that your dog won't mind wearing. It has an adjustable turtleneck collar and a button closure under your dog's tail.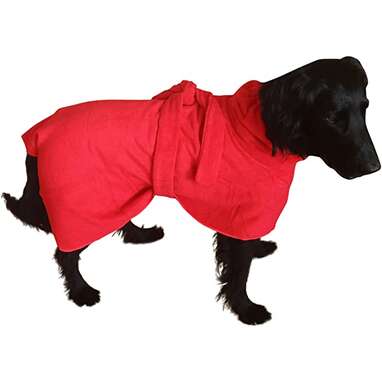 The adjustable neck on this bathrobe will keep your dog comfortable, and it has a button to secure it around your dog's tail. It also comes with a removable belt, and there are multiple sizes to choose from, so you can find the perfect fit. The robe is made of high-density microfiber to be super absorbent.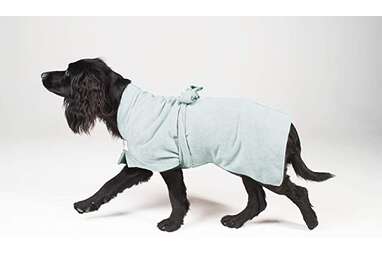 Your pup will feel like he's at the spa in this microfiber robe. It comes in multiple sizes and colors, including red, blue, seafoam and grey.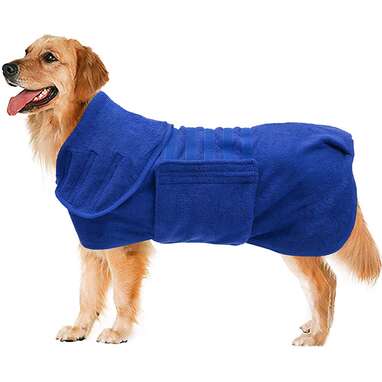 This dog bathrobe comes in multiple sizes, so you can find the perfect fit for your dog. There's a belly band and elastic on the legs to make it nice and snug. It comes in a bunch of colors and is made of soft and absorbent microfiber.
Your dog will actually look forward to his next bath when you use one of these adorable dog robes.