Dog Bathrobes Are A Thing And You Know You Need One
Safe for post-bath zoomies 🥰
We independently pick all the products we recommend because we love them and think you will too. If you buy a product from a link on our site, we may earn a commission.
Bath time might not be every dog's favorite activity — but they can all get behind snuggling up warm and cozy after it's over.
And if there's one thing that can wrap a dog in coziness, it's a robe.
Dog bathrobes are amazing for so many reasons — like how they help dry your dog off after a bath even if they usually run away from a towel, and how they can make sure your pup stays warm when they're wet in the middle of winter.
Plus they just look really, really adorable.
Whatever the use, these are some of the cuddliest and most absorbent bathrobes to help your dog dry even quicker — even if he's running around doing post-bath zoomies.
Gold Crown Dog Bathrobe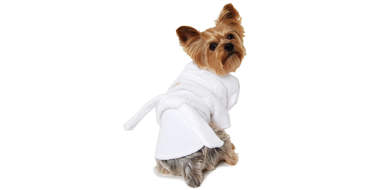 Walmart
You already know your pup rules the house — now there will be no question with this terry cloth robe embroidered with a gold crown. Kings and queens, rejoice!
Towel Gown Ultra Light Luxury
Amazon
This robe not only has a beautiful color, but the high collar is perfect for keeping pups warm while drying off during the colder months.
BONAWEN Dog Bathrobe
Amazon
This hooded robe will keep your pup warm and cozy — and it comes in brown, too!
Top Paw® Dream Big Puppy Pet Robe
PetSmart
The most affordable option here is also one of the cutest with that adorable back. It's for smaller dogs or puppies, so make sure you take measurements before purchasing.
DERPYCHAPPY Premium Dog Bathrobe Towel
Amazon
This is a bathrobe made for silly pups with even sillier senses of humor.
RUKKA Highly Absorbent Dog Bathrobe
Amazon
Here's a bathrobe that can almost double as a coat on colder walks.
Microfiber Fast Drying Absorbent Hooded Bath Towel
Amazon
This sweet bathrobe is perfect for dainty pups who love to show off just how adorable they really are.
Stock Show Pet Pajama with Hood
Amazon
If your pup's favorite thing besides snuggles is napping, this is the bathrobe for her.
GZDDG Dog Bathrobe Towel
Amazon
Your pup can dry off — and look dazzling — in this red bathrobe.
Kismaple Bathrobe Towel
Amazon
This robe comes in two bright colors, so you'll be able to laugh even louder at your pup's post-bath zoomies.
Budd Pet Hooded Bath Towel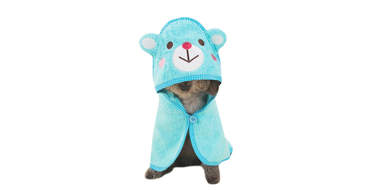 Amazon
With so many colors to choose from, this hilarious robe can even double as a costume. This one's just for smaller dogs, so make sure to measure!