The Best Dog Bath Brushes On Amazon
Bath day is now spa day.
We independently pick all the products we recommend because we love them and think you will too. If you buy a product from a link on our site, we may earn a commission.
Bath time — your dog either loves it or hates it. If your pup is one who would rather run and hide than get shampooed, picking up a massaging dog bath brush could shift his opinion on getting bathed forever.
From glove brushes to double-sided massaging brushes, these dog bath brushes from Amazon have changed the minds of many pups out there who once hated the bath-time routine. But according to pet parents who've left a heap of stellar reviews, bath day has become spa day thanks to these brushes, and their dogs can't get enough of the feel-good massaging action.
The Bonza massage dog bath brush on Amazon is easy to use and even easier to clean. The rubber bristles are surrounded by a removable mat that helps you instantly remove the hair from the brush. And because the entire thing is made of plastic and rubber, it's safe to use on wet and dry fur, and is even dishwasher safe.
This brush is actually a pair of gloves with all kinds of rubber tips attached to the palm. They're easy on your pup's skin and also easy to use — just put them on and lather away. And just like the Bodhi brush, these gloves can be used to deshed dry fur, as well.
Simply fill the FURminator bathing brush compartment with shampoo and let it get to work on your dog's wet coat. "To use, put your finger over the little air hole on the top middle and push to make shampoo come out the bottom," one pet parent explained. "I have a medium-size wire-haired dog, and washing with this seemed much easier than my previous process."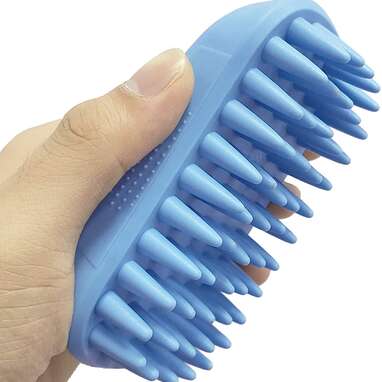 The large silicone bristles of the ZOOPOLR shampoo brush massage skin while also smoothing your dog's coat and picking up loose hair along the way. And the simple cone shape of the nibs makes cleaning the shampoo brush a breeze. Just run water through the brush until all the loose hair is out.
The two-sided Furbliss dog bath brush on Amazon features one side of rounded teeth and another with shampoo cells and deshedding teeth. "I use this on my old dog who growls and snaps for any regular brush but acts like he's getting the best massage ever with this one," one five-star reviewer wrote. "I had another silicone pet brush years ago that wasn't all that great, so I was reluctant to try this one, but I'm so glad I gave it a go!"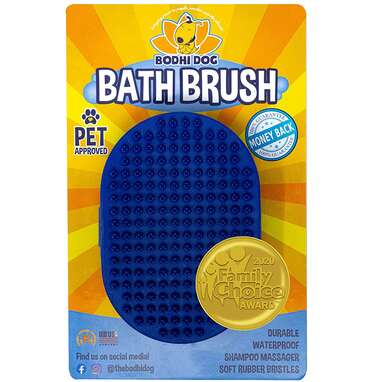 With over 12,200 five-star reviews on Amazon, the Bodhi bath brush has made dogs actually like bath time. The Bodhi brush helps lather shampoo and massages your pup's skin with its soft rubber nibs, removing dirt and grime as you go. And the Bodhi can be used on both wet and dry fur, so you can give your dog a massage any time of day.