The Most Stylish Dog Bandanas You Can Buy
Make the sidewalk your runway 🤩
Bandanas are the perfect accessory for dogs who want to feel special but aren't huge fans of playing dress-up. They're easy to put on and take off, and they come in so many cool prints and patterns that you can change up your pup's look every day (and even match his look with your own).
We found some of the most stylish dog bandanas that are not only affordable, but will make a big fashion statement wherever your pup goes.
And with most of these bandanas coming in packs of multiples, you'll get a bunch of options to choose from with each purchase!
The best dog bandanas for every type of pup
Though the Remifa dog bandanas come with six per pack, you actually get 12 bandanas because each one is reversible! There are two different sets to choose from, with each bandana offering stripes, plaids and ginghams perfect for any and all seasons. With over 3,300 five-star reviews, pet parents love the variety and classy designs.
The breathable, stretchy dog bandana from The Dodo's Walmart collection is perfect for every day. The marled grey fabric is casual, but the line of bright stitching along the edges adds a bit of interest and a pop of color. One size fits most, and The Dodo bandana is easy to tie thanks to its triangular shape.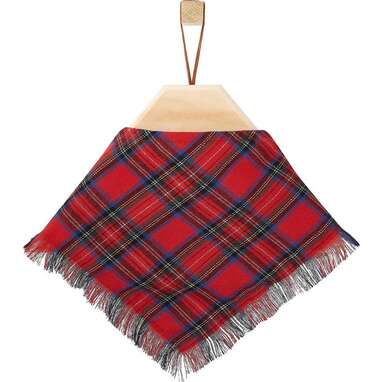 Available in two sizes, the Frisco plaid flannel bandana is made from a cozy flannel with frayed edges, making it a fashionable fall scarf. This bandana is machine washable, and the red and green colors make it perfect to wear throughout the entire holiday season.
Want to make sure you're prepared for each holiday? This pack of six bandanas from BoomBone comes with bandanas perfect for Thanksgiving, Christmas, Valentine's Day, St. Patrick's Day, the Fourth of July and Halloween.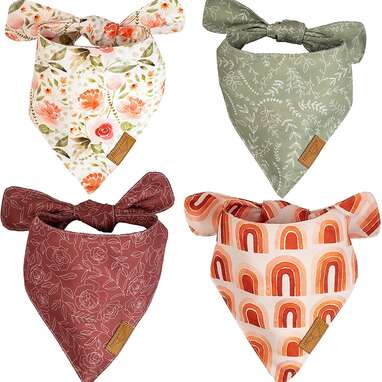 Available in three sizes (small, large and extra-large), the Remy+Roo dog bandanas on Amazon feature sweet, modern designs in muted pinks, beiges and greens. Plus, they're made with two layers of durable polyester fabric that will last through all your pup's adventures.
These black-and-white bandanas from Remy+Roo are so stylish and different from standard dog bandanas. The unique shape makes them easy to tie around your pup's neck, and the bold patterns will definitely make a statement at the dog park.
This leopard print bandana from Frisco is perfect for any dog who's a bit of a wild animal. Available in small, medium and large, you can also personalize Frisco's printed bandanas with your dog's name to make it one of a kind.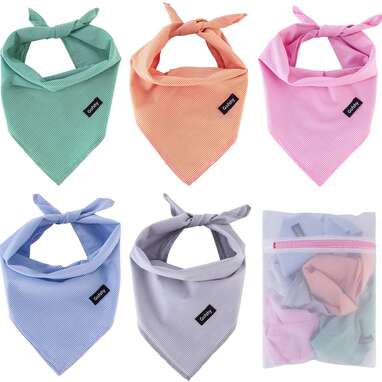 The Gofshy set of five simple dog bandanas on Amazon are lightweight and come in their own mesh wash bag. You can pick them up in either small or medium, and because they're so basic, your pup can wear one every day.
Get summer-ready no matter the season with the Frienda summer dog bandanas, which come in prints like monstera leaves, flamingos and pineapples. These bandanas come in sizes small, medium and large, and can be thrown in the washing machine when it's time to get them clean.
The swirls, squiggles and bright neon colors are oh-so vintage, and according to the five-star reviews, these bandanas are super high quality. They both come in Remy+Roo's signature boomerang shape that's perfectly cut to fit comfortably around your dog's neck.
The print on the Remy Buckle bandana from Boulevard looks like it's from a designer brand, and the bandana can even be customized with your dog's name along one edge. The pink and green is a super classy color pairing that will make your dog look like she has a taste for the finer things in life.
Pet parents who run on flower power will love these eight dog bandanas that come in a variety of floral patterns. The prints are super bright, and the size is big enough to fit larger dogs and can be folded up to fit smaller dogs, too. And because there are eight per pack, you can always have one on hand while others are in the wash.
With one (or all!) of these bandanas in your dog's wardrobe, he'll be ready for every occasion — even if it's just a regular day of walking in the park!
We independently pick all the products we recommend because we love them and think you will too. If you buy a product from a link on our site, we may earn a commission.
4 Dog Bandanas For Your Hanukkah Celebration