The Best Dog Ball Launchers On Amazon
No more aching arms! 💪
We independently pick all the products we recommend because we love them and think you will too. If you buy a product from a link on our site, we may earn a commission.
The only downside to playing fetch with your dog is that your arm tends to get tired quickly. And because your pup seemingly has an endless well of energy, it's always sad to have to call it day before he's ready to pack it in.
Here's where ball launchers come to the rescue. They keep your arm from aching and provide your dog with hours (and major distance!) of fetching fun.
So if you're looking to keep your dog active without straining your biceps in the process, pet parents say these dog ball launchers from Amazon are the perfect solution.
With an overall 4.8-star rating out of over 36,800 reviews, the ChuckIt! ball launcher is a favorite amongst dog parents. You can pick one up in four different models as well as six different lengths depending on the ball size (a smaller dog will need a smaller ball) and how far you want it to go when it's launched. "This is the best dog toy available on modern planet Earth," one pet parent wrote. "The small launcher fits in my dog-walk-stuff backpack … The launcher also has a hole in the end so you can hang it from your bag or whatever with a carabiner."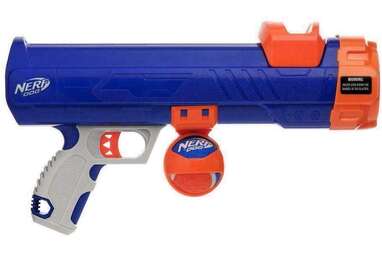 Choose the style and size that suits you and your dog best before ordering the Nerf Dog Tennis Ball Blaster. Then when it arrives, load up your tennis balls and blast them across the yard in classic Nerf style. With over 4,700 five-star reviews, dog parents say using the Nerf launcher is as fun for them as it is for their dogs.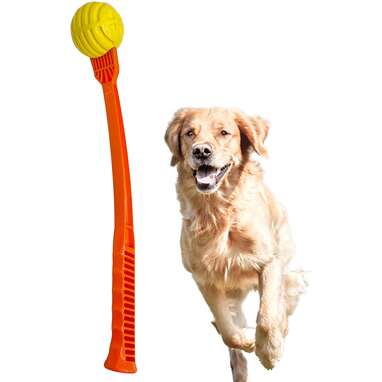 The whistling Flingerz dog ball launcher on Amazon is waterproof and ultra-tough, and will keep you and your dog entertained for hours. And thanks to the whistling noise the ball makes when it travels through the air, your dog will stay focused and curious during playtime. "When I saw the toy, I was unsure about it as the handle has to poke into the slot hole of the ball," one pet parent wrote. "I thought it would be tricky to line it up to connect the ball. I was wrong! It is super easy, and the ball actually whistles as you throw it, so my dog goes bananas."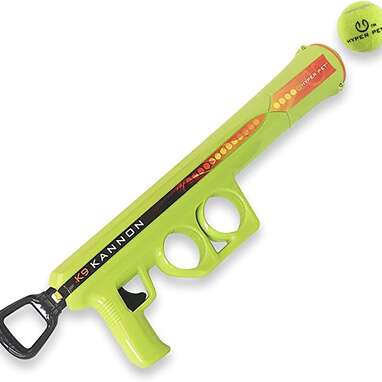 The Hyper Pet K9 Kannon K2 ball launcher features an easy hands-free pickup method so you don't have to get dog slobber on your hands. Simply pull back the loader rod, pick up the ball with the launcher end and hit the trigger to send the tennis ball soaring. You can set the distance of the launch and use standard tennis balls.
The automatic ball launcher from All For Paws lets you choose your launch distance. Then, all you have to do is drop the included tennis balls into the launcher and let it get to work. And if you train your pup to return the balls to the launcher once they've been fetched, you can simply sit back, relax and enjoy the show.