6 Dog Backpacks That Are Meant For Pups
To help lighten your load 😊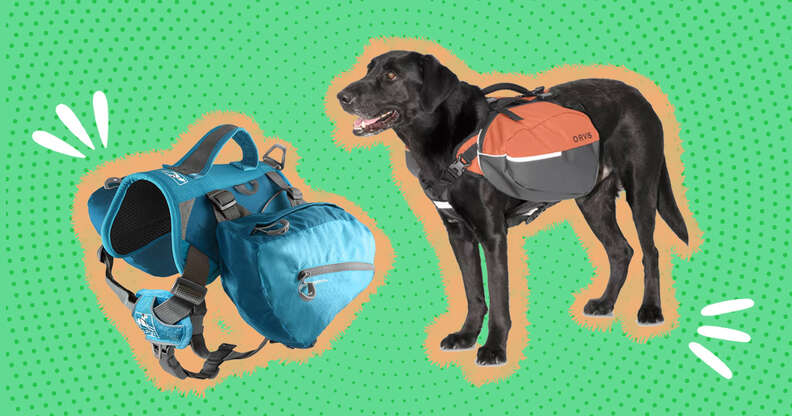 We independently pick all the products we recommend because we love them and think you will too. If you buy a product from a link on our site, we may earn a commission.
Traveling with your pup makes the trip so much better, but it also means you have to bring a bunch of more stuff with you.
But did you know that your pup can actually carry his own supplies?
Thanks to dog backpacks (aka saddlebags for dogs), your pup can tote around some of his gear, which can help make the trip a bit easier on you (and is also pretty adorable).
But with so many dog backpacks available to pet parents, how can you find the best one for your pup?
The Dodo reached out to Dr. Michelle Burch from Safe Hounds Pet Insurance to learn how to pick out a dog backpack, and we rounded up the top picks from the internet so you can find one that meets your needs.
Uses for a dog backpack

Dog backpacks are basically dog harnesses with storage space attached. They can hold your dog's stuff, like extra poop bags, treats, medications, a water bowl or anything else that'll help lighten your load. They'll also keep you organized since you'll know exactly where his items are at all times.
Dog saddlebags are super convenient while hiking or camping with your pup and can even be useful for daily walks in your neighborhood.
How to find the best dog backpack

Look for the following features to find a quality dog backpack:
Adjustable: Most of the time, a dog backpack will be available in more than one size, but you'll also want the harness to have straps that can be adjusted so you can find the perfect fit for your pup.
Durable: Since your dog's backpack will be exposed to the elements, and you want it to last a long time, opt for a pack with high-quality materials and construction.
Lightweight: You don't want to put too much weight on your pup's back, so make sure his backpack is light (but still durable).
Adequate storage: Some backpacks are designed to carry a small amount of stuff. If you're going on longer trips, you might want a backpack that's a bit bigger.
Padded straps: This will help keep your pup comfortable in his backpack and prevent the straps from rubbing directly on his skin.
Breathable fabric: "Breathable fabrics will help prevent overheating on warmer days," Dr. Burch told The Dodo.
Waterproof material: "Waterproof material will help protect your and your dog's belongings, including their favorite snacks," Dr. Burch said.
Best dog backpacks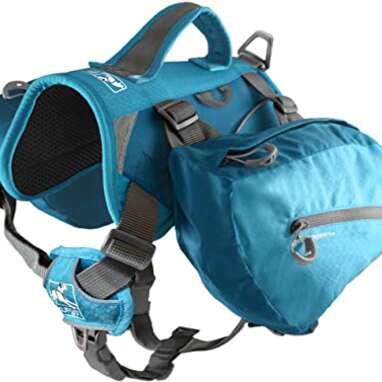 Kurgo is known for their crash-tested dog harnesses (like the harness we reviewed and gave our Paw of Approval!) and high-quality outdoor gear, so you can trust that this dog backpack is not only functional, but it's reliable, too. It's also very light at about 13 ounces when nothing's inside. And with seven points on the harness where you can make sizing adjustments, you'll definitely be able to find the perfect fit for your pup.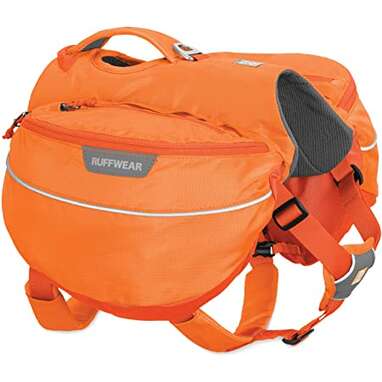 The dog backpack from Ruffwear is great on storage. It has two large packs on either side that are very roomy and large enough to comfortably fit a collapsible dog bowl or two. There are even rings attached to the harness where you can clip on other gear. It's also a pretty safe option if you plan on taking walks at night. It has a reflective trim that lines that harness and comes with a loop so you can hook on a safety light.
So if you plan on taking an overnight camping trip, this dog saddle bag is perfect for your pup.
This dog backpack is super affordable and can get the job done. And the awesome price tag isn't even the best part about this sack. It's actually a really comfortable backpack for pups. It's made of a breathable mesh material, it's adjustable and it's lightweight, so your pup will have no problem toting it around for long or short trips.
When you're buying something from Orvis, you know you're investing in quality. They use a special CORDUA ECO fabric for their dog backpack and harness that's water resistant, durable and made of 100 percent recycled materials. And any areas on the harness that are especially vulnerable are reinforced with TPU (aka thermoplastic polyurethane) coating for added strength. It's also really comfortable, with tons of padding and a construction that allows cool air to circulate. There's even a buckle that allows you to put the harness on from the side so you don't have to struggle in the middle of your hike trying to slip it over his head.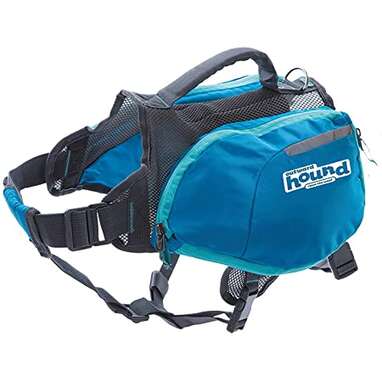 This Daypak from Outward Hound is great to have for regular walks or trips to the dog park with your pup since it's smaller. But despite its size, the Daypak actually has a ton of storage, with four compartments in total. And with cooling mesh, adjustable straps and super bright colors, these dog packs from Outward Hound are an all-around great product for your traveling pup.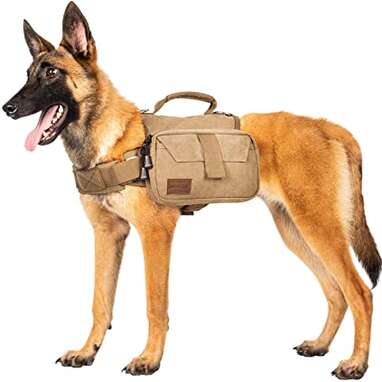 If you want to hit the trails with your dog — but make it fashion — look no further than the OneTigris dog backpack. It has a rugged canvas look that's actually so simple and chic you might even want one yourself. And it both looks and works great. This dog harness has reinforced stitching for durability, is made of breathable fabric for comfort and was designed to fit snugly on your pup.
Safety tips for using a dog backpack

Dogs can carry about 25 percent of their body weight max, so avoid storing anything too heavy in your dog's pack.
​​"Dogs between the ages of 3 and 7 years can carry between 20 to 25 percent of their weight," Dr. Burch said. "Pets [who are] under 3 years, over 7 years, overweight or [who] have underlying medical conditions should take only 10 to15 percent of their body weight."
For newbies, start out with a light load and work your way up.
"When a dog is new to backpacking, I recommend adding only 5 percent of their body weight to the backpack then slowly increasing it," Dr. Burch said. "I recommend increasing the weight by 5 percent every month of continuous training with a bag."
Also, make sure to evenly distribute the weight on both sides of your dog's backpack to prevent injury. So if you put one item in one storage pack on the left, put an item equal in weight in the storage pack on the right.
So if you're looking for a way to make your walks more convenient, or you simply want to lighten your load when traveling with your pup, you won't be disappointed with one of these dog backpacks.