The 5 Best Anti-Anxiety Vests For Dogs On Amazon
A hug they can wear 💙
We independently pick all the products we recommend because we love them and think you will too. If you buy a product from a link on our site, we may earn a commission.
Panting, whining, shaking — they're all signs that your dog is not happy. Many dogs get anxious during thunderstorms, fireworks, travel, vet trips and more, and pet parents can often feel helpless when trying to keep their pups calm with just hugs, water and treats.
Thankfully, there are a handful of really great dog anxiety vests that pet parents say have completely turned their dogs around for the better. These vests provide gentle pressure to your dog — kind of like a hug he can wear — which can really help pups feel more calm. No more panicking during storms thanks to these life-changing vests!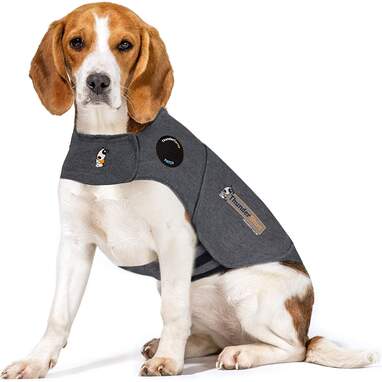 The classic ThunderShirt is much-loved by over 17,000 pet parents (including some of our Dodo pet parents), who have noticed a huge drop in their dogs' anxiety when they get wrapped up in the stress-relieving jacket. If your dog gets easily spooked by thunderstorms, fireworks, strangers — really anything at all — the ThunderShirt promises to curb the quivering with its patented gentle-pressure wrap design.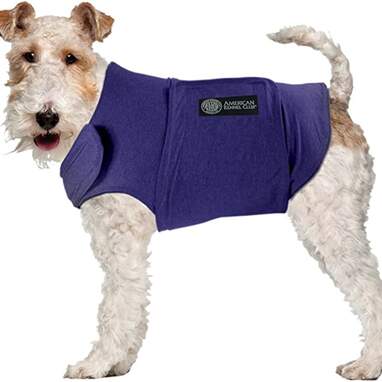 The American Kennel Club's anti-anxiety jacket is basically a big hug for any anxious pup. It can be wrapped snugly around your dog's body and neck, giving him much-needed comfort in any stressful situation. "We bought it in preparation for moving to a new house. As soon as we put it on our dog, you could see the pure relief in her face!" one five-star customer wrote. "I let her wear it around the house just to get used to it. When we moved this weekend, our dog is a new, HAPPY, not fearful dog thanks to this shirt! This is the BEST thing I have ever bought for my dogs!!"
Using the same gentle-pressure wrap design as the classic ThunderShirt, the ThunderShirt Sport model is made with a more breathable, lightweight material best suited for dogs who run hot or need some added comfort while playing or doing outdoor activities. "My dog has used the original ThunderShirt in the past, but … she'd be sweaty under it and panting," one pet parent wrote. "She has a serious fear of storms, so I decided to try the new breathable sport version. It's lighter, more giving (moves with her) and much cooler than the original yet still works well."
CozyVest's anxiety-reducing jacket uses sound, smell and feel technology to reduce your dog's stress during thunderstorms, fireworks or separation. Each wrap-style vest comes with lavender essential oil inserts to help keep your pup calm using aromatherapy, as well as a music player that will repeat soothing sounds and melodies to promote comfort and relaxation. "I think it is the best on the market," one parent wrote, adding, "The combination of features (the music, the aromatherapy and swaddling) makes this vest superior to others. My dog loves to roll on his back and turn on the music box. The aromatherapy pouch is a nice touch too. The vest has COMPLETELY changed [my dog]. He has confidence now."
The polo shirt model of the ThunderShirt is even lighter in weight than the sport model, yet still provides that anti-anxiety snug fit. The fabric of the ThunderShirt polo is a stretch material that some pet parents say fits even better than the classic. "We found the polo model, for a very athletically built dog like ours, represented a much better fit than the standard model," one five-star reviewer wrote. "If you're going to buy, check out the different models/cuts to get the right one for your pooch."