The Best Dog ID Tags On Amazon
Safety first.
We independently pick all the products we recommend because we love them and think you will too. If you buy a product from a link on our site, we may earn a commission.
Making sure your dog is easily identifiable if the worst should happen is crucial to cutting down the amount of time it takes to return him home. Along with a scannable microchip, an easy-to-read dog ID tag sets your pup up for that safe and fast return (though, hopefully, he'll never need to use it).
There are a bunch of dog ID tags on Amazon with thousands of five-star reviews from pet parents who were impressed with the engraving, quality and durability of these tags. So don't wait to get your pup an ID tag. These are the best ones you can buy.
With over 70,400 five-star reviews from pet parents, the GoTags stainless steel ID tags are the dog ID tags to get if you're looking for a simple, durable tag. They're offered in a variety of different dog-themed shapes and large enough to fit four lines of customized information, such as a name, phone number, address or microchip details.
If you're looking for a more colorful option that will stand out against your pup's fur, these dog ID tags on Amazon from Providence Engraving come in eight bright colors as well as a handful of fun shapes. Each tag can fit up to four lines of text, and over 31,000 pet parents have given these tags a five-star rating.
These stainless steel ID tags from YiXiEr are so pretty you might find yourself wanting to put them in a frame. They come in silver, gold, rose gold, black and blue, and as one pet parent wrote, "These exceeded my expectations … The edges are nicely beveled and smoothed out. The text actually looks much better and centered. All of the designs were so cute."
These dog ID tags from ROAD iD provide all the necessary information without the jingle-jangle noise of standard dog tags. The stretchy loops slide on easily to any dog collar, and the low-profile ID tag can fit up to five lines of text depending on the size you choose.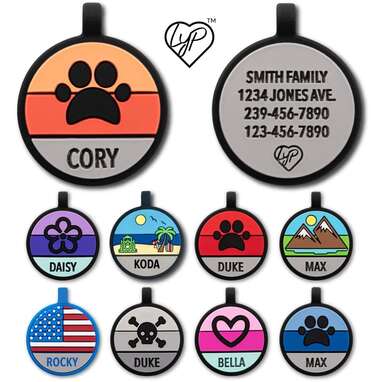 Another great soundless ID tag option is the silicone tag from Love Your Pets. Each deep-engraved silicone tag is about the size of a quarter and can be customized with up to four lines of text. And these tags are double sided, so you can put an icon or your dog's name on the front and all your info on the back.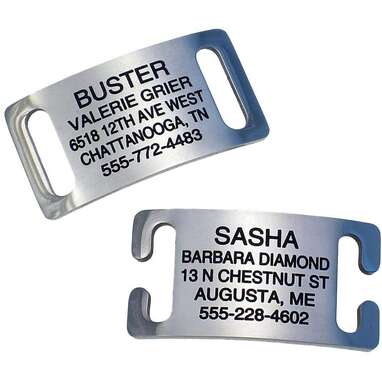 Choose from either the closed or open style of these engravable LuckyPet slide-on tags and give your dog a low-profile ID tag that won't jingle. "I was pleasantly surprised by the look and feel of this tag," one five-star reviewer wrote. "It was easy to fit onto her collar and yet very secure once placed … I am particularly impressed by the amount and legibility of text that fits on the tag."
Want a bit of sparkle and pizazz? These glittery dog ID tags on Amazon from io tags feature fun and colorful pawprints on the front and your dog's information on the back. With over 20,900 five-star reviews, pet parents love the simplicity of the tag — and you can even grab one with a silencer bumper that goes around the edges.
This version of the classic stainless steel GoTags ID tags comes with glow-in-the-dark bumpers that not only silence the jingle jangle, but also make your pup's ID tag easier to see at night. You can pick one up in one of four shapes, and each tag can fit up to four lines of engravable text.