The 5 Best Dog Dental Chews, According To Veterinarians
Because healthy gums and teeth are a must for your dog 🦷
We independently pick all the products we recommend because we love them and think you will too. If you buy a product from a link on our site, we may earn a commission.
Your dog's oral health is important, and that means making sure she visits the vet for a professional dental cleaning once a year — and brushing her teeth at home at least two to three times each week.
But the steps you take between cleanings and brushings can be just as important in keeping your pet's mouth clean and healthy. And one great (and fun!) tool for maintaining your pet's oral health is dental treats.
The Dodo spoke to Dr. Zay Satchu, cofounder and chief veterinary officer at Bond Vet in New York City, and Dr. Corinne Wigfall, a veterinarian working with Spirit Dog Training, to find out which dental treats are the best for your pup.
What are dog dental chews?
Dog dental chews are treats you can give your dog to help reduce the buildup of plaque and tartar on her teeth.
"They are designed to help fight dental disease by acting like chewing gum," Dr. Wigfall told The Dodo. "The tooth sinks into the chew, and the texture of the dental chew pulls off or disturbs the plaque layer on the teeth, thus reducing the rate of dental disease. They can be quite high in calories, so it's important to give these chews in moderation."
Benefits of dog dental chews
One of the main benefits of dental chews is that dogs love them. "This is advantageous for dogs who will not allow tooth brushing or other forms of oral care," Dr. Wigfall said.
While dental treats are great for your pup's teeth, they can also help with stinky breath.
"Dental treats are designed to help reduce plaque or tartar, helping to keep your dog's mouth healthy," Dr. Satchu told The Dodo. "And as an added bonus, dental treats can help freshen up your pup's breath — which makes it much more pleasant to enjoy your dog's kisses."
Additionally, they're better for your dog than just a regular chew would be. "Dental chews are part of a combination effort to treat dental disease and are a healthier alternative to regular chews," Dr. Wigfall said.
How to find the best dental chews for your dog
If you're in the market for dental chews, it's important to know what to look for when shopping.
A great place to start is the Veterinary Oral Health Council's approved product list, which includes all sorts of dental goodies, like chews, toothpastes and gels.
Not all dental treats focus on the same areas of oral hygiene. Some feature ingredients that clean teeth and freshen breath, while others provide vitamins and nutrients to your dog.
As a general rule, it's recommended that pets chew the dental treats for more than two minutes, so you'll want to look for treats that are long-lasting. It's also important that the treats are bendable to avoid breaking your dog's teeth.
Your dog's physical health should also be considered when choosing a treat, as some dental chews can be high in fat.
"Search for quality ingredients and a low fat content that won't interfere with your dog's meal plan or dietary health," Dr. Satchu explained. "Plus, the treats are still an indulgence, so limit the number of treats you feed to your dog."
As a general rule, treats (including dental treats) should make up no more than 10 percent of your dog's diet.
Dr. Satchu also stressed that dental treats are no substitute for brushing your dog's teeth, which is the most effective way to remove plaque that can cause tooth decay and gum disease. "Brushing your dog's teeth is the gold standard of care," Dr. Satchu said.
Vet-recommended dog dental chews
With all those considerations, the search for the best dental treats for your dog can be pretty overwhelming, especially if your dog has specific needs.
Here are some dog dental chews that veterinarians recommend.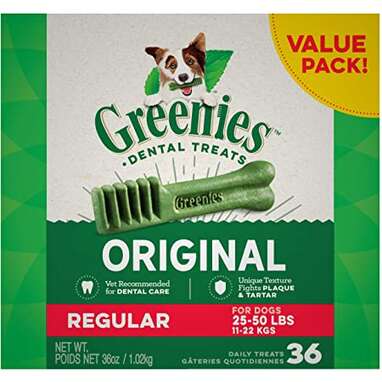 Amazon
These treats have a texture that cleans down to the gumline, fighting plaque and tartar while also freshening breath. They also come in a large range of sizes, so you can easily find a chew that your dog can safely consume. "These are praised for their size, variety and easily digestible ingredients," Dr. Satchu said.
Amazon
OraVet treats are formulated with delmopinol, which assists with loosening and dislodging plaque while your dog chews them. It also helps form a barrier to protect your dog's teeth from plaque and calculus buildup. "The chews are specifically designed to clean and protect from plaque-causing bacteria, and they are Veterinary Oral Health Council [VOHC]-approved," Dr. Satchu said.
Amazon
Tartar Shield has a variety of options that make them a strong choice for pet parents, with the treats coming in rawhide chews, tabs, biscuits and sprinkles options. "These are a great option for pets, seeing that they are VOHC-approved, palatable and offer many options for picky eaters," Dr. Satchu said.
Amazon
KONG Ziggies are a tasty treat that'll also help freshen your dog's breath with ingredients like rosemary. The texture is designed to clean your dog's teeth as she chews. And you can even place the treat inside your dog's KONG toy, which'll let her have a bit more fun while cleaning her teeth. "KONGs come in many different sizes and different strengths of material — so you can have the correct toughness for older pets and pups," Dr. Satchu said.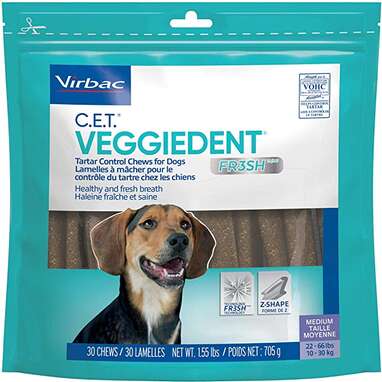 Amazon
These treats are plant-based and provide a trio of benefits for your pet — cleaning her teeth, freshening her breath and promoting a balanced digestive system. They feature a chewy consistency and Z shape to help your dog easily grip the treat while biting it. "These are a great option for pets with severe allergies." Dr. Satchu said.
Making sure your dog's mouth is healthy might take some work, but it'll all be worth it to help avoid future health issues.