Spooky And Seriously Funny Black Cat Costumes For Halloween
To make her feel even *more* Halloweeny 🎃
When Halloween rolls around, black cat decorations are everywhere. And although your black cat already looks the part, it never hurts to give her a little something extra to really fit in on Halloween.
We compiled a list of cute, funny and pop-culture-related costumes for black cats that you'll reach for year after year. (So if you haven't already done a Halloween-themed photoshoot with your black cat yet, now is definitely the time.)
The best cat costumes are going to be the ones that are most comfortable for your cat to wear, fit within your budget, and will make you giggle all Halloween night long!
What to look for when shopping for a costume for your cat
There are a few things you should keep in mind if you're looking for a costume for your black cat to wear on Halloween.
Is she going to be comfortable wearing it?
Some cats are more than happy to wear whatever hat, onesie, skirt, and cape you put on them. But others simply won't deal. If you know your cat will feel uncomfortable in a specific costume, then skip it — you never want to force your cat into wearing something she's going to hate. Not only will you be wasting your money, but you also might damage your cat's trust in you.
Take your budget into consideration
Most cat costumes are pretty affordable, but some may require a bit of an investment. If you aren't sure how your cat is going to react to a costume, it might be a good idea to start with something on the cheaper side to test the waters before you go all in next year.
The best Halloween costumes for black cats
These are some of the best Halloween costumes for black cats we could find.

"If you are tired of your cat looking all innocent as it rampages through your home, causing destruction everywhere it pounces with its cute paws, then strap these bad boys on and show the world the true demon your kitty really is!" one five-star Amazon reviewer joked about this Puoyis bat wings cat costume. The wings secure across the chest and belly with two simple Velcro strips for easy attaching and removing.
Remember when Hermoine Granger drank that polyjuice potion only to partially turn into a cat because she accidentally added a hair from Millicent Bulstrode's cat into the potion? Well, this Hogwarts-inspired black cat costume from Impoosy can be loosely based on that fateful scene! The costume is even made in Gryffindor house colors. It comes in three different sizes, so you can grab the one that will fit your cat most comfortably.
You can't go wrong with a witch costume on Halloween, and how cute would your black cat look if she stepped into this hat-and-cape combo from Lanyar? The classic witch hat is secured with an adjustable strap under the chin, and the cape can be tied snugly around the chest.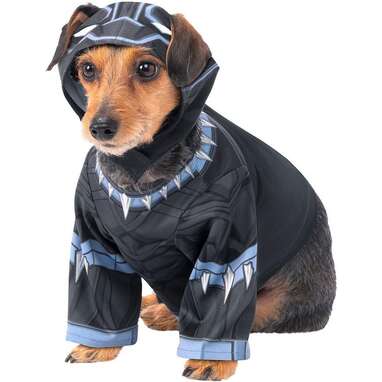 Because your black cat is actually a black panther at heart, why not make her dreams come true and dress her as the real deal? This "Black Panther" costume from Party City will fit small dogs and larger cats (reference the size chart to make sure the costume will be comfortable for your cat) and comes with a detachable hood with ear cutouts to ensure a comfy fit.
If your black cat is actually a tuxedo cat, why not complete her entire outfit by adding a bowtie? This adorable cat bowtie from Shappy is basically an entire costume in itself. Your cat will instantly feel fancier and like she's on a mission to stop an evildoer. She'll take her treats shaken, not stirred.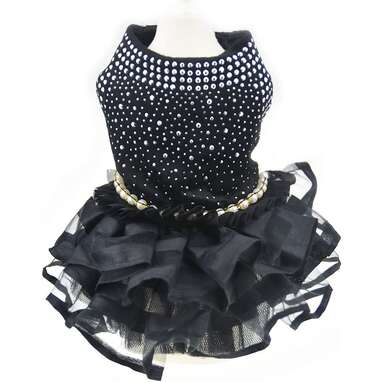 "Black Swan," anyone? This super-cute tutu pet costume instantly transforms your black cat into a glamorous ballerina ready for her big debut. Though it looks fancy, this dress is really easy for your cat to step into and it secures comfortably down her belly with a single Velcro strip.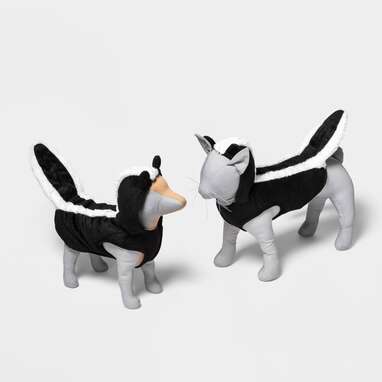 If your cat is comfortable wearing a full onesie-style costume, then this skunk outfit from Target's Hyde & Eek Boutique could easily win the prize at your at-home costume contest! This costume comes in sizes ranging from XS up through XXL, so you could even have your cat and dog match on Halloween this year.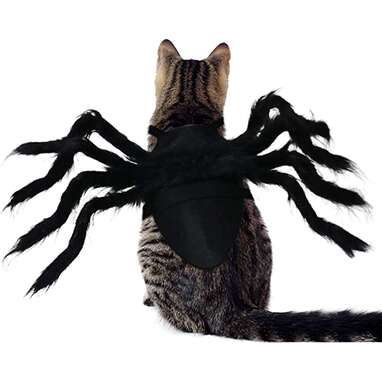 Don't freak — it's just your cat dressed as a spider. This hilarious fuzzy set of spider legs attaches around your cat's middle with an adjustable strap, giving her an extra set of eight legs. Your cat will still have plenty of room to move her own legs and because the legs are lightweight and made from felt, your cat won't feel weighed down all Halloween night.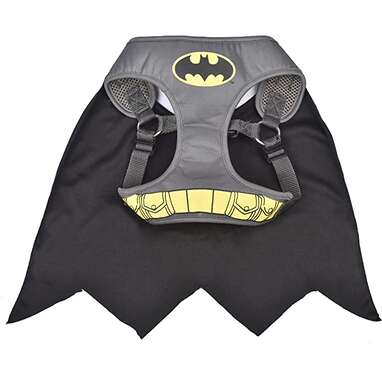 Your cat can now be an official member of the Justice League in this adorable Batman costume. Though it's made for dogs, this costume works great for cats, too, as it's just a simple harness with a cape attached. And the best part is, your black cat doesn't even need the iconic Batman black mask — she's already got one built in!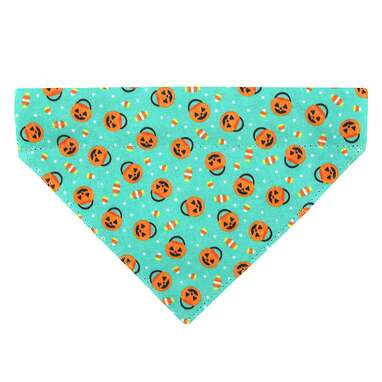 For cats who don't love the idea of dressing up, this bandana from Made by Cleo is a no-frills way to get your cat in the Halloween spirit. It can be added to any cat collar and shouldn't cause your cat any discomfort if she's already used to wearing her collar. And the teal color will really pop against her black fur!
Remember, if your cat isn't feeling a costume, don't force it!
We independently pick all the products we recommend because we love them and think you will too. If you buy a product from a link on our site, we may earn a commission.