The Best Christmas And Hanukkah Dog Treats
The yummiest time of the year 🎄🕎🐶
We independently pick all the products we recommend because we love them and think you will too. If you buy a product from a link on our site, we may earn a commission.
There's no time like the holiday season to have the yummiest, most nostalgic foods and flavors. And of course you want your dog to get in on all the delicious action, too.
Whether you celebrate Christmas or Hanukkah — or both! — you probably love getting in the holiday spirit. So obviously that means you need to find some delicious holiday-themed treats that your pup can enjoy.
This is a list of some of the best holiday flavors — in some of the cutest holiday shapes — to get your dog in on all the fun.
Pro tip: Get extras. You already know your pup is going to scarf these down.
Christmas Dog Treats Mixed Box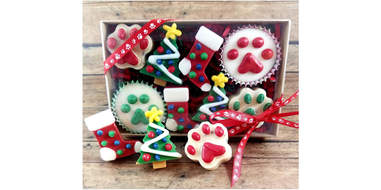 Etsy
These handmade dog treats are the perfect gift for your pup (and every other pup you know).
Gingerbread Biscuits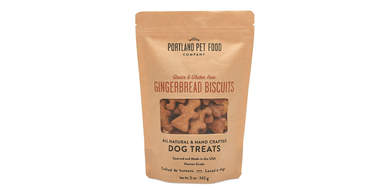 Amazon
There's nothing like gingerbread — and now your pup can get fully immersed in this classic holiday flavor, too! They also come in pumpkin flavor!
Santa Paws Classic Gourmet Dog Cookies
Amazon
These holiday-themed dog treats are baked into the cutest shapes. Just make sure you label your dog's cookie jar, because even humans will want to get in on them.
Mini 7-Piece Hanukkah Dog Treat Assortment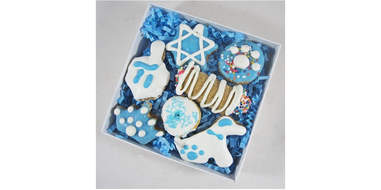 Etsy
These cute mini Hanukkah treats include seven different shapes and are made with a crunchy peanut butter dough.
12 Piece Christmas Dog Treat Assortment
Etsy
This affordable box comes with 12 different holiday-themed shapes — from snowmen to reindeer to even a cute little donut. You'll love them so much you'll feel bad when your dog scarfs them all down!
Christmas Dog Treat Stocking Stuffer
Etsy
These adorable stocking stuffers will make Christmas morning the best morning ever! They come in packs ranging from five stuffers to 30 — so you can get a whole bunch and give them as gifts to your other doggy friends.
Winter Dog Cookies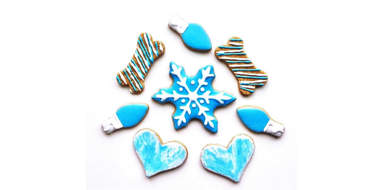 Etsy
These classic winter shapes should do the yummy trick.
Milk-Bone Mini's Holiday Flavor Snacks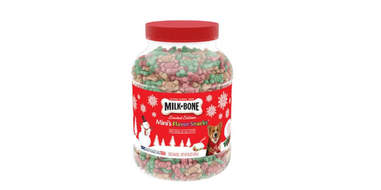 PetSmart
Is Milk-Bone your go-to treat? Trade in the classic version for this limited edition tub.
Happy Howlidays Pup-PIE Dog Treat
Chewy
Let your pup in on a slice of holiday pie with her very own!
Greenies Gingerbread Flavor Dental Dog Treats
Chewy
Your pup can keep up with her teethers while still getting in the spirit of the season.
WHIMZEES Holiday Tree & Snowman Variety Pack Dental Dog Treats
Chewy
If your pup uses Whimzees for her dental care, they also have this adorable holiday version.
Blue Buffalo Holiday Santa Snacks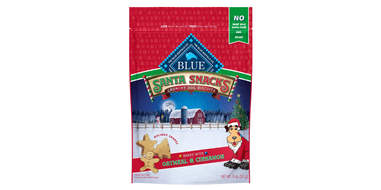 Chewy
There's nothing more festive than the warm flavor of cinnamon — except maybe those cute holiday shapes.
Zuke's Mini Naturals Holiday Trees
Chewy
Zuke's lovers everywhere can rejoice — they, too, offer a holiday treat.
Old Mother Hubbard Holiday Biscuits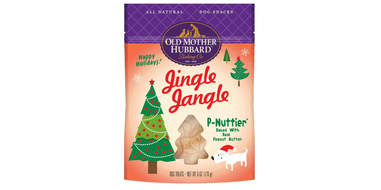 Chewy
These super affordable biscuits will bring both your wallet, and your pup, some holiday cheer.
Snif-Snax Happy Holiday Advent Calendar
Chewy