These Are The Best Christmas Cat Toys To Put Under The Tree
The best time of the year 🎄
Christmas is coming up fast — do you know what you'll put under the tree for your cat this year? If you're hoping to treat your BFF to a bunch of fun new toys, then we found some of the best Christmas cat toys to get your cat into the festive spirit.
From tree-shaped scratching posts and catnip coal to pre-stuffed stockings and mistletoe teasers, there's something for every cat on your list below.
Your cat will be so excited about all her new toys, she won't know what to play with first!
The 8 best Christmas cat toys to buy this holiday season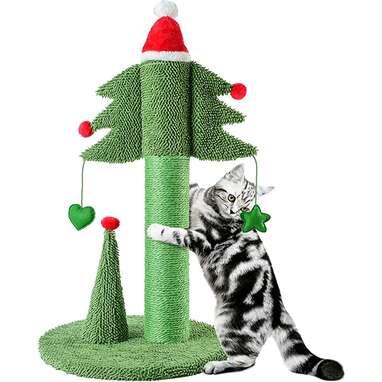 Fingers crossed that this Christmas tree scratching post from BOLUO will keep your cat occupied enough to stay away from yours. This post actually comes with two trees meant for scratching, both of which are covered in green all-natural sisal. There are even a couple of dangling ornaments on the taller tree that your cat can play with, too.
If your cat loves her kicker toys, then this plush from Frisco is going to be her favorite gift this year! Stuffed with catnip and covered in teeth-friendly polyester plush, your cat can kick, bite and claw to her heart's content.
It's a scratch pad. It's a roller toy. And it's catnip! This scratch-and-roll toy from Frisco has so many things going on, your cat won't know what to do first. She can go after the balls, scratch her claws or get a bit silly with the added packet of catnip.
These adorable organic catnip-stuffed letters from DebraAnnmarieStudio on Etsy can be personalized so you can "send" your cat this toy or have it be from Santa! Each toy comes individually packaged so you can pick up just one envelope, or several, for your cat to open on Christmas morning.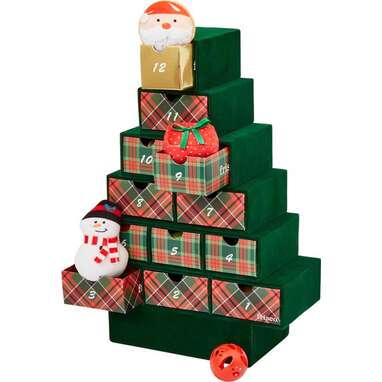 For the 12 days leading up to Christmas, you and your cat can unbox a toy from this Advent calendar from Frisco. Each drawer holds a festive cat toy that will keep your BFF entertained all day long. From catnip to crinkle toys, there's something for every cat in this calendar.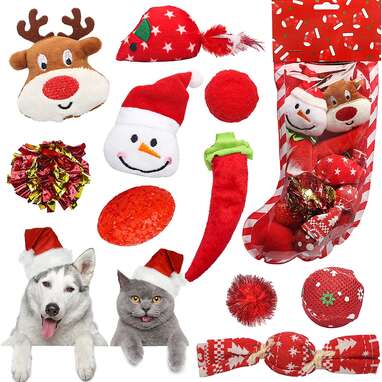 If you don't have time to curate your cat's stocking this year, let "Santa" do it for you! This cute cat stocking from Sanlebi comes pre-packed with 10 Christmas cat toys for your cat to enjoy Christmas morning. They each come with different sounds, shapes and fabrics to keep your cat happy.
This prewrapped variety pack of catnip toys is ideal for cat parents or friends who can't pick just one toy. This pack has it all — plush toys, sisal and crinkle balls, and even a ribbon wand. And each box comes with a whopping 14 toys, so you can really spoil the cat in question.
Your cat will definitely be too busy to give you a kiss under the mistletoe while she's playing with this teaser toy from Frisco. The mistletoe and bow are stuffed with catnip, so your cat will want to keep playing all day long.
Good luck narrowing down which Christmas cat toys you'll choose! No matter which ones you buy, your cat will absolutely have a festivity-filled Christmas Day.
We independently pick all the products we recommend because we love them and think you will too. If you buy a product from a link on our site, we may earn a commission.