The Best Christmas And Hanukkah Cat Toys And Treats
The yummiest time of the year 🎄🕎
We independently pick all the products we recommend because we love them and think you will too. If you buy a product from a link on our site, we may earn a commission.
There's no time like the holiday season for yummy food and new toys. And of course you want to get your cat in on all the action, too.
Whether you celebrate Christmas or Hanukkah — or both! — you probably love getting in the holiday spirit.
This is a list of some of the yummiest holiday-themed treats and most fun toys so that your cat can enjoy the holidays right alongside you.
Luxury Personalized Christmas Cracker

This elegant Christmas cracker is stuffed with a rattling mouse cat toy that'll leave your cat entertained for hours.

Weruva Feline Festivus Variety Pack Canned Cat Food
It's a Festivus for the rest of us! And for your cat, too.
Dreidel Organic Catnip Cat Toy
These cute Hanukkah dreidels are stuffed with organic catnip and customized based on which Hebrew letter you'd prefer.
TEMPTATIONS Holiday Dinner Cat Treats
If your cat's a loyal fan of Temptations, this limited time holiday version will let her get in the spirit while sticking to familiar treat territory.
Friskies Party Mix Adult Cat Treats Canisters
Friskies lovers will appreciate this limited edition holiday party mix.
Catnip Coal

If your cat's a little on the sneaky side — aka if your cat's a cat — this catnip-stuffed coal probably suits her personality.
Christmas Cat Gift Basket
This adorable gift basket contains biscuits and toys for your BFF.
Santa Claus Tumbler Mouse Cat Feeder Toy
Some cats are super picky — so if yours refuses to try a different treat, just put their usual favorite in here to add some holiday pizzazz.
8 Crazy Cat Nights Variety Pack
Let those eight crazy nights turn into eight yummy meals.
Letter From Santa Catnip Cat Toy
Your cat will go wild for her letter from Santa.
Goody Box Holiday Toys & Treats for Cats
This adorable holiday gift box is filled with toys and treats your cat will love.
Snif-Snax Happy Holiday Advent Calendar
Your cat will look forward to your morning routine when an Advent calendar full of yummy treats is involved. Want more options? Here's a whole list of adorable Advent calendars for your pets.
Candy Cane Catnip Toys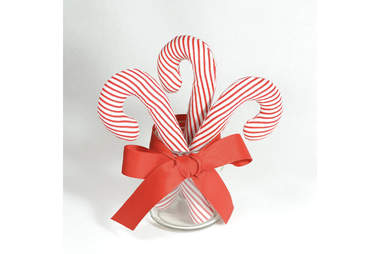 Etsy
Adorable Christmas candy canes are stuffed with catnip for your cat to enjoy. (There's also a green option.)