These Are The Cutest Toys To Help Your Teething Puppy
For him to sink those tiny shark teeth into 🦈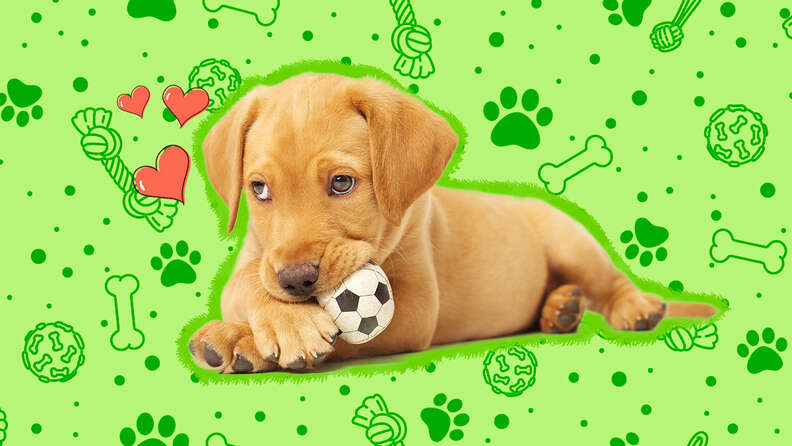 You know it's teething time when your puppy starts chewing literally everything in sight. And even after his teeth have grown in, your puppy will still want to chew everything and anything.
That's why it's important to have a bunch of chew toys on deck to keep him entertained and away from your furniture.
The Dodo talked to Texas-based vet Dr. Sara Ochoa to learn more about what to look for (and what to avoid) when choosing the best puppy toys to keep your new BFF happy and healthy.
Benefits of chew toys for teething puppies
As much as it hurts when your favorite pair of shoes ends up chewed to bits, the teething process actually hurts your puppy even more — which is why it's important to get the right toys to help him through it.
When your puppy's teething, he's experiencing discomfort caused by his first or second set of teeth growing in. His gums will be sore, and he'll have the urge to chew anything and everything in his path to relieve the pain.
So, chew toys are beneficial for both you (and your furniture) as well as your puppy (for pain relief).
Toys can also be used to further incentivize your puppy to chew on things other than shoes, towels, shirts, etc. You can pick up a toy that can be filled with a treat, like peanut butter, to guide him in the right direction. And you can even freeze these toys for added pain relief!
What kinds of chew toys are best for puppies?
Even when your puppy's out of the teething stage, you'll still want to have plenty of chew toys on hand for your playful pup. According to Dr. Ochoa, the best puppy toys are the ones that can withstand a lot of play.
"When looking for a chew toy for a puppy, make sure that it is very tough and does not have any small parts," Dr. Ochoa told The Dodo. Toys with small parts can be a hazard for your puppy because he could swallow one of them, causing an obstruction.
So, which kinds of toys are the best teething toys for puppies?
"My favorite chew toys for puppies and even adult dogs are KONG toys," Dr. Ochoa said. "They come in different sizes and are great for both small dogs and very large dogs."
KONGs hold up great against aggressive chewers but are soft enough to not break delicate, new puppy teeth or cause damage to already sore gums.
Chew toys to avoid
Not all dog toys are created equal, and some may cause damage to your puppy's new teeth and mouth. In fact, there are chew toys dogs of all ages should generally avoid.
"I always recommend avoiding pig ears, hoves and hard bones," Dr. Ochoa said. "If you hit yourself in the knee with the chew toy and it hurts, it is too hard for your dog."
Best chew toys for puppies
Here are a few chew toys Dr. Ochoa and fellow pet parents suggest for puppies.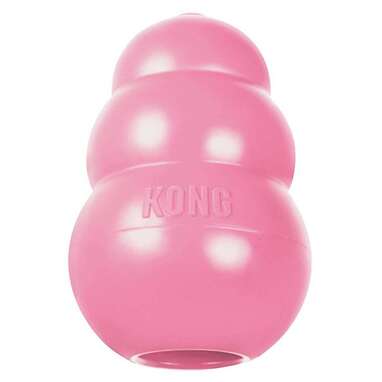 "KONG chew toys are both safe and hold up to aggressive chewers," Dr. Ochoa said. "These are my go-to … chew toys for dogs."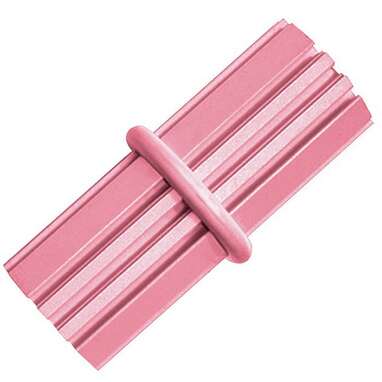 KONG even makes a toy specifically designed for teething puppies. The ridges create a soothing texture that helps further relieve gum pain, and similar to the original KONG, you can put treats like peanut butter inside the center channel.
Pet parents love the Petstages Orka toy because it's textured for teething, has multiple links that make it great for playing tug-of-war, and is interesting enough that it keeps pups away from chewing other items around the house.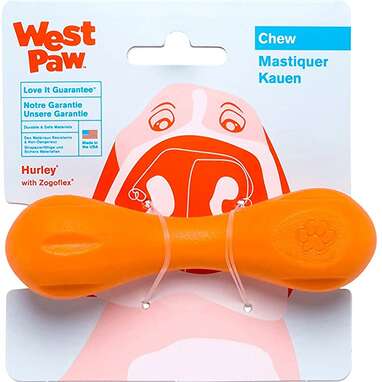 It's a chew toy and a fetch toy all packed into one! The rubber is durable enough to withstand aggressive chewers, yet lightweight enough to float in water (great for new swimmers!). And it's even dishwasher safe.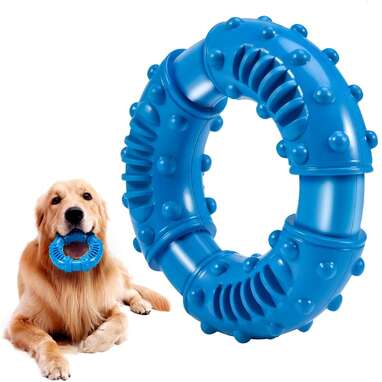 This ring toy from Feeko is loaded with different textures that soothe gums and clean teeth, and it's made with a soft, durable rubber perfect for all breeds.
Keep tender gums happy and little teeth safe by stocking up on some of the best puppy toys listed above. Your new BFF will thank you with tail wags and licks.
We independently pick all the products we recommend because we love them and think you will too. If you buy a product from a link on our site, we may earn a commission.