12 Catnip Toys That Your Cat Will Go Crazy Over
Totally irresistible 🌿
We independently pick all the products we recommend because we love them and think you will too. If you buy a product from a link on our site, we may earn a commission.
Catnip is simply irresistible — even to cats who pretend they don't like to play. So if you stock up on catnip toys, not only are you treating your cat to hours of silliness, but you'll also have fun watching her go nuts over the stuff. Catnip is truly a win-win for everyone!
There are a lot of cute (and potent) catnip toys for cats available online. So if you're looking to expand your cat's catnip toy collection, check out the best-of-the-best catnip toys below — and see why pet parents are raving about them in the reviews.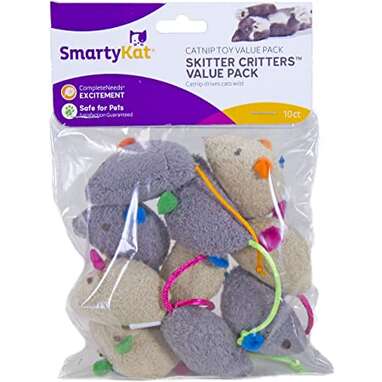 The "Skitter Critters" from SmartyKat are the ultimate classic catnip-filled mouse toy. Over 27,600 cat parents say their cats can't get enough of the Skitter Critters, with one writing, "They are carried everywhere around the house and are especially 'bappable' on kitchen [and] bathroom floors and bathtubs. They lay on their sides, are softly stuffed, velvety soft to the touch, smell of catnip and are silent. My cats would definitely recommend this product."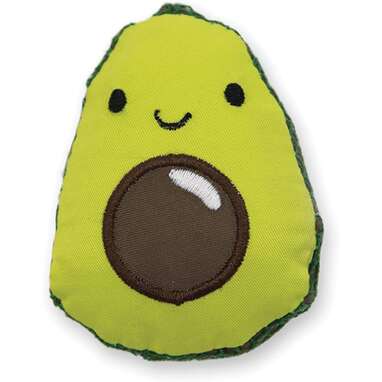 Whether you pick the adorable avocado, the whacky pretzel or the google-eyed cherries, your cat will love the toy you choose. Each Petstages toy is packed with enticing catnip, and the mesh exterior of the toy actually helps clean your cat's teeth with each bite. "This is my kitten Juniper's FAVORITE toy!" one of the over 18,100 five-star reviewers wrote. "She's always carrying it around in her mouth."
This catnip-stuffed flopping fish from Potaroma will drive your cat nuts. This catnip toy for cats is USB-chargeable and comes with a removable catnip pouch so you can freshen the toy up every now and then. The fish comes equipped with motion sensors so it knows when your cat is around and looking to play. As soon as it senses motion, it flips, flops and wiggles like crazy.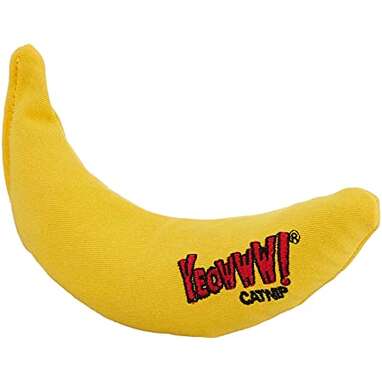 There's just something so appealing about this banana from Yeowww! (which also won our Paw of Approval award)! Over 13,200 cat parents have rated this toy five stars, with one writing, "The Yeowww! catnip banana is the closest thing you can get to a 'sure thing' in a cat toy. I have probably bought three bunches of these so far for my cats, shelter/foster donations and gifts." It's stuffed with 100 percent organic catnip and is made in the USA.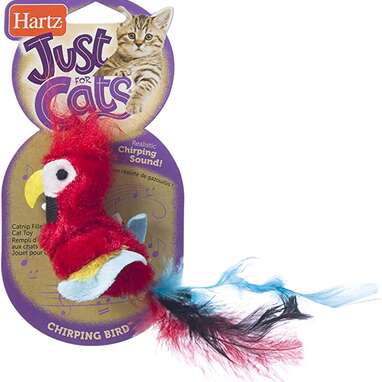 This catnip toy for cats has everything they love to go after — fluffy feathers, strings and, of course, catnip. The wand is extra-bendy to provide better bounce when your cat goes after the catnip-filled mouse, and over 15,900 pet parents say it's now their BFF's favorite thing ever.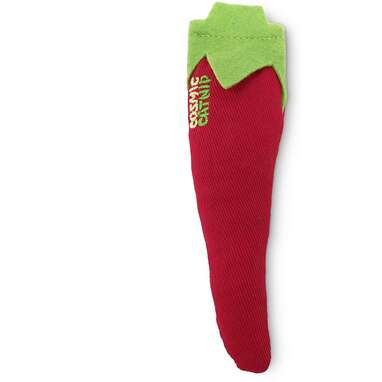 Another fun food-related catnip toy for cats is the red chili pepper toy from Cosmic. These things are stuffed with North American-grown catnip that Cosmic says is some of the most aromatic and strongest catnip currently available — in fact, one five-star pet parent can only call it one thing: "dark magic."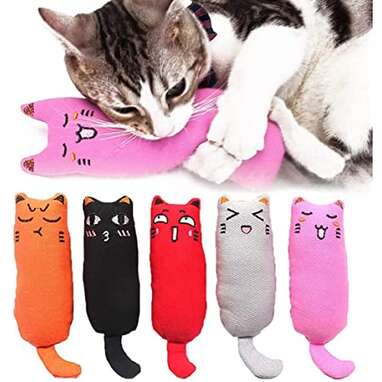 Not only are the cat-shaped catnip toys from Legendog absolutely adorable, but they're also made with breathable cotton linen that allows all the aromatic goodness to seep out while your cat plays. "Two seconds out of the box and my three cats each have one," one cat parent wrote. "They are happy and thrilled."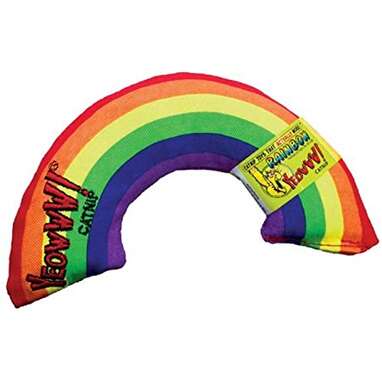 Just like the Yeowww! banana, the Yeowww! Rainbow catnip toy is also a massive hit with cats and their parents. "These catnip toys are my cat's absolute obsession!" one pet parent wrote. "When I got [the] mail I knew what was in the package but my cat freaked out! He almost ripped the package out of my hands."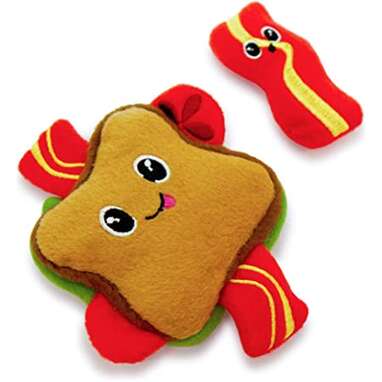 The Silly Snacks from Pet Craft come in so many cute shapes, like BLT, chips and guac, noodle bowls and more. Each toy is stuffed with pesticide-free catnip, which encourages your cat to play, jump, kick and get silly. "My cat LOVES the tortilla chip and avocado!" one cat parent wrote. "He's wrestled and tossed them around for about a week and they definitely seem like they're durable! So cute, too. I'll definitely be buying some of the other characters!"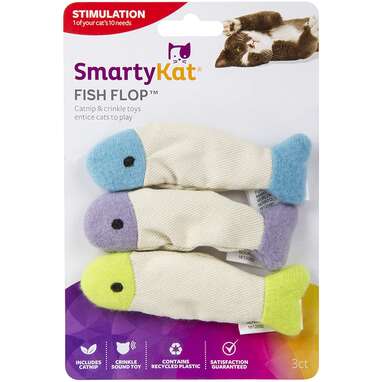 SmartyKat's Fish Flop toys are simple but deliver big time when it comes to fun. Each pack comes with three colorful fish with catnip-filled crinkle bodies that sound great when cats bite into them. "When we adopted our cat from a rescue, they gave us these fish toys and he plays with them all day long," one five-star pet parent wrote. "I wanted more fish toys for him, but couldn't find them in our local stores. I found them on Amazon and am very pleased with the purchase."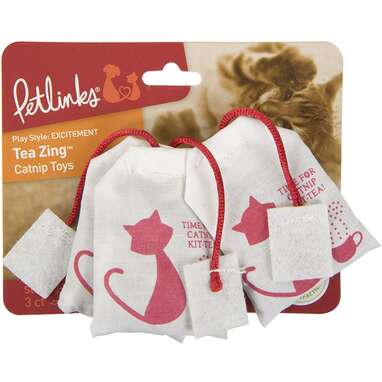 "I have two big and older cats … Neither play much with toys at all. Even given catnip, they play [for] a few minutes then go to sleep," one pet parent wrote about the Petlinks Tea Zing catnip toys." These toys are amazing! I had them in a box when I got home, and just placed the box on the floor … they ATTACKED the box!" Each pack comes with three "tea bags" filled to the brim with catnip to provide hours (and days) of play.
If your cat is a kicker, this is the toy for her. These long tubes of durable cotton duck fabric are stuffed with lightweight polyfill and an ounce of potent catnip that will keep your cat interested and coming back for more. You can pick up one of these kicker toys from West Coast Pet Products in a variety of fun and pretty prints, and your cat will definitely thank you.