Cool Cat Wall Stickers And Decals To Decorate Your Room
Easy to stick and remove.
We independently pick all the products we recommend because we love them and think you will too. If you buy a product from a link on our site, we may earn a commission.
Whether you're decorating a kid's room or want to add a bit of whimsy to your own space, putting up wall stickers of your favorite animal is a fun way to spice up your regular decor.
The Dodo found a bunch of cute cat decals and wall stickers online that are just as easy to apply as they are to remove, meaning these stickers are awesome for apartment dwellers or renters.
Check out the below cat wall stickers and try to pick a favorite. (Warning: It's hard!)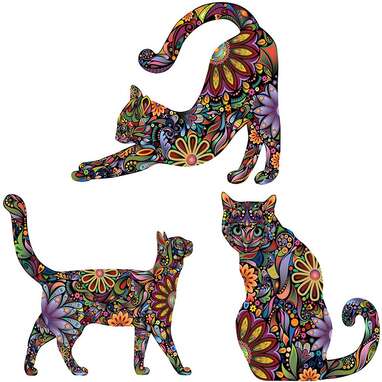 These cat stickers from Maydahui have colorful, floral mandala designs on each one. You get a total of three cat decals in each pack, and they adhere easily to any wall surface or window.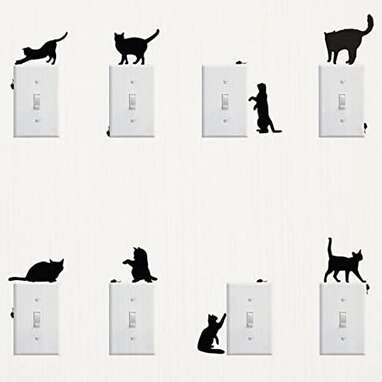 Decorate your light switches, window frames or any other area in your home with these adorable mini cat stickers from Funcoo. You get eight stickers in each pack, and each shows a black cat silhouette playing with a tiny mouse toy. "Every time I have guests over, they're always talking about them," one reviewer said. "They're really easy to apply and also easy to remove, in case you want to readjust them or just want to switch them up."
They're alive! These six 3D cat stickers from TTSAM make it look like there are real cats busting out of your walls. These stickers stick on any surface from drywall and glass to porcelain or even your laptop.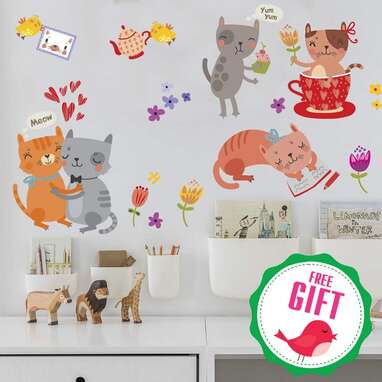 Perfect for a kid's room or play area, these cute cartoon cat decals from DesignStickers show colorful cats of all shapes and sizes enjoying each other's company. This set even comes with scenery stickers, like flowers, teapots and birds.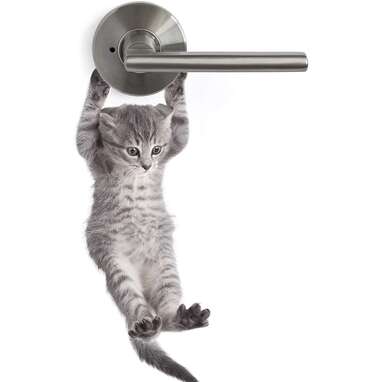 This kitten sticker is just hanging out. "This is absolutely too cute!" one five-star reviewer wrote about the Stickerbrand kitten decal. "My daughter loves cats, so I decided to put this as a surprise on the inside of her closet door. It was so easy to place, and when she opened her door, she was ecstatic!"
Love the look of the black cat silhouettes but want something bigger? These cat decals from Digiflare Graphics on Amazon are lifesize, and the six stickers show the cats in various different poses, from lounging to exploring.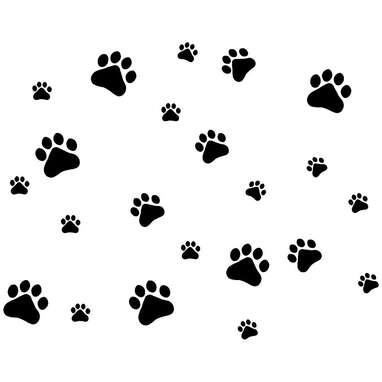 Who left these paw prints all over the place? These adorable cat paw print stickers from MLM go great with any of the above wall stickers and stand out on their own, too! Each pack comes with three different sizes of prints so you can make a cat trail or stick them at random around your room.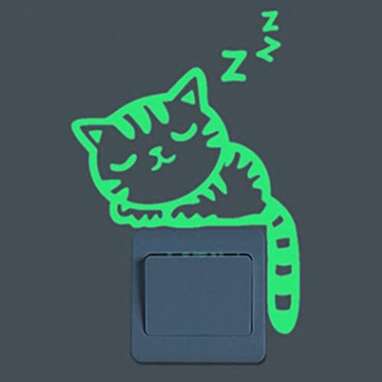 How sweet would this snoozing little cat be perched on top of your light switch? This cat sticker and matching Z's glow in the dark after being exposed to either natural sunlight or lamp light during the day, and they'll help you find your light switch if you have to get up in the middle of the night.