9 Cat Tunnels On Amazon Your Cat Will Love
Playtime has never been more fun.
We independently pick all the products we recommend because we love them and think you will too. If you buy a product from a link on our site, we may earn a commission.
Every aspect of life is an adventure for curious cats. And to encourage your cat's love of discovery even more, placing a cat tunnel in her play space will give her yet another uncharted territory to explore, hide in and zoom through like no one is watching.
The Dodo found some of the best-rated cat tunnels on Amazon, and the reviews from happy pet parents prove that these cat tunnels keep cats entertained for hours.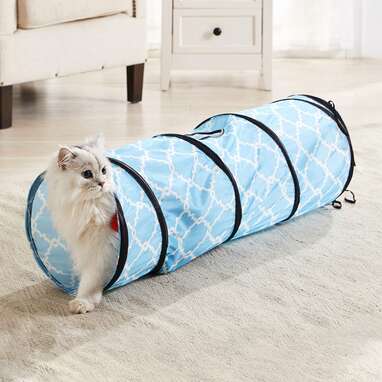 If you're looking for a basic cat tunnel, the one from Western Home is a great option. It's a bit wider than regular cat tunnels, making it an ideal fit for bigger cats, and the hole at the top is awesome for peek-a-boo. This tunnel also comes with a dangling pom pom toy at one end.
This three-way collapsible cat tunnel from Tempcore will provide endless hours of hide-and-seek fun. With over 4,000 five-star reviews on Amazon, pet parents say it's sturdy during playtime and easy to fold up when playtime is over.
The glow-in-the-dark cat tunnel on Amazon from LUCKITTY is awesome for both daytime and nighttime play. The plush outer layer of the tunnel is strong and fun to jump on, and the moons and stars on the outside will glow after exposure to sunlight or lamplight. "Man, was I shocked when this baby glowed BEAUTIFULLY," one pet parent wrote. "It's bright enough for me to not step on it in my dark bedroom at night (very handy). My cats love it, and I really can't express enough how cool it is!"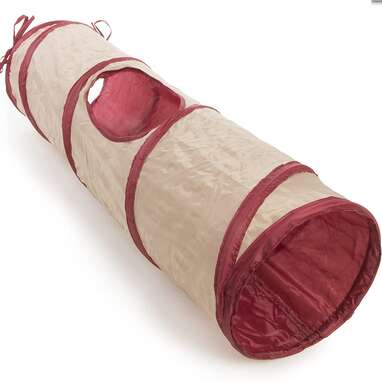 If your cat loves a good crinkly toy, then she'll love bombing through the SmartyKat Crackle Chute. It makes enticing crinkly, crackling noises that mimic the sound of hunting through bushes in the wild, and the peephole offers a fun, new way to get in and out of the tunnel.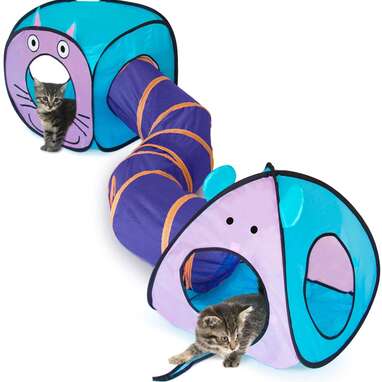 This S-shaped cat tunnel comes with two tents that sit at either end, providing more space for your cat to hang out, hoard toys and hide from her brother or sister. The tents can be removed and used separately, and the tunnel has peek-a-boo cutouts throughout.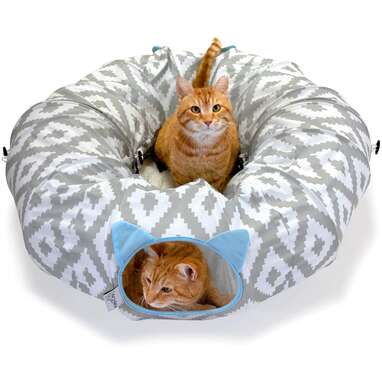 Available in two different patterns, the Kitty City cat tunnel bed is the best of both worlds — it's a fun donut tunnel, perfect for playing, and it's a cozy bed that comes with a washable plush pad. The tunnel can also be unhooked to sit in a semicircle for a bit of playtime variety.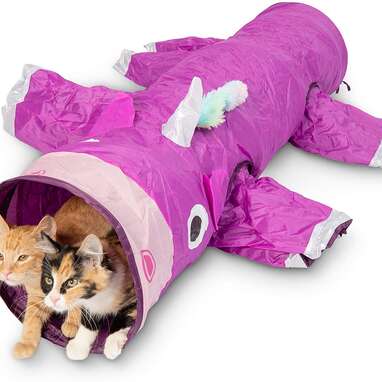 "A fabulous place for little Rebel the murder muffin to plot her diabolical plans," one pet parent said of the Pet Craft Supply Magic Mewnicorn cat tunnel on Amazon. "This tunnel is well made and makes a fabulous crinkling sound when she runs through it." The deflated legs of the unicorn are also fun for cats to investigate.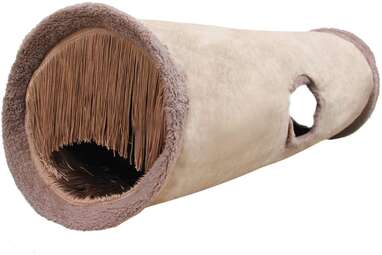 One end of this crinkle cat tunnel from Petest is trimmed in fringe, giving your cat the perfect spot to hide in plain sight. The inside of the tunnel is lined with crinkle paper, so it has that enticing crunchy sound, and the faux-suede exterior makes it durable and comfortable for cats to play around when not inside.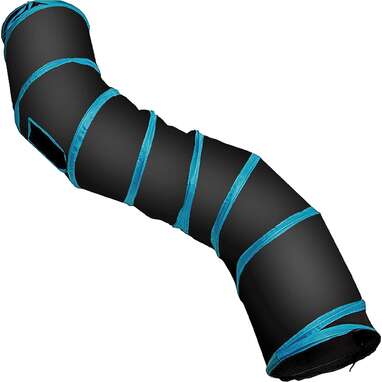 The S-shaped cat tunnel on Amazon from PetLike is longer than your standard cat tunnel and gives your cat a few bends to creep around, hide behind and jump out from to scare her brother or sister. These tunnels are also easy to fold down and store, and come in a variety of bright and neutral colors.