The Best Cat Treats On Amazon
"If you want your cat to eat regular cat food ever again … do NOT get these treats!"
We independently pick all the products we recommend because we love them and think you will too. If you buy a product from a link on our site, we may earn a commission.
Cats deserve all the treats. But which ones are the absolute best (and tastiest)?
According to pet parents who have put several cat snacks to the test, these 10 brands of cat treats on Amazon are the ones their cats have gone crazy for. From lickable purées to flaky food toppers to crunchy teeth-cleaning treats, your cats may just become addicted.
Treat your cat to the best cat treats on Amazon, and the purrs will come rolling in.
Help your cat clean her teeth and freshen her breath by giving her Greenies cat treats, which are so good that they earned The Dodo's Paw of Approval. The crunchy texture helps to remove plaque and tartar buildup on her teeth, which naturally reduces foul-smelling breath. And Greenies are less than two calories per treat, so even cats on a diet can enjoy them.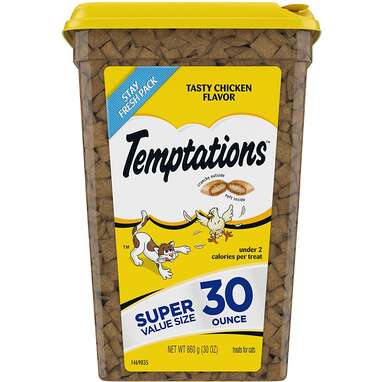 With over 32,100 five-star reviews on Amazon, and The Dodo's Paw of Approval, pet parents say their cats cannot get enough of the Temptations cat treats. These treats come in a bunch of different flavors and varieties, including the much-loved classic treats as well as the MIXUPS variety packs. "If you want your cat to eat regular cat food ever again … do NOT get these treats!" one pet parent joked. "He prefers these treats over anything else I give him, and he will meow, whine, paw at your leg, jump on your lap, and if outside and you shake the plastic container … he will come running from wherever he's at to get some of these treats."
If your cat prefers something a bit less crunchy, Hartz's Delectables Bisque lickable cat treats are the perfect option. You can grab a pack of 12 individual packets of the Hartz bisque in yummy flavors like tuna and chicken, tuna and shrimp, and tuna and veggies.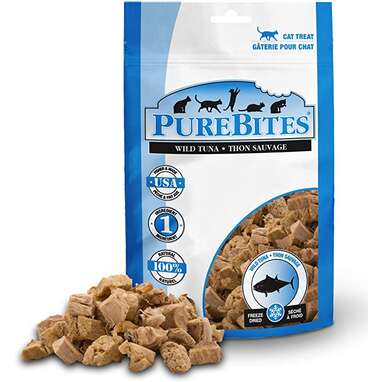 These tasty treats from PureBites are freeze-dried protein bits that are preserved raw, meaning there's no ingredients other than fish or meat. "I put this on as a topper on the dry food every now and then. My cats love it," one pet parent wrote. "I am so glad that I have discovered this little treat."
These super flavorful cat treats on Amazon from Purina Friskies are a hit among cat parents and their BFFs. Over 20,800 reviewers gave Party Mix a five-star rating, with one writing, "If I even touch or move the jar of treats, she'll come running and beg for treats. Not sure what they put in these treats, but they have made my cat very obsessed with getting a treat all the time."
Feed your cat this lickable purée from INABA straight from the tube, or empty the packet into her bowl for a tasty treat. The Churu lickable treats come in a wide variety of flavors, and you can buy up to 50 tubes at a time. Their water content helps keep your cat hydrated, and Churu can even be added to dry food to make it more appetizing for picky cats.
Pick up a package of the Blue Buffalo Wilderness treats in chicken, trout or salmon flavor, and know you're feeding your cat a protein-rich and delicious snack. These treats are grain-free and do not contain artificial flavors or preservatives.
"My cats absolutely LOVE these Catmandoo bonito flakes!" one five-star reviewer wrote, adding, "I have been buying them for many years, and every kitty that I have ever had has loved these treats." The bonito flakes are great as treats on their own, but the flaky texture also makes them ideal for a cat food topper, too.
For cats who like softer treats, the Pounce moist cat treats on Amazon are a great option. They're chewy, bite-sized morsels that are the perfect texture for senior cats or cats with teeth and gum issues, and the seafood medley flavor will have your cats obsessed.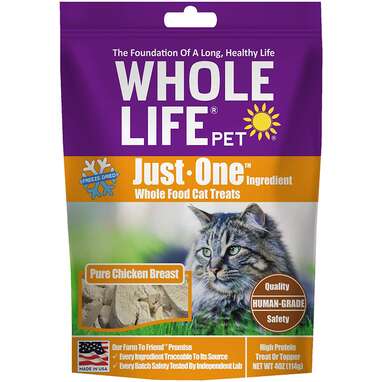 The "Just One" in the name of the Whole Life cat treats means that these snacks are made with just one ingredient — pure chicken breast. These treats are a great source of protein, and the freeze-dried process ensures that preservatives aren't needed to keep these treats fresh and full of nutrients.