The Best Toys For Cats That Will Keep Them Entertained And Happy
Playtime with your cat just got a lot more fun.
In the market for some new cat toys? You've come to the right place.
Cats are intelligent animals who feel their best when they're mentally and physically stimulated throughout the day (leaving plenty of time for naps, too, of course). Cat toys can be an excellent way to help your cat burn energy and lead a happy and interesting life.
But what should you keep in mind when you're shopping for the best toys for cats? We spoke with Dexter Jones, a feline behaviorist with We Love Cats and Kittens, and Dawn LaFontaine, owner of Cat in the Box, to find out more.
What to look for when shopping for cat toys
When shopping for the best cat toys for your feline, there are a few things you may want to keep in mind — a cat toy should be engaging, stimulating, durable and nontoxic.
While each cat is different, when it comes to toys, it's important to find toys that will entertain but also provide mental stimulation. A cat's natural hunting instincts are good to keep in mind — your cat wants to hunt, pounce and play with his toys, and these actions will keep your cat healthy both physically and mentally.
And the more durable, the better. You want to make sure the cat toys can't be torn apart, especially if your cat will be playing unsupervised.
One other factor to keep in mind? The element of surprise. "Your cat wants to be surprised by novelty," Jones told The Dodo. "That means switching up toys and trying a new toy that they haven't seen before. They will have favorites, but often introducing something new and unusual is what will really keep your cat stimulated and active."
A fancy cat toy isn't a requirement, but how safe it is definitely should be.
"Don't offer your cat toys with small parts that can come loose and be swallowed. Also, it's best not to leave fishing-[rod] or wire toys out when you're not home supervising your cat, as they can quickly become strangulation hazards," LaFontaine told The Dodo.
We've rounded up a selection of the best-reviewed cat toys available, keeping durability, safety and the ability to engage top of mind.
The best cat toys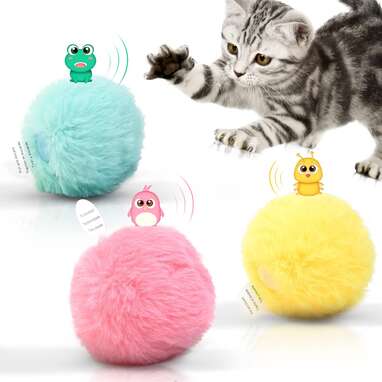 Your cat will pounce on these balls when he sees them! These plush, interactive cat toys are made from durable and safe materials to withstand playtime. Making three animal sounds when rolled around (frog, cricket and bird), the fluffy balls come with built-in batteries and go quiet when still to save battery power. We love that the balls come with a removable lid so you can add a little catnip for extra fun!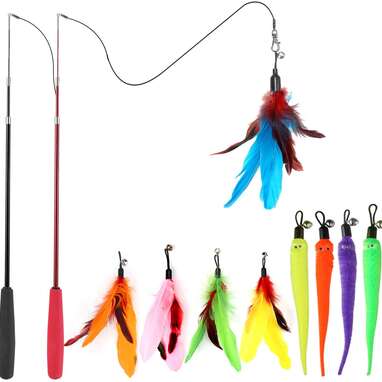 This retractable cat wand toy is super enticing, as it comes with nine attachable feathers and worms (made of safe, natural materials) to keep your cat involved in a chasing game all afternoon. Suitable for kittens and cats of all ages, this toy will bring out your cat's hunting instinct as he pounces and bounds around after it. When fully extended, the wand measures 38.9 inches, so your cat will burn lots of energy as he chases back and forth after this interactive cat toy.
And remember, you should never leave wands out when not actively playing or watching your cat, as cats like to chew on things, thus causing a potential safety hazard.
We love a 2-in-1 game! This scratcher and rolling ball track combo offers tons of entertainment for your cat. Kitty can sharpen his claws on the corrugated cardboard, then bat and chase the ball as it rolls around the track. And just to make things really fun, this interactive cat toy comes with a packet of catnip.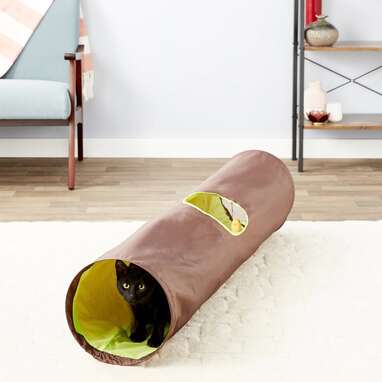 A favorite of both cats and kids, this pop-up cat tunnel is not only a fun place to play but a welcome hiding spot for an afternoon nap. A tunnel toy taps into a cat's natural love of exploring, so your kitty will love seeing where this tunnel leads. Best part? It pops up easily and folds down quickly and flat for simple storage. It also has a poof toy to keep your cat entertained. Happy exploring!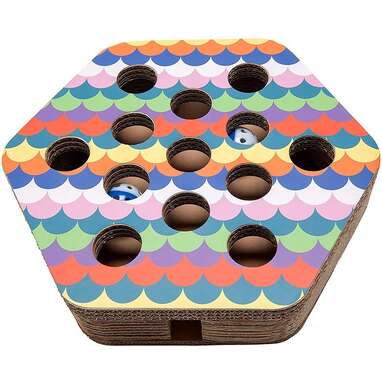 Put your cat's skills to the test with this game. Once again, we love the 2-in-1 interactive toy concept, as this offers both a scratching surface and jingle bell balls that he can look for within each hole on the top and sides of the game. Made from recycled materials, we love that this cat toy is eco-friendly, too. The included catnip will help lure your cat to scratch on the toy instead of, well, the couch.
A classic cat toy, flashing a laser will entice your cat to hunt and chase as he follows the light around the room. Cats have a natural hunting instinct, so they will love pouncing around as they try and "catch" the light. Bonus point for the Whisker City laser, which comes with batteries and three replacements.
A fair trade ball toy that's infused with catnip? Yes, please! These felted balls are ethically produced in Nepal and made with workers' rights in mind. They'll arrive in an adorable tin stuffed with the seller's custom catnip blend. When the smell begins to fade, simply place them back in the tin, and the pods in the bottom will help them recharge within 24–48 hours.
Looking for a multitude of new cat toys? You can't go wrong with this variety pack of 13 cat toys, which will keep your cat entertained all afternoon. These lightweight toys include: six balls, three pom-poms, two mice and one fish (all three with catnip), and one wand for interactive play.
While it may take trying a few different kinds of cat toys to determine which one your cat likes the most, one thing's for certain — your cat will love having playtime with you!
You can't go wrong with any of these safe, fun and durable options. Your cat will love his new toys!
We independently pick all the products we recommend because we love them and think you will too. If you buy a product from a link on our site, we may earn a commission.Links are updated when possible, but note that deals can expire and all prices are subject to change.