The Cutest Cat Shower Curtains For Your Bathroom
Because everything is better with cats on it.
We independently pick all the products we recommend because we love them and think you will too. If you buy a product from a link on our site, we may earn a commission.
Going through a bit of a bathroom redo? Why not treat yourself to a brand-new shower curtain, and better yet, one with cats on it!
The Dodo found a bunch of adorable cat shower curtains on Amazon that will put the finishing touch on any bathroom makeover. From hilarious conversation starters to sophisticated cat-themed illustrations, there's a shower curtain here for everyone with any aesthetic.
Start your mornings off right by showering behind the ultimate cat shower curtain.
This cat shower curtain from LIVILAN comes in three different heights and features an assortment of cat silhouettes drawn in different patterns. The curtain is machine washable, comes with a reinforced top around the grommets and has an overall 4.9-star rating.
The pink, teal, blue, tan and gray cats on this adorable shower curtain on Amazon from MitoVilla smile back at you when you pull the shower curtain across your tub. The curtain is completely water resistant and won't wrinkle or crease when it dries. Plus, you can throw it in the washing machine to keep it clean.
"This is a super cute design," one five-star reviewer wrote about the IcosaMro cat shower curtain on Amazon. "Yes, I'm a cat lady. The shower curtain looks just like the picture." The white background allows for light to come through, but your privacy remains protected.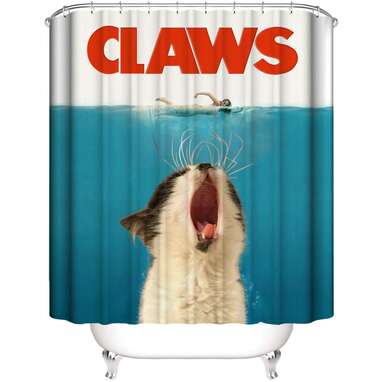 Cat people with great senses of humor will love this "Claws" shower curtain based on the classic movie "Jaws." Instead of a giant shark lingering just below the surface, a *very* scary cat lies in wait. Hey, starting your day with a laugh is always a good thing!
The old saying "It's raining cats and dogs" has come to life on this adorable shower curtain from DZGlobal. It depicts a showerhead from which cartoony dogs and cats sprinkle out, and they're all happy to see you.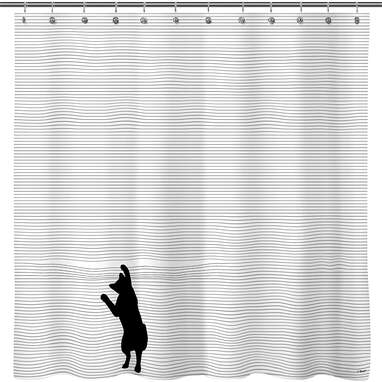 This subtly sweet cat shower curtain on Amazon from Sunlit looks like a standard black-and-white striped curtain until you get to the bottom, where a little black cat silhouette is peeking through the stripes. This curtain is made with machine-washable, quick-dry material and comes with rustproof metal grommets.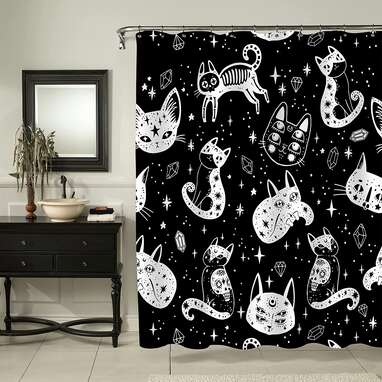 If you have a witchy aesthetic, then this mystical and magical cat shower curtain from MitoVilla may be right up your alley. It's primarily black, with white cats scattered among stars printed on the front. "Great shower curtain!" one five-star reviewer wrote. "The quality is good, and the print is awesome. I get lots of compliments on it."
This machine-washable cat shower curtain from DESIHOM features an array of different patterned cats done in a pen-and-ink-style illustration. The curtain itself is slightly transparent, so light will be let into your shower without you having to give up any privacy.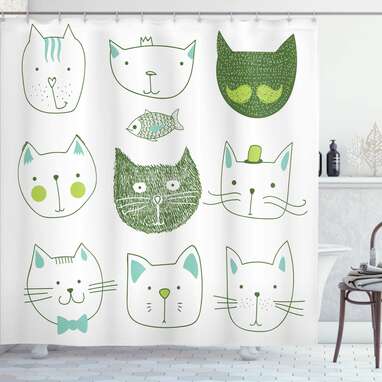 There's nothing more adorable than the nine cat faces on the Ambesonne cat shower curtain. This curtain comes in eight different colors, and each one features these simple cat illustrations that look like they're from a storybook. It's great for a kids' bathroom or an adult's shower alike!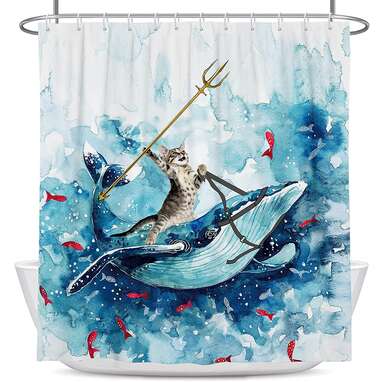 The star of the Coxila cat shower curtain on Amazon is a small but mighty cat who has harnessed the power of the ocean and isn't about to let go. "I love this shower curtain!" one five-star reviewer wrote. "It's thick enough to where it's not see-through, and you can't see through with my plastic see-through shower curtain underneath it … I have to say, even my cat loves it! He lays by it next to the toilet. It's his new spot."