The Best Cat Shelves On Amazon
Level up your cat's play space.
We independently pick all the products we recommend because we love them and think you will too. If you buy a product from a link on our site, we may earn a commission.
Cat trees and kitty condos provide a safe space for cats to play, relax and flex their climbing and scratching skills. But for pet parents who live in smaller spaces, investing in a giant cat condo just isn't feasible. That's where wall-mounted cat shelves come into play.
Rather than taking up precious floor space, cat shelves can be mounted to any wall, in any configuration, and will level up your cat's play space — literally!
Check out these top-rated cat shelves on Amazon to give your cat a space that's all her own.
New to cat shelves? These easy-to-install sisal-covered shelves from FUKUMARU are made with thick rubber wood and durable wall brackets. They're simple, blend in with most aesthetics and give your cat a new place to explore. "He spends all of his time there," one pet parent wrote. "He used to cuddle with me, meow at me, knock over my cups of water … no, now he just sits there all day long, silently judging me."
This set of cat shelves on Amazon from 7 Ruby Road comes with two wall pegs and a padded hammock (aka the ultimate relaxation station). Both step pegs are covered with jute rope to make them safe and easy for your cat to step on, and all parts are made from eco-friendly wood. All the hardware to install is included in the package, so no need to run to the hardware store.
The curved bed and coinciding two stepping shelves in the bqw cat shelving system are padded with comfy upholstery, making them safe to step on and a cozy sleeping spot. The bed shelf is a long wave design that cradles your cat while she snoozes, and pet parents say it's big enough to comfortably fit larger cats.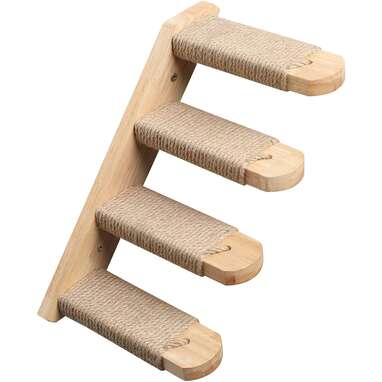 Add this jute-covered stair shelf to an existing wall-mounted cat jungle gym, or install it on its own to give your cat a fun new activity. FUKUMARU's cat climbing shelf has over 800 five-star reviews, and the photos pet parents have included in their reviews will give you some great installation tips and ideas.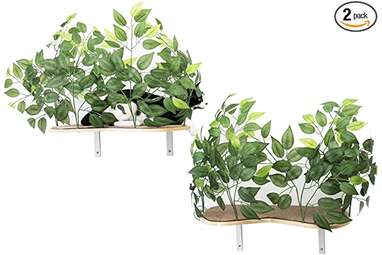 "I have a super rambunctious indoor cat who's been unhappy ever since moving to an apartment in the city, where he doesn't have his squirrels to watch," one pet parent wrote about the On2Pets canopy shelves. "Enter these shelves. They look good enough to hang in my bedroom — which is important in a small space. They're sturdy and well made. And my cat LOVES them!" The leaves provide a perfect hiding spot for your cat, who may need a bit of privacy now and again.
This full wall-mounted cat shelf set on Amazon from TRIXIE pet products comes with a hammock, two steps and a cat condo. The surfaces of each part are covered in plush faux fur and gray sisal rope, making each area great for either cuddling or scratching. And good luck trying to get your cat out of that nest-like condo when she realizes how cozy it is.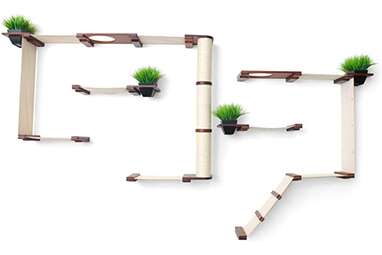 If you're willing to invest in a mini mansion for your cats, the CatistrophiCreations shelving unit is about as deluxe as you can get. It comes in various different wood finishes and includes spots for cat-friendly potted plants, so you literally bring the jungle to your cat. And feel free to set the shelving up in any configuration you desire.