The Best Cat Recovery Suits On Amazon
Seriously, he'll prefer this to a cone.
We independently pick all the products we recommend because we love them and think you will too. If you buy a product from a link on our site, we may earn a commission.
If and when your cat undergoes surgery or needs to recover from a skin condition, your vet will most likely give you a cone to put around her neck to prevent her from licking and chewing her wounds. But there's actually a more comfortable option out there for her recovery.
Cat recovery suits may just help you and your cat ditch the cone for good thanks to their full-body coverage, breathability and convenience.
So if you're interested in trying out a new method for recovery, check out the best cat recovery suits on Amazon according to pet parents who swear by them.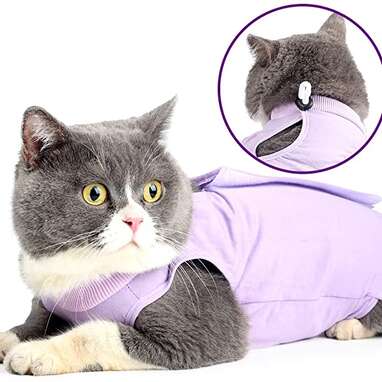 With an elastic collar and ribbed arm holes, the cat recovery suit from Doton is comfortable for your cat to wear and protects sensitive areas from licking and scratching. It comes in five different colors and three sizes, and it secures up the back for easy wear and removal.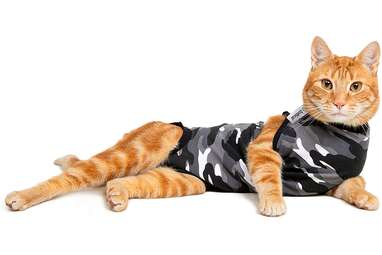 The Suitical cat recovery suit is made for smaller cats and comes in sizes ranging from 3XS up through small. It's great for kittens after they get spayed or neutered as it covers all the vital areas, snapping closed around the base of the tail and back legs. But it's also a great alternative to a standard cone.
With an adjustable toggle at the neck and Velcro up the back and sides, this cat recovery suit on Amazon from TORJOY will fit your cat perfectly. "I originally bought an inflatable recovery collar for when my little one came home from her spay appointment, but I so wish I hadn't. The collar was such a nightmare that I purchased this in a panic," one pet parent wrote. "I am so happy I did!!! Shipping was lightning fast, the suit itself is soooo much more comfortable for her, and we are both sleeping nights again."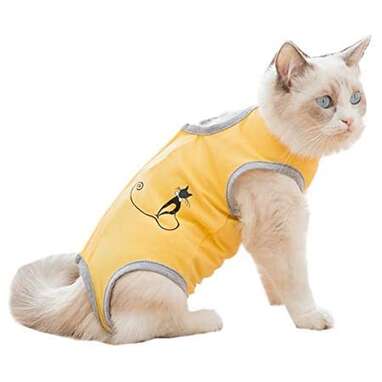 Available in several cute patterns, the Coppthinktu cat recovery suit is made from light, breathable material that will keep your cat's sensitive areas protected without her feeling suffocated by bulky fabric. It secures with two Velcro straps and comes in four sizes.
"After her spay, my veterinarian said a suit or cone would only be necessary if she was licking and biting at her stitches too much," one pet parent wrote about the DogLemi cat recovery suit. "It does a great job of keeping her from getting at the stitches, and as a bonus, she hates wearing it and doesn't move much when it's on, which is great for helping her heal." This suit also has a strap that secures under the tail for added protection and anchoring.