The Best Cat Puzzle Toys On Amazon
A tired cat is a happy cat ❤️
We independently pick all the products we recommend because we love them and think you will too. If you buy a product from a link on our site, we may earn a commission.
Cats are curious creatures who will poke, prod and push anything and everything just to see if it's something they can play with or eat. So, to challenge your cat, you can give her one of these fun cat puzzle toys from Amazon and let her brain (and paws) get to work.
Each of these toys, in which you can hide treats or kibbles, will keep your cat busy for hours. Some of them are great for playtime, whereas others can be used at mealtimes as slow feeders, which are great for cats who eat too fast and may have a hard time digesting food.
Check out the best top-rated cat puzzle toys on Amazon below.
Drop a few treats into the cups of the Catit Senses 2.0 Digger cat puzzle toy on Amazon (which won The Dodo's Paw of Approval), and let your cat get to work fishing them out. And thanks to the stable base, you don't have to worry about your cat cheating her way out of playing. This toy can be used as a slow feeder or a treat dispenser — just adjust portion sizes accordingly.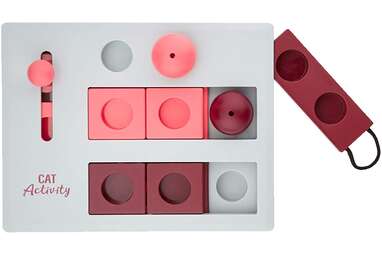 The TRIXIE pet brand has a fun variety of cat puzzle toys and feeders available on Amazon, including this slider game that challenges your cat to push sliding doors and pull levers to reveal hidden treats. There are also removable balls and pull-to-open doors on the side that you can hide goodies in. Over 9,700 cat parents say this TRIXIE activity feeder keeps their cats entertained for hours.
The waffle puzzle game on Amazon from OurPets lets you hide treats in the nooks and crannies of the "waffle" and challenge your pet to get them all out by rotating the plastic plate on top that looks like syrup. Or you can get the sushi puzzle, which is a challenging yet fun slider game that many pet parents say their cats are obsessed with — "They absolutely love it!!" one wrote. "It's easy for them to slide the pieces. They don't put their faces in to get the treats; they use their paws to 'dig' it out. They get a lot of mental stimulation using this, which is great as they are strictly indoors."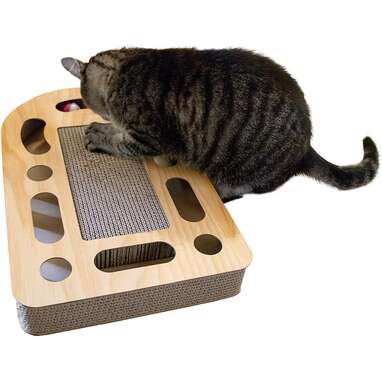 The cardboard cat scratchers from Furhaven come in a handful of fun designs to choose from. The one listed above comes with catnip (that can be sprinkled into the cardboard honeycomb) as well as a ball that your cat can go after using the cutout holes around the center scratcher.
This easy-to-assemble cardboard puzzle game is customizable — put whatever treats or toys your cat enjoys inside the inner sliding boxes and let the games begin. "I wouldn't use this as a feeder/their whole source of food, but it's great for mental stimulation," one pet parent wrote of the Cat Amazing cat puzzle toy on Amazon. "They love after playtime ... when I chuck treats in and just sit with some tea and watch them work out how to get some yummies."
"My smart cat loves this toy!" one cat parent wrote in their review for the All For Paws interactive cat puzzle on Amazon. "This toy is fab because you can customize and change it to suit your cat's difficulty level, as well as just changing it up so your cat can't memorize the easiest way to solve the board." The nonslip rubber feet keep the game in place while your cat plays, and the maze can be different every time, depending on how you customize it.