The Best Cat Leashes On Amazon
For outdoor adventuring 🍃
We independently pick all the products we recommend because we love them and think you will too. If you buy a product from a link on our site, we may earn a commission.
Cats love a good adventure outside, and suiting your cat up in the right harness and leash is a must before you take her into the great outdoors.
Though many cat harnesses come with leashes, some don't, so you may find yourself on the hunt for the right one.
After seeing what pet parents had to say about the cat leashes on Amazon, The Dodo found the best leashes to pair with your cat's existing harness. You're one click away from giving your cat the outdoor experience she's been waiting for.

This 10-foot retractable leash on Amazon from Fida is great for both small dogs and cats. It works with a single button on the back that allows you to free the leash, lock the leash and intermittently stop if needed. You can pick one up in one of several bright colors to match your cat's existing harness, and over 24,000 pet parents say the Fida leash is a win.
With over 16,600 five-star reviews on Amazon, the PetSafe nylon leash is a favorite among cat and dog parents alike. The ⅜-inch width is the perfect size for cats, and as one parent wrote, "Nice and lightweight, just like I wanted. Sturdy clip … I got the 6-foot because my cat's other leash is 4 feet, and it's not long enough to give her much freedom to move."
This retractable leash from TravelCat lets your BFF have a sense of freedom and independence with its 10-foot cord, but the sturdy snap clip and ergonomic handle gives you peace of mind that your cat will stay safe as long as her harness is attached to the leash. This leash is designed specifically with cats in mind, so it's a winner according to those who've tried it.
Parents say these Rabbitgoo cat leashes on Amazon are the perfect length for cats who like to stay active and adventurous during walks. "Exactly what I wanted!" one cat parent wrote. "I was using a bungee type leash that just constantly felt too short for my cat, and these are much better IMO! Love that they come in a two-pack, and at the price point they are perfect." Both leashes are 59 inches long.
Strap the CUGBCUG retractable leash around your wrist and hold the disk firmly in your palm as you let your cat explore. This thin leash is great for cats under 11 pounds and features a quick braking system if and when your cat goes a bit too far.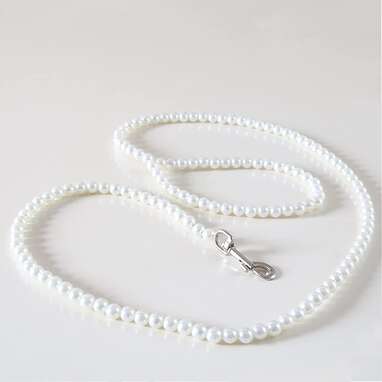 If you're looking for something a bit more fashionable, this fun pearl cat leash from Cdycam is glamorous and strong. The pearls are strung onto a stainless steel wire that clips in place with a standard leash clasp. "I get so many compliments with these pearl leashes!!!" one pet parent wrote. "Super beautiful and most of all durable. The perfect length. The wire under the pearls keeps this leash very strong!"