5 Laser Toys Your Cat Will Go Crazy Over
The red dot must be destroyed!
We independently pick all the products we recommend because we love them and think you will too. If you buy a product from a link on our site, we may earn a commission.
The laser pointer is a cat's greatest enemy because it's the toy that can never be caught. And yet, cats can't seem to give up the fight — nor should they!
If your cat is crazy about chasing that pesky red dot across the floor, then you should check out these fun cat laser toys you can get on the internet. All are USB-chargeable, some offer more than one laser shape and a few are even free-standing so your cat can play while you take a load off.
The battle between cat and laser rages on.
Shaped like a cat paw, the LED projector pointer laser toy from TopLAD projects fun cat-themed images for your BFF to go after. "This is a great little laser pointer!" one five-star reviewer wrote. "It's lightweight, and I like that you don't have to hold down a button. It has different shapes, and my kitten also approves!" It's also just so darn cute to look at.
The DELOMO handheld toy uses a mirror at a 30-degree angle to reflect the red laser beam here, there and everywhere. This toy is also USB-chargeable and can be set to either a slow or fast motion. And when you need a break from playtime, you can set up the DELOMO toy on a tabletop or on the floor to keep your cat entertained.
Set up the Valonii motion-activated cat laser toy and forget it — that is, until you hear your cat scampering after the laser beam. This rechargeable tabletop cat laser toy on Amazon turns off after five minutes, preserving the eight-hour run time. Change the angle of the laser as well as the speed to keep your cat interested and engaged.
The Friends Forever laser toy throws the laser beam at random, making it totally unpredictable for your cat to follow. It also features three different speeds and shuts off after 15 minutes to preserve battery. "My kitten absolutely loves it!!" one pet parent wrote in their review. "Her favorite part is she never knows which way the light will move and tries to outsmart it. The light is a lot brighter than a regular laser pointer, so it doesn't have to be quite as dark in the room for it to really show up."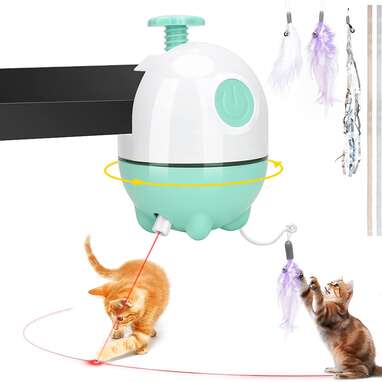 This cat laser toy on Amazon from APLLYSU mounts to a tabletop (or cat tree platform) so that its adjustable range can shoot directly on the floor. It's USB-chargeable, comes with an attachable feather toy and is low-noise so your cat can snooze peacefully when she's done hunting that pesky red dot.