The Cutest Lamps For People Who Love Cats
You'll have the coolest desk on the Zoom call 😻
We independently pick all the products we recommend because we love them and think you will too. If you buy a product from a link on our site, we may earn a commission.
Have you ever been searching for the perfect gift for your cat-loving friend and wondered, "What do you get a cat person who seemingly has it all?" Turns out there are a surprising amount of cat-themed lamps out there — and we rounded up a bunch of them that would make the perfect addition to any collection of cat-themed things.
From cutesy night lights, to subtle table lamps that won't look out of place in your living room, there's a cat lamp on this list that will fit any sort of cat person (even if that cat person is you).
Simply tap the GoLine cat lamp and watch it change color right before your eyes. The USB-chargeable battery lasts up to 12 hours on a single charge, making it an awesome night light that will never let you down. And the seven-color "breathing" mode will lull you to sleep as you watch the colors fade from one to the next.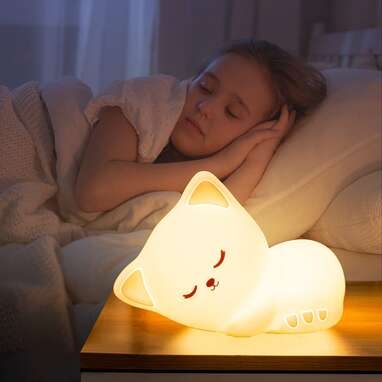 The cat lamp from Mubarek is similar to the silicone night light from GoLine, except this version is smaller and looks like a little kitten taking a snooze. Similarly, this lamp fades colors, and one version even comes with a remote so you can control the colors and brightness from across the room.
Looking for a space-saving solution to low lighting in your workspace? This adorable pink cat lamp on Amazon from ONEFIRE not only provides nine levels of brightness, but it also folds into a compact size and is battery powered, so you can put it anywhere and store it away easily. "You can adjust the dimness of it, which comes in handy if I'm writing late at night," one five-star reviewer wrote. "It gets super bright as well, can light up my entire room … I can bring this anywhere, anytime."
Made with 3D laser engraving technology, this neon-looking cat lamp appears to be a holograph when turned on to one of the seven bright colors. It runs on either battery power or via USB cable, and with over 1,000 five-star reviews on Amazon, it's become a fan-favorite among the night light community.
You know the old saying: "Curiosity made the cat try to figure out how lamps work!" This cat lamp from VERDUGO GIFT on Amazon is an adorable traditional-style table lamp that comes with a simple shade, and the base is a subtle nod to your love for cats. "I love cats and I love unusual lamps. This is great," one five-star reviewer wrote. "Although I love cat things, I don't like ones that are 'cutesy.' So this is exactly to my taste."
This beautiful white porcelain cat lamp from Simple Designs Home is speckled with a whimsical pattern of perforations that let light escape from inside. The result is a gorgeous glowing piece of art that makes for a perfect night light and/or mood lighting.
This expertly crafted Tiffany-style lamp from Bieye is handmade using bits of stained glass and copper foil. It's just as beautiful when turned off as it is on, and the quality makes it an heirloom piece. "Really well made. Exactly like the picture," one five-star reviewer wrote. "Push the light assembly as high up as it can go, and everything is evenly illuminated, down to the pink ears and the emerald eyes. Only wish is that I would have put it away for my wife's Christmas present."