These Cat Doors Are Pet Parent Favorites
No more meowing until you open the door 😂
We independently pick all the products we recommend because we love them and think you will too. If you buy a product from a link on our site, we may earn a commission.
Every cat parent knows that it's the cats' world and we're just living in it. No matter who feeds her and gives her love, your cat will always be incredibly independent, which is why she'll definitely appreciate you giving her the option of using a cat door — either to access a cat-proof yard or get in-and-out access to that room she's always trying to get into.
If your cat's living situation calls for a cat door, these ones are the absolute best according to the pet parents who've tried them and left five-star reviews. Each of the below cat doors from Amazon is easy for you to install and even easier for your cat to use.
Your Miss Independent will thank you.

Over 6,500 pet parents say the PetSafe pet door is easy to install and comes with a plastic cover that snaps over the frame to keep bad weather (and other animals) out when necessary. The soft flap of the door makes it easy for cats to paw open without fear of getting stuck, and the magnetic closure keeps wind and weather outside.
Made with a soft plastic material, the Perfect Pet cat door is easy for cats to use, and despite its lightweight feel, pet parents say the door is actually quite sturdy and weathers outdoor elements well. "I love these things and have installed them in several homes," one wrote. "It allows doors to be closed and cats to come through (or not when locked). I could not think of anything I would like improved and that's saying something for an old engineer/critic. It does the job and is reasonably easy to install."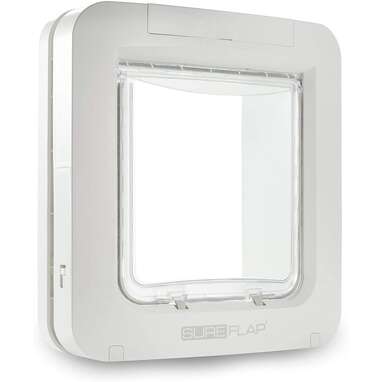 This is the high-tech cat door of the future. The SureFlap microchip pet door scans your cat's microchip before unlocking the door for entry. The curfew timer lets you lock the door at specific times, and the "restricted entry" feature allows any pet to exit, but only specific microchipped pets can enter.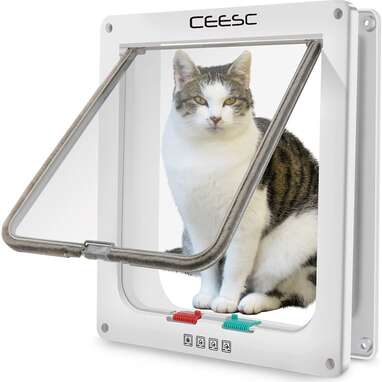 The CEESC extra-large cat door has a four-way locking system that can lock the door entirely or allow one-way entry. It's simple to install and comes with all the necessary hardware, and the transparent door not only helps your cat see through it, but gives you peace of mind that you can see who is coming in and out.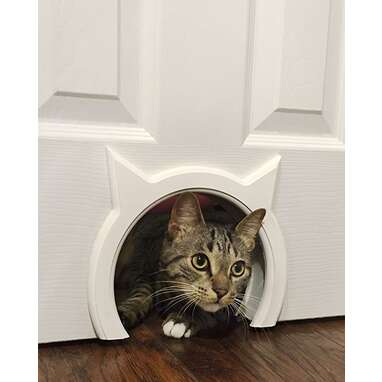 If you're looking to install an interior cat door to provide your cat with litter box access, this one from Kitty Pass on Amazon is a great option. It's a subtle, round-shaped door that features adorable cat ears on the front and a tail on the back. Cats who weigh up to 20 pounds can fit comfortably through the door, and you won't have to worry about the door to their litter box room shutting on its own and cutting off litter box access.
This is an interior cat door and grooming station, all in one! The Purrfect Portal cat door on Amazon can easily be inserted into any interior door thanks to the included template and hardware, and the brush track can be removed for cleaning, but won't slip out when your cat slides through.