The Best Cat Collars On Amazon
Practical *and* cute.
We independently pick all the products we recommend because we love them and think you will too. If you buy a product from a link on our site, we may earn a commission.
Pet parents will do anything and everything possible to keep their pets safe and sound. And giving your cat a collar is an easy and fun way to keep your BFF out of trouble.
Not only do cat collars give parents a place to hang an ID tag, but some collars are customizable so that your information can be put directly on the collar itself. Plus, the attached bells on most cat collars alert you to where your cat is and cut down on the surprise gifts your cat sometimes brings you (the bell lets critters know she's coming).
Cat parents have rated and left reviews on several cat collars on Amazon, and according to them, these ones are the absolute best.
If you're looking for a cat collar that will give you peace of mind should the worst happen (aka your cat running away), the FlowerTown personalized cat collar gives you the option to embroider your cat's name and your phone number on it so that you can be contacted ASAP. "If your pet is microchipped, I recommend making the personalization 'I am chipped' accompanied by your phone number to put people on alert that the pet can be tracked back to you," one five-star reviewer wrote.
This leather option from CollarDirect not only comes in a variety of bright colors, but it also comes with a bell so you can know where your cat is at all times. These collars also have an elastic portion built in so your cat will be comfy and have an easy release if the collar gets caught on something.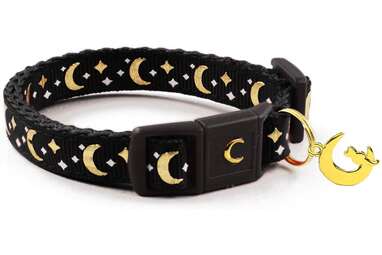 Over 7,200 pet parents love this WAAAG cat collar with gold moons and stars printed on it. The collar itself comes in nine colors, and each comes adorned with a cute charm of a cat sitting on a crescent moon. Plus, these collars have safe breakaway buckles that will come undone if they sense tension.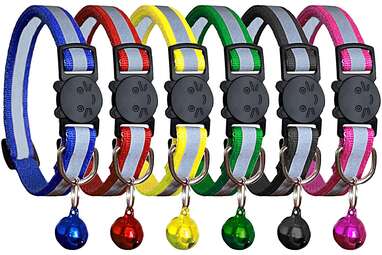 These reflective, breakaway collars from PACCOMFET come in a set of six. They're not only cutely colored for the daytime, but the reflective strip on each ensures that your cat will be safe if she goes outside at night. "The bell is solid, and the breakaway fastener does work. I made sure of that," one pet parent wrote. "You can't go wrong with these."
The only hard decision you'll have to make about these Joytale breakaway collars on Amazon is which adorable pattern to choose. Each collar-and-bow-tie combo comes in a range of vibrant plaid patterns, and some are even sparkly. The bowties can also be removed so you can change up your cat's look every now and then.
Unlike traditional cat collars, the Nuvuq cat collars are made with a soft, comfortable rubber that doesn't dig in or rub on your cat's neck. They secure with a simple safety button that will come loose if pulled tight, and because of the rubber material, these collars are great for cats with skin sensitivities. "This collar is perfect," one pet parent wrote, adding, "he doesn't seem to mind it at all or even notice he's wearing it. It's extremely lightweight and perfectly smooth. It does not pull against his fur."
Available in a variety of prints and finishes, these customizable cat collars on Amazon from AnNengJing come with personalized buckles that can fit both your cat's name and your phone number. And each of these collars comes with a matching removable bow tie.
This blinged-out collar from CHUKCHI is perfect for your diva and will let her live up to her full glamour goddess potential. You can pick up this rhinestone-studded collar in pink, black, blue or red. Each collar comes with a matching silver bell, too.
Another great reflective cat collar option on Amazon is the set of two from Taglory. Each pack comes with two differently designed cat collars, each with a reflective finish and breakaway buckle. "I love these collars! They are super durable," one pet parent wrote. "I have been buying this brand for years and will continue to do so when she needs more. I really recommend it if you are looking for cute, sturdy and durable collars for your pet!!"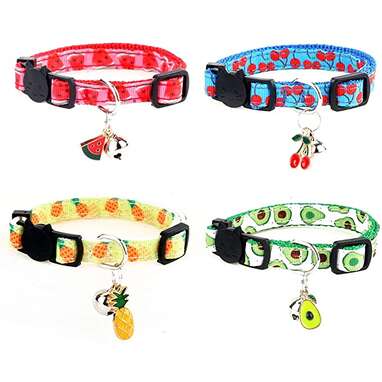 If you're a sucker for fun patterns, this set of four breakaway collars from Super Buddy will absolutely pull you in. Pineapples, cherries, avocados and watermelons decorate each collar, and each one also comes with a corresponding charm. Cute, cute and more cute.