The Best Cat Clothes On Amazon
So fashionable!
We independently pick all the products we recommend because we love them and think you will too. If you buy a product from a link on our site, we may earn a commission.
Although cat clothes majorly amp up the cuteness of your cat, they can be useful, too. Whether you're trying to stop your cat from licking her wound or keep your hairless cat warm during the winter, a wardrobe of cat clothes is as functional as it is fun to play dress up with your BFF.
After scanning all the cat clothes on Amazon, The Dodo found that pet parents are raving about the below items. From hoodies to ballgowns, there's something here for every type of cat.
Your hairless cat will be toasty warm when wearing this faux-fur turtleneck sweater from Kitipcoo. Of all the cat clothes on Amazon, this onesie may just be the coziest thanks to its chenille-like finish and fluffy collar. It comes in five colors and is stretchy enough to fit most sizes of sphynx cats.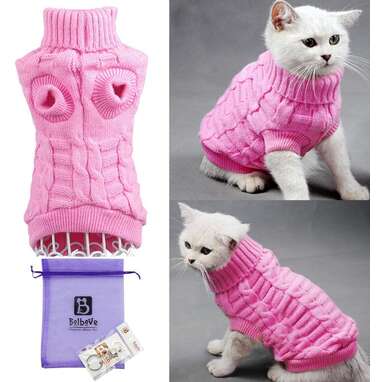 This acrylic knit sweater for cats from Bolbove comes in adorable pastel pink and blue. Thanks to the range of sizes, you can pick the sweater that will best fit your BFF just based on her chest girth and the length of her back. Easy peasy.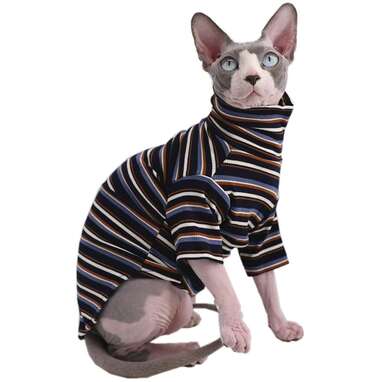 In this trendy turtleneck striped shirt from Kitipcoo, your cat will be the talk of the town and feel fabulous. "I bought this shirt for my cat because he had a cut on his neck that he kept licking," one pet parent wrote. "The shirt is soft, the turtleneck worked well for the purpose I bought it … and it must be comfortable to wear because my cat had it on for more than a week and didn't try to wriggle out of it. By the time I took the shirt off of him, his neck had healed. Success!"
Great for hairless cats or cats who love to stay toasty all day long, the fleece sweatshirt from Dociote is an awesome piece of cat clothing from Amazon to add to your collection. It comes in seven colors and is made from super warm, static-free fleece, and it's easy to put on your cat thanks to its impressive stretch.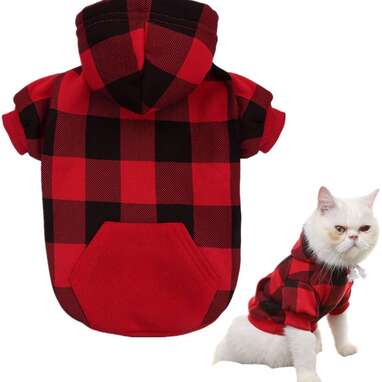 Perfect for the fall and winter, this red plaid hoodie from KOOLTAIL comes in sizes from extra-small through 2XL, meaning cats of all sizes can get in on the cozy hoodie goodness. "He's never worn clothes before, but I had to get him something because it's been so cold this winter and he's, like, 120 [years old] in people years," one cat parent wrote about the hoodie. "Anyway he loves it, the fabric is soft and not cheap feeling like I thought it would be."
Turn your cat into a bunny for a day thanks to this set of cat clothes on Amazon from Bolbove. It's a pink onesie bunny suit made with a cozy plush material. You can slip it onto your cat's front legs easily and snap it closed under your cat's chest.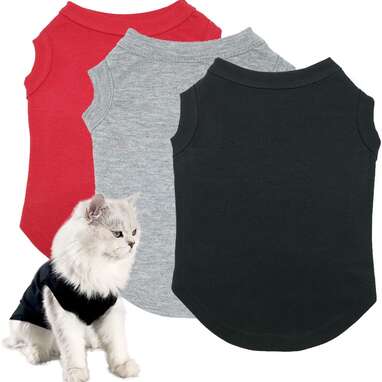 If you're looking for a basic cat shirt to keep her from licking a wound or scratching sensitive skin, this set of three shirts from Tealots is a great option. They come in five sizes, and each pack has three different colored shirts so you can always have one at the ready while the others are in the wash.
Well, you weren't going to say it, so Parian Pet said it for you — your "Little Miss Attitude" will look so darn cute in this pink cotton shirt. Parisian Pet makes logo tees for pets with all sorts of funny sayings, but there's something that just makes sense about "Little Miss Attitude" when we're talking about cats.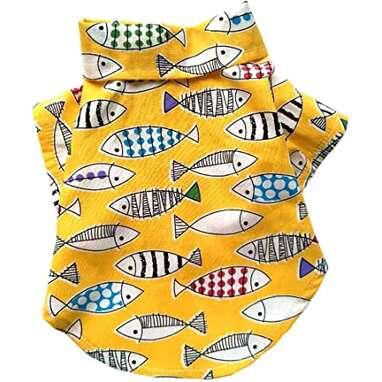 The MaruPet Hawaiian shirts come in so many fun, tropical prints you'll have a hard time choosing your favorite one. "Good quality," one five-star reviewer wrote. "My cat wears [it] for days, and the shirt is still intact. I also [washed] it, and [it] still looks great." They're bright, they're festive and they'll make your cat luau-ready.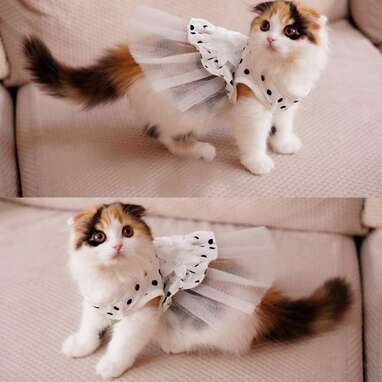 Adorned with polka dots and faux flowers, this black-and-white cat dress on Amazon from Bolbove is perfect for your little princess. The skirt is made with lightweight mesh tulle and is elegant enough to wear to any ball. "I was surprised this cute dress was easy to stretch onto the large cat; you put it on like a T-shirt," one pet parent wrote. "It looked really cute, and she was able to walk around with it on, etc."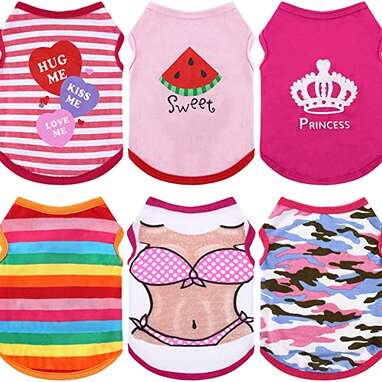 In each pack of Frienda tees, you get six vibrant patterned shirts — including a hilarious bikini illustration. "Great material, lightweight and soft," one pet parent wrote. "My cat looks so adorable."
These cute cotton shirts from Tealots come with attached ruffly skirts at the hems that add a little something to what could be a standard pet shirt. Plus, the patterns are sweet, simple and will make your cat *that* much cuter.