The Best Cat Claw Covers On Amazon
So much better than declawing.
We independently pick all the products we recommend because we love them and think you will too. If you buy a product from a link on our site, we may earn a commission.
Cat parents should know that declawing a cat is cruel and totally unnecessary. Cats need their claws for defense purposes, stress relief and balance, and removing their claws is not only a painful procedure, but can actually negatively affect your cat's mental and physical health.
There's an easier, cheaper and more humane way to keep your cat from scratching your furniture — cat claw covers.
Think of cat claw covers like press-on nails for cats, but instead of making their claws longer, these caps actually fit snugly over your cat's claws and cover the tips of their nails. While wearing claw covers, your cat still has all the benefits of her claws — she just won't be able to ravage the side of your couch.
Here are the best cat claw covers on Amazon according to the cat parents who've tried them.
Available in sizes from extra-small through large, the claw covers from YMCCOOL come in sets of 100 and are made with soft and comfortable vinyl resin. To apply, trim your cat's nails to the size of the claw cap, place a bit of glue into the cap and then push it onto the claw you're working on. "My cat only took a day to get used to it," one five-star reviewer wrote. "Now she doesn't even notice it. My new furniture is protected, thank goodness. Gotten tons of compliments, been sharing with all cat lovers."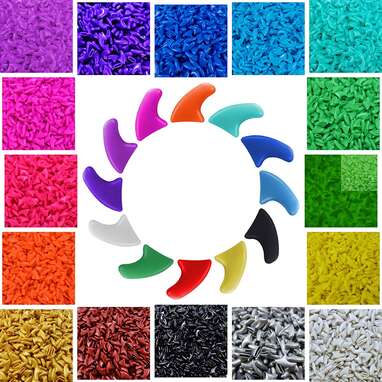 These cat claw covers on Amazon come in a fun array of colors — both solid and glitter — so your cat will look like she got a beautiful manicure. Each pack of nail caps comes with 100 caps that won't restrict your cat's natural movements. Over 3,500 pet parents love the Zetpo cat claw covers, and their cats don't seem to mind them at all.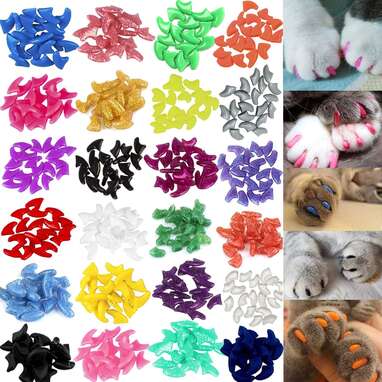 "I don't believe in [declawing] cats, so this was the best alternative I could've gotten!" one cat parent wrote about the VICTHY claw covers on Amazon. "They apply so easily and they work very well. My cats were a little apprehensive at first, but after lots of treats and a little distracting, they now love them!" When it's time for the caps to fall off, your cat's nail sheaths shed off with them, making the process feel natural to her. These caps, plus the glue, are nontoxic and are completely safe for your pets to use.
Each pack of the Kitty Caps nail caps includes 40 caps, two adhesive tubes and two applicator tips. They come in sizes extra-small through large, and you can pick up three packages at a time. And the Kitty Caps extra-small nail claw covers are even safe and small enough to use on kittens.
The Soft Claws claw covers on Amazon feature self-locking cleats that grip on tighter to your cat's claws compared to some alternative caps. These caps will last between four to six weeks and won't interfere with your cat's natural behaviors. "After several days, the caps are still in place, and the kittens are comfortable with them," one five-star reviewer wrote. "I worried that I was taking away their ability to stretch (in the way that declawed cats can no longer latch onto a surface and stretch backward), but they can still grab hold of the berber carpet and get a good pull."