We independently pick all the products we recommend because we love them and think you will too. If you buy a product from a link on our site, we may earn a commission.
If you and your cat are planning a trip across the country or just a trip to the vet, your cat is going to need a high-quality cat carrier to stay safe, secure and comfortable. And depending on the journey ahead, there's a cat carrier out there that is going to tick all the boxes.
Though the search for the right one can seem a bit daunting as there are so many different styles and brands of cat carriers out there, these are the top-rated cat carriers on Amazon that you should take a look at first before making any decisions.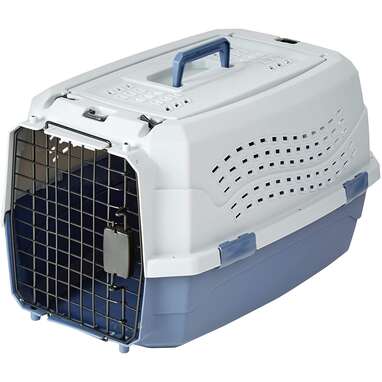 If you're looking for a simple, hard-sided cat carrier, the one from Amazon Basics is a great choice. It features two doors, including one on top that makes getting your cat in and out a breeze. With over 21,900 five-star reviews, pet parents say this cat carrier is basic but perfect.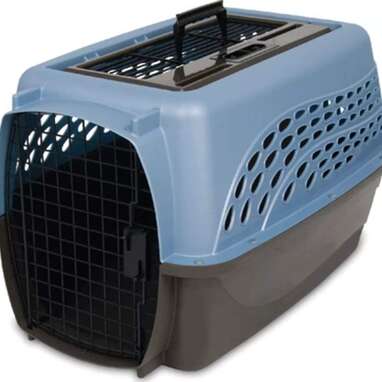 Another great, simple hard-sided cat carrier is the Petmate two-door pet kennel. It, too, has a top door and perforated sides for added breathability, and as one pet parent said, it's big-cat-approved. "My 18-pound cat breaks out of soft-sided carriers, so I needed a hard-sided, escape-resistant carrier," they wrote. "This had the best reviews and was the only hard-sided option big enough so he wouldn't be cramped … He loved it immediately, though we'll see what he thinks after I take him to the vet in it!"
Over 15,400 cat parents have rated the MidWest Homes for Pets hard-sided carrier five stars, saying it's one of the best plastic carriers there is for quick trips to the vet. Plus, it comes in three bright colors for some added fun.
Available in both a medium and a large size, the Morpilot carrier is great for all kinds of travel. It comes with a cozy plush bed, a collapsible bowl and an adjustable shoulder strap. There are mesh zippered openings on both the side and the top, and it even features an inner safety leash that can connect to your cat's harness.
The tent-shaped NECOICHI cat carrier on Amazon is meant to make cats feel safe and secure inside a cozy space. It's fully collapsible and stores flat, and the lightweight design is durable and can hold up to 17 pounds.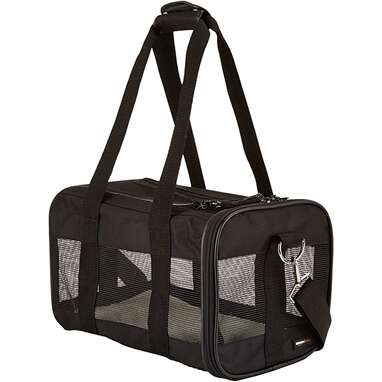 Available in sizes small, medium and large, the Amazon Basics soft-sided mesh carrier has over 12,100 five-star ratings on Amazon. It zips open on the top and the side to make loading and unloading your cat so much easier. And the mesh siding cuts down on the stress a cat can feel when boxed into traditional hard-sided carriers.
With over 18,800 five-star reviews on Amazon, the Henkelion cat carrier is a favorite among cat parents, who praise it for its multiple zippered openings, adjustable shoulder strap and lightweight build. "There's even a pocket on the bag to hold things," one pet parent raved. "Both of my cats love it! They love it so much they're both actually curled up in it together napping as I type this out."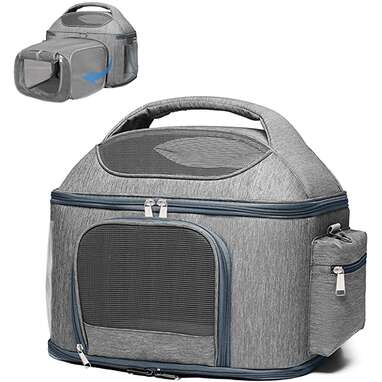 This travel bag from X-Cosrack can be worn as a shoulder bag, handbag or backpack thanks to the versatile straps and handles. The front area even zips out to give your cat a bit of room to move around. And when you're done using it, it folds down flat for easy storage.
Give your cat a bit of space to spread out while traveling with the Maskeyon cat carrier. This airline-approved travel bag has several mesh zip-out compartments that allow your cat to lay down and get comfortable. "When you let down all four sides, [your pet has] tons of room," one pet parent wrote. "When you don't need it, you can collapse it down for easy storage."
The Roverlund cat carrier on Amazon is TSA-approved and stylish to boot. It comes with a faux-fur mat and padded sides, making it a comfy fit for cats and easy to compress if you need to fit it under an airplane seat. And the shoulder strap is actually a leash, so you can easily clip it to your cat's harness when it's time to let her out.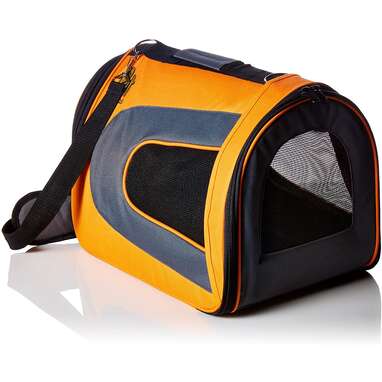 Meant for travel, the Pet Magasin cat carrier is a unique, small shape that cradles your cat in a safe, waterproof interior. There are three mesh panels for her to see out of, and the entire carrier folds up easily when not in use. "I traveled by air across the country for a move and used this carrier for my extremely grouchy and big black cat," one pet parent wrote. "I was expecting the worst, but surprisingly he loved this carrier! Another reviewer mentioned that cats feel safe in smaller, enclosed places, so I think this worked better than a hard-side carrier."