Cat Calendars That Will Get You Excited To Plan Your 2022
Because everyone needs more cats on their desk.
We independently pick all the products we recommend because we love them and think you will too. If you buy a product from a link on our site, we may earn a commission.
With 2021 coming to a close, it's time to start piecing together your 2022. And if you're the type who likes to see all your plans written down on paper, then you should check out these cat-themed calendars that will help you stay organized in the year ahead.
From art wall calendars to daily photo desk calendars, there's a 2022 cat calendar here that you'll fall hard for. And you may even find something for your cat-loving friend, too (the holidays are here, after all!).
Get excited to make some plans and get even more excited to write those plans in one of these cat calendars.
If you have a goofy sense of humor, then you'll love the "Spacecats 2022 Calendar" from TF Publishing. Each month serves up funny photoshops of cats hanging out in space, forming a galactic rock band, eating an ice cream sundae on the Milky Way and getting rolled into astronaut sushi, among other crazy scenes. Every time you check the date, you'll give yourself a giggle.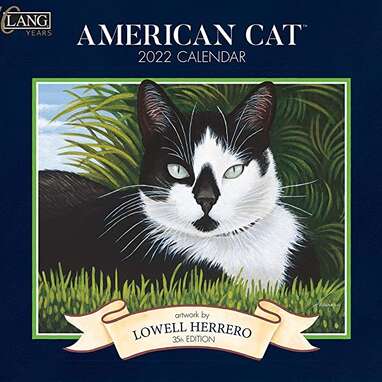 Those who love Americana-style art will appreciate each and every painting by Lowell Herrero in the Lang "American Cat 2022 Calendar." This calendar features enlarged dates and notations, so you don't need to grab your glasses to see what day of the month it is. "They are beautiful and never disappoint," one five-star reviewer said of the Lang calendars. "I have a hard time discarding them at the end of the year. So I have framed some of the pics, and the rest are in boxes."
This 16-month cat calendar from Mead is packed with fun Gary Patterson illustrations. You get pages from September 2021 through December 2022 so you can start your planning before next year even arrives. Plus, this wall calendar comes in a standard size as well as a mini size.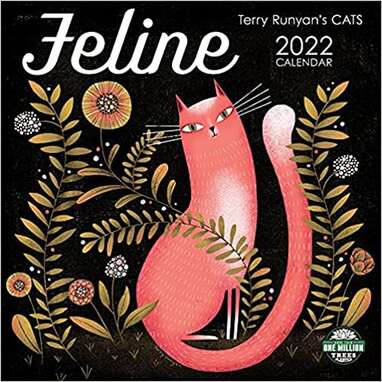 Artist and illustrator Terry Runyan put all her favorite cat paintings into a single calendar for us to enjoy, and the illustrations are so whimsical you may just have to frame each one once the year is finished. "Love Terry Runyan's cats," one five-star reviewer wrote. "Bought the 2021 calendar and enjoyed it every month so far. When I saw a new one for 2022, I ordered it right away, and it is just as much fun."
This 18-month cat calendar has you covered from January 2022 all the way through to June 2023. The wall calendar features photos of adorable cats doing adorable cat things, and you won't be able to stop yourself from smiling every time you turn the page.
Decorated like medieval illuminated manuscripts, "The Proverbial Cat" features cat illustrations and wise sayings, like "The ornaments of a house are the friends who frequent it" and "Time for a cat nap." All art is done by Sydney Hauser.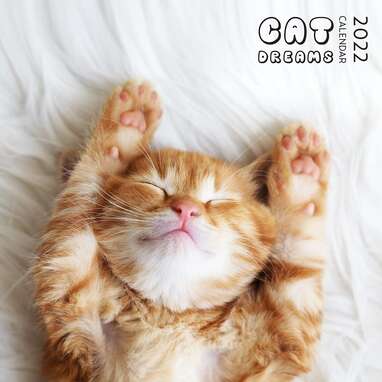 There's nothing cuter than sleeping kittens, and this cat calendar from Artico is treating you to a sleeping kitten every month of 2022. "This has got to be the cutest calendar!" one five-star reviewer wrote. "The pictures are just absolutely adorable, especially if you love cats and kittens."
The Grumpy Cat meme will never get old, and you can laugh your way all through 2022 with this Grumpy Cat wall calendar from Mead. Each month has a different picture of Grumpy Cat with a hilarious caption underneath that perfectly encapsulates just how grumpy he is.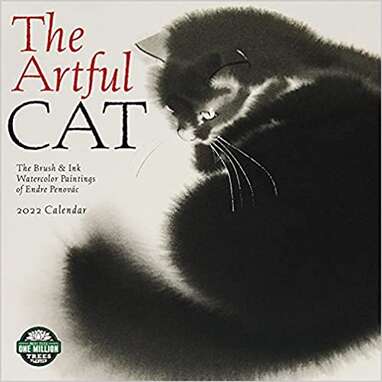 Endre Penovác's beautiful brush and ink watercolor paintings of cats are on full display in "The Artful Cat" calendar. The pieces are so soft you'll want to reach into the paintings to pet the subjects. Both cat lovers and art appreciators will love this wall calendar for 2022.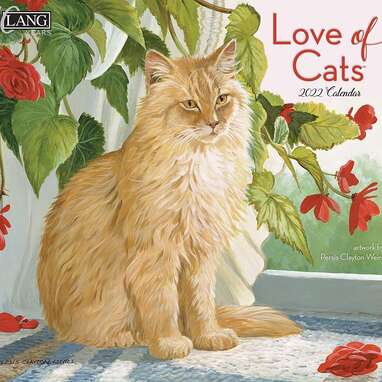 Persis Clayton Weirs illustrated this beautiful 2022 cat calendar from Lang showing cats being cats throughout each month of the year. The images and calendar spreads are printed on high-quality linen-embossed paper stock, so the calendar will look as new in December 2022 as it did in January.
"365 Cats" is called "The World's Favorite Cat Calendar" for a reason. Each day of the year, you'll be presented with photos of real cats from around the globe, submitted by their parents. And below each pic, you'll get a cool cat fact, a funny quote or a tip on how to better connect to and train your BFF.