The Best Cat Brushes From Amazon That Your Cat Won't Totally Hate
Even if she's super picky.
We independently pick all the products we recommend because we love them and think you will too. If you buy a product from a link on our site, we may earn a commission.
Although your cat may seem like she's completely averse to getting brushed, she actually might just be waiting for you to pick up the right tool. There are so many kinds of cat brushes out there, and finding the right one for both you and your BFF is the first step in beginning a healthy grooming routine.
But which ones are the best? According to pet parents who have put several cat brushes on Amazon to the test, there are a handful of really great ones cat parents should definitely try.
And, yes, even picky cats have given these brushes their approval.
Great for both dogs and cats, the HERTZKO self-cleaning slicker brush makes grooming easy with its one-touch cleaning tool. The fine bristles collect all your cat's loose hair and undercoat, and the retractable bristles make cleanup a breeze. Over 46,000 pet parents say this slicker brush is a game changer. We reviewed this cat brush ourselves by testing it on our own cats, and it made grooming a breeze — so we gave it our Paw of Approval.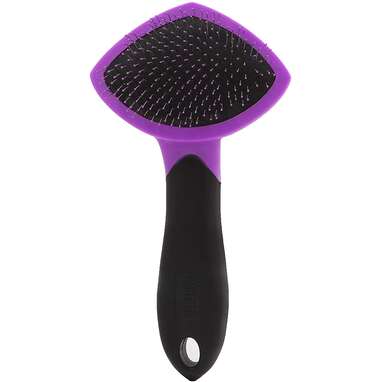 The extra-fine bristles on the HARTZ Groomer's Best slicker brush for cats remove tangles and mats in both smooth and coarse fur, and the diamond shape makes it easy to get into angular spaces, like under your cat's jaw or around her haunches. Plus, this brush comes with an ergonomic handle for comfortable combing sessions.
This comb is as easy to use as it is to look at. The shell-style comb from Ameliade features flexible, arched metal teeth that massage and pick up loose fur as you comb using the comfortable cat-shaped grip. "His majesty hasn't liked any of the other pet combs and brushes we have tried and fights my hair brush as if it's Smog himself!" one pet parent wrote. "I saw the ad for this pet brush on Instagram and searched for it here. It's reasonably priced, easy to hold and gentle, even if I happen to brush a little rougher than I intend. Best of all, Thorin doesn't try to fight me or eat the brush!"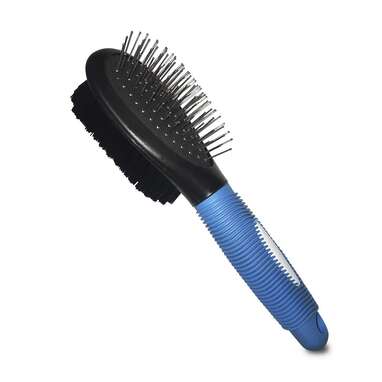 With a pin brush head used to detangle and loosen the undercoat and a bristle side used to remove loose hair and dirt, your cat will be looking shiny and clean by the end of her grooming session with this brush. This cat brush from Amazon works with all coat types and will reduce shedding when used regularly.
The HARTZ Groomer's Best flea comb not only removes pesky fleas and flea eggs, but it also gets rid of any other debris that may be hiding in your cat's coat. The fine-toothed comb works great for removing tangles and mats around the face, and the ergonomic handle gives you control and comfort.
Over 8,500 pet parents say the dematting comb from GoPets works awesome to remove tangles and mats from long-haired cats. "I have a Himalayan and ragdoll, both with incredibly dense undercoats," one five-star reviewer wrote. "If you have a long-haired, densely coated and sensitive cat, this is a great brush. There are sharp edges inside of it, and it actually helps thin the hair out at the base … This brush had both cats looking great, and they don't run when I approach with the brush!"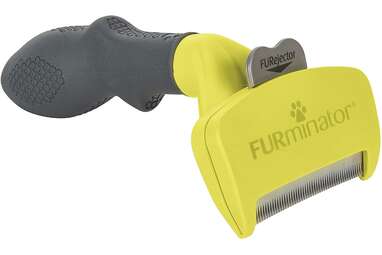 Designed specifically for cats based on their size and fur type, the FURminator is a deshedding tool like no other. It comes in both long-hair and short-hair models (as well as a small and large size) and promises to remove any and all loose undercoat that causes hairballs and matting. And when you're done grooming, hit the fur release button to remove the mess from the comb.
The pin bristles of the Hesiry cat brush on Amazon is fully retractable, making cleanup super easy when you're all done grooming your cat. And because the rubber-tipped bristles are so fine and flexible, getting brushed will be a spa-like experience for your BFF. This brush is simple and works great for all coat types.
"I've been looking at this item for a little less than a year, thinking there's no way in the world this works," one pet parent wrote of the CELEMOON ultra-soft silicone cat brush on Amazon. "When it came in, [I] was happy and hopeful … I read the directions. It said to prevent fur from flying, wet the brush first. I did. I ended up with four handfuls of fur. OMG!!!! I thought my Siamese was gaining weight." Plus, the silicone bristles are basically just a cat massager.
If your cat doesn't let you come near her with a brush, then she might want to take grooming into her own hands. This self-grooming brush from Prowithlin can be attached to the corner of any wall or piece of furniture and features gentle plastic bristles that your cat can rub on. The brush will collect her hair for you, and there's even a compartment for catnip to entice her to groom.