We independently pick all the products we recommend because we love them and think you will too. If you buy a product from a link on our site, we may earn a commission.
Your cat's birthday is coming up and you want to do something special this year. Why not go all out and pick up a couple of cat birthday gifts for her so that she can continue the celebration even after the day has passed?
The Dodo has done a bit of shopping for you and found the best cat-parent-approved birthday-themed toys (as well as some other purr-worthy items) that will make this year's birthday celebration fun for both you and your BFF.
This adorable catnip-filled birthday cake toy is great for pictures and will become an instant favorite plaything. Each Kittybelles toy is nontoxic and safe for pets to play with all day, everyday, and their birthday cat toys are packed with organic catnip.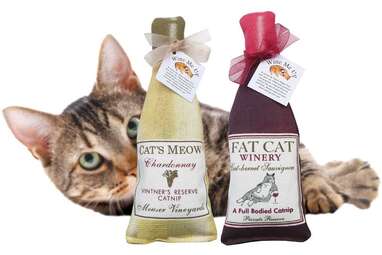 Celebrate your cat's big day with a bottle of her favorite vino — one of the catnip varieties from Alice's Cottage. Both red and white "Wine Me Up" bottles are filled with a "full-bodied catnip" and a "vintner's reserve catnip," because your BFF deserves the finest varieties one can offer. "My cats love these wine bottle themed catnip toys," one five-star cat parent wrote. "My boys kick them and gnaw on them with complete happiness."
This cat perch and bed combo from PetPals is as much a gift for your cat as it is for you. Its beautiful, natural woven texture looks great as a piece of home decor, and the deep basket is the perfect size for your cat to make her nest. "We love this little cat tree. Love," one five-star cat parent wrote. "We wanted something that would work for us, but also [be] more attractive than your typical cat tree."
These donut-shaped cat toys are not only infused with catnip, but they also make that crinkly noise that keeps cats coming back for more. They're lightweight, small and easy for your cat to carry from room to room. "I bought this for my sister-in-law's cat, whose name is Donut," one five-star reviewer wrote. "Here's what my SIL texted me when they got home: 'idk what was in that catnip but Donut is going absolutely bonkers.' Donut approves!"
For cats who love to rub on everything and anything, this AikoPets cat arch is awesome. The bristled archway helps your cat groom herself and feels oh-so-relaxing. Plus, it comes with a scratch-ready base so your cat can get the full spa treatment.
What's better than one catnip cupcake toy? How about six?! This pack of assorted catnip cupcake plushies from CiyvoLyeen are filled with organic catnip and come in six unique and cute designs. "I bought these for my cats' birthday," one pet parent wrote, "[and] as soon as I opened the bag they came running and went crazy grabbing my hands to get to the bag … They went nuts. A great cat toy and adorable looking."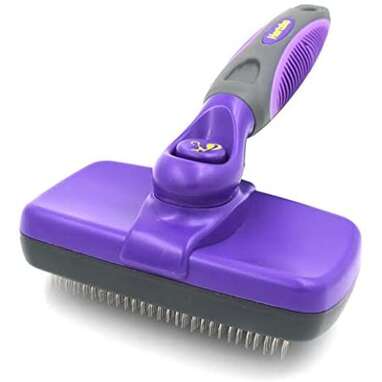 According to over 40,000 pet parents, this self-cleaning slicker brush from Herzko is the best cat brush on the market. It removes mats, grabs loose hair, comes clean with the click of a button and feels so good to your pets. "I brushed off enough cat hair to have another cat," one five-star reviewer wrote. "I'm starting to think Porkins doesn't even have any skin, she must be made entirely of fur as it NEVER ENDS. She's completely passed out now from all the brushing, she loved it."
No cat can resist Temptations treats, so why not gift your cat an entire 30-ounce tub of the stuff? Temptations come in several flavors, including seafood medley and tasty chicken, and nearly 28,000 cat parents say their furry friends are hooked. "My cat will not stop begging for these treats!" one cat parent wrote. "He's thoroughly addicted to them and rarely eats his regular cat food … not even wet food! He will meow, whine, paw at your leg, jump on your lap, and if outside and you shake the plastic container … he will come running from wherever he's at to get some of these treats."
Packed with 16 plush birthday-themed toys, this assortment from SmartyKat will make your cat's birthday so much more special. The pack contains catnip-filled cupcakes, party mice, raffia teasers and catnip sticks. "My cat got these for his first birthday and he immediately started playing with them," one cat parent wrote. "He absolutely loves the balls, and I loved how they were birthday themed. Overall, I'm happy with them and so is my cat!"