The Best Cat Beds On Amazon
Because all cats are sleepyheads.
We independently pick all the products we recommend because we love them and think you will too. If you buy a product from a link on our site, we may earn a commission.
Adult cats spend nearly 50 percent of their day sleeping — and kittens and senior cats can sleep up to 90 percent of the day away! So your cat definitely needs a comfy, cozy spot (or several) to snooze in. Luckily, it isn't hard to find a cat bed that she's going to love.
Because there are so many cat beds with awesome reviews out there, The Dodo wanted to make the search for the perfect nap spot easier for pet parents. So we tracked down the best of the best cat beds on Amazon that are guaranteed to cause some major Zzzs.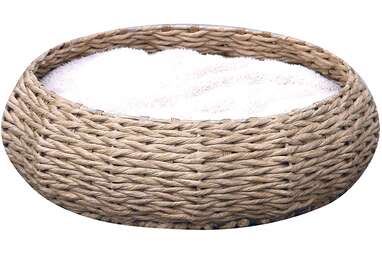 The PetPals handmade basket bed is as pretty as it is cozy. It's woven with paper rope and includes a plush bedding that snuggly fits on the inside. "It has a pleasant, simple aesthetic that fits in with our living room decor," one pet parent wrote. "We got this bed and, to some degree, she took to it immediately — but really only slept in it once every couple of days or so. Over the months, she has come to use it every day as her place to retire to at the end of her busy day doing 'cat things.'"
Best Friends by Sheri also has a cat cave, but the designs are so whimsical and cute compared to others. Pick up a cave in either a flamingo, whale tail, mouse ears or unicorn shape, and watch your cat feel right at home. "Great novelty bed. Two of my cats love it and fight with each other over who gets to go inside of it," one pet parent wrote. "It's sturdy and stands up on its own, it doesn't need to be against a wall in order to stay up, which has been an issue for me with some of the other cave-like beds I've purchased before."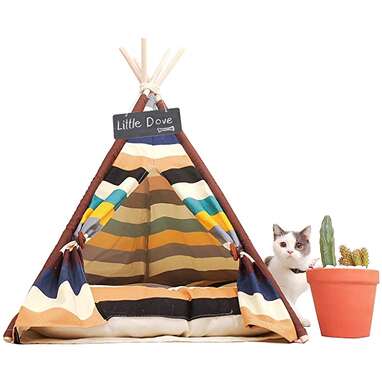 The aestically pleasing Little Dove teepee cat bed on Amazon comes in both white and colorful stripes, and is easy to assemble out of the box. Each teepee comes with a chalkboard name plate so you can mark your cat's territory (or remind everyone: No dogs allowed!).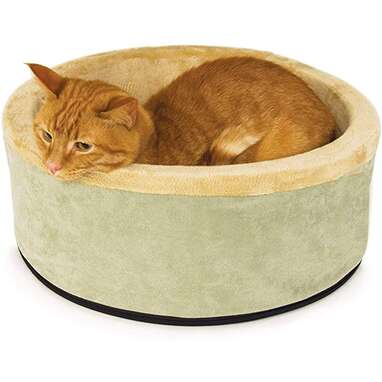 Plug in this bowl-shaped bed from K&H Pet Products and let the electric warming action work its magic. The bed automatically responds to temperature changes when it senses your cat in the bed. And even though it's electric, the padding of this bed is easy to clean and is machine-washable.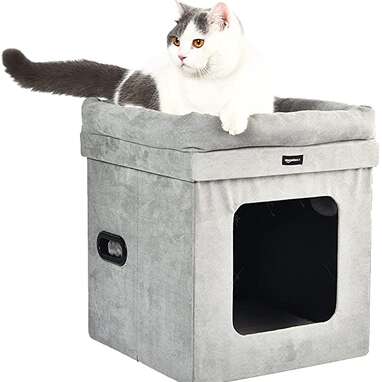 Like the tunnel bed from Kitty City, the Amazon Basics cat house-bed combo is both a place to chill out and a place to play. On the roof there's a fleece bed with raised walls and underneath is another fleece pad within the felt-covered cave. If you have two cats, they'll love to play hide-and-seek, and your single cat will love to have multiple options for where to sleep.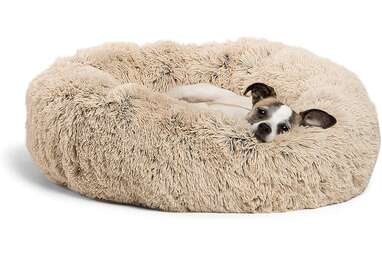 Available in four different sizes, the Best Friends by Sheri calming donut bed is great for both cats and dogs. It's completely covered in super-soft faux-fur shag material and stuffed with specific fiber guaranteed to keep its shape throughout the years. With over 40,100 five-star reviews, pet parents say this bed is a keeper.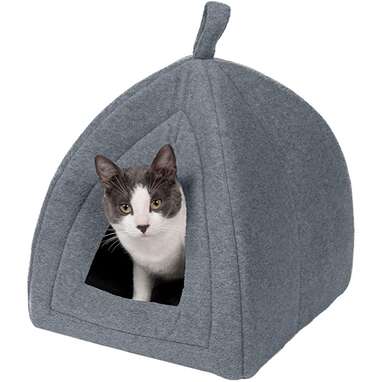 Cats love small, dark spaces, and the Furhaven ThermaNAP cat bed on Amazon is just that. It's a foam tent covered in cozy felt that contains your cat's body heat to keep her warm while she naps inside. Plus, the entire tent — along with the removable cushion inside — is machine-washable.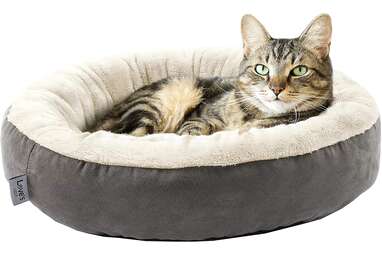 The classic donut-shape bed from Love's Cabin will make your cat feel safe, warm and secure thanks to its nest-like feel. It's lined with soft, faux-fur fabric and the outer faux-suede shell has a nonslip pad at the bottom, so the bed will stay where it needs to.
"I only ordered one because it's a bit pricey. But [it] turned out to be worth every penny," one pet parent wrote about the Meowfia felt cat cave. "I had to order a second one immediately, and they fought over it for two days until my second one arrived." Each cave is handmade out of 100 percent merino wool, and you can pick one up in one of five different colors and prints.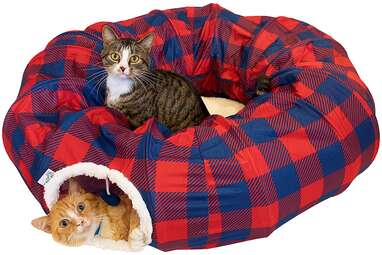 The only thing better than a comfy bed is a comfy bed that has a game built in, and that's exactly what this tunnel bed from Kitty City is. In the center of the donut is a fleece-padded bed, but the donut itself is an awesome cat tunnel. "My cats absolutely love this tube," one pet parent wrote. "I couldn't get it fully assembled before they started chasing each other through it."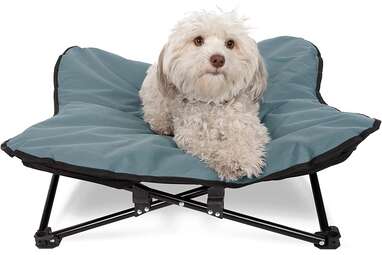 This elevated, foldable cat bed from Paws & Pals is basically a beach chair for your pet. The legs fold like your standard folding chair, except the seat lays flat, making it the perfect place for your cat to curl up. The elevated design increases airflow and gives your cat that feeling of superiority that we all know she loves.
If your cat is a magnet to the heater, she's going to love the Dibea hammock cat bed on Amazon that literally attaches to your home's heating vent. Simply use the metal hooks to hang the hammock from the vent and let the bed get nice and toasty. Your cat probably won't ever leave this cozy spot, so be prepared to provide her with bedside service.