These Cat Bath Mats Are The Ultimate Treat For Your Feet
For cozy toes after your shower.
We independently pick all the products we recommend because we love them and think you will too. If you buy a product from a link on our site, we may earn a commission.
If you're doing some redecorating in your bathroom, you might be looking for a new bath mat.
Not only do great bath mats make shower time that much more enjoyable, but a bath mat also takes up valuable floor space in the smallest room of your home — so why not have something super adorable down there?
Take a look at these cute cat bath mats and try to convince yourself you don't need to upgrade your current bath mat situation.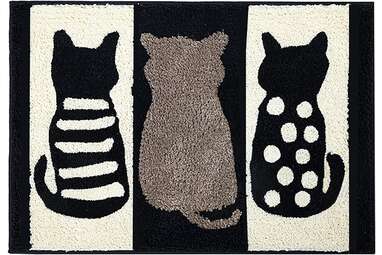 What's black, white and soft all over? This cat bath mat from ZebraSmile! Great for a black-and-white bathroom, this bathroom rug comes in two sizes and features a nonslip backing that can be machine washed.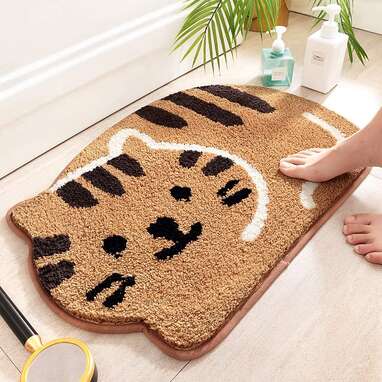 Pick either the tiger cat or the calico cat motif when purchasing the JINCHAN bath mat from Amazon, and get ready to feel like your feet are in heaven. It's made with fluffy and warm low-pile plush that wicks away water while keeping your feet dry and cozy.
Available in gray, black and white, this cat face bath mat from HelloTree is made from super soft high-pile microfiber and has a nonskid pad behind it to make it as safe as possible. Over 1,000 Amazon shoppers have rated this bath mat five stars, with one person writing, "It is so plush that it feels great under my feet and it makes it so my feet don't get tired quickly from standing in front of the mirror when I put on my makeup or do my hair. Very happy with this purchase."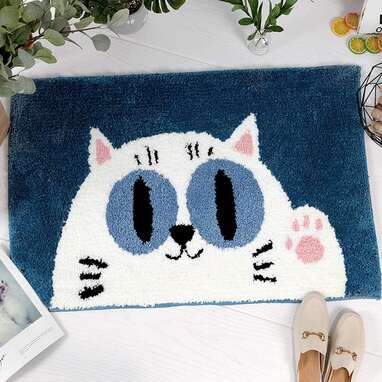 The nonslip cat bath mat from IcosaMro comes in a 16-inch length as well as a 19-inch length, and each features an adorable blue-eyed kitty waving hello. This mat is machine washable and absorbs excess water in a flash.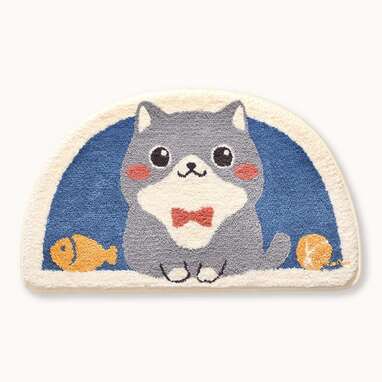 The thick microfiber plush of the Molesun cat bath mat on Amazon absorbs water instantly and cushions your feet as soon as you step out of the shower. The adorable cat featured on the mat will greet you with his ball of yarn, fish toy and bowtie, which is honestly an ideal way to start the day.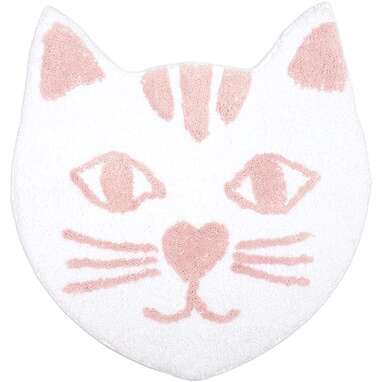 The Blue Panda cat face bath mat has impressed Amazon shoppers with its thickness and size — it's larger than your average bath mat. The back has a nonslip coating. and you can throw the whole thing in the wash when it's time to clean.
Available in white, black and navy blue, this sweet paw print bath mat has over 80 five-star reviews on Amazon, with people saying it's the perfect finishing touch to their bathroom decor. "The design caught my eye right away," one five-star reviewer wrote. "Such a cute and pretty design! This rug is thicker than I expected and so soft. The rubber backing keeps it in place. Good for the bathroom by the sink."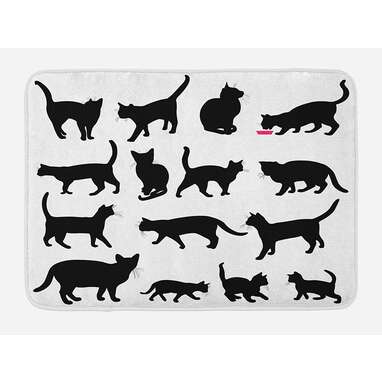 The black cat bath mat from Ambesonne won't shed when you wash it thanks to the low-profile plush fabric. It dries fast and is great for the bathroom, kitchen or anywhere else in the home where you need an extra bit of padding under your feet.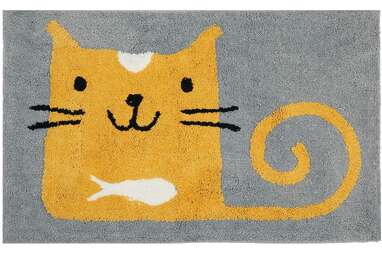 What's not to love about this happy cat bath mat from Hi Space? The superfine microfiber will keep your feet feeling dry and cozy after your bath, and when it's time to wash, you can be sure there won't be any shedding thanks to the fiber-locking process used to make Hi Space bath mats.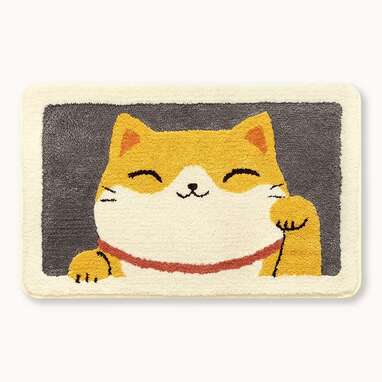 "This mat is adorable," one five-star reviewer wrote about the orange cat bath mat from Molesun, adding, "even more so when my cat lays on it." You can pick this mat up in one of two sizes and enjoy the feel of the plush moisture-wicking microfiber on your bare feet.