The Best Cat Backpacks On Amazon
Traveling with your cat just got *so* much easier.
We independently pick all the products we recommend because we love them and think you will too. If you buy a product from a link on our site, we may earn a commission.
Whether you're looking to treat your indoor cat to an outdoor adventure or find a new, more comfortable way to transport your cat to the vet, a cat backpack may become both you and your cat's new best friend.
Cat backpacks are a fun, hands-free way to bring your cat with you wherever you need to go. You'll no longer feel clumsy toting around a giant cat carrier, and your BFF will get to enjoy the outside up close and personal. And there are a bunch of cat backpacks on Amazon just waiting to change the way you travel with your cat.
The Dodo found the 9 best ones, according to cat parents who love them.
This square-shaped cat backpack features two bubble windows on the sides and a mesh zip-close front door that provides your cat with fresh air and a view of the outdoors. "What I like about it is that the sides are plastic, which provides sturdiness, and the front mesh screen zipper allows air circulation," one five-star reviewer wrote. "Also there are holes in the top for more air circulation … The window over the mesh is helpful in cold weather as well."
Need room for two? Not a problem thanks to the Ibiyaya double-compartment cat backpack on Amazon. The design of this backpack has two separate compartments that have a zip-away floor separating them, meaning you can fit two cats or one larger cat inside. The backpack itself is lightweight, has plenty of ventilation and can be buckled into a car for easy transport.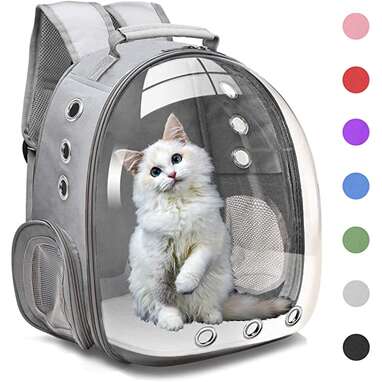 Another great bubble-style cat backpack comes from Henkelion. Available in a variety of fun colors, the Henkelion cat backpack features nine ventilation holes, a safety strap that connects to your cat's harness, a removable fleece mat and padded shoulder straps.
"We did a lot of research for backpacks that would be comfortable/safe/fun for hiking with our cat," one five-star pet parent wrote about the PetAmi cat backpack on Amazon. "This backpack had everything we were looking for. I love the extra pockets so we could carry water and treats." This backpack has two doors on either side and features two additional buckles in the front to help you distribute your cat's weight while you wear it.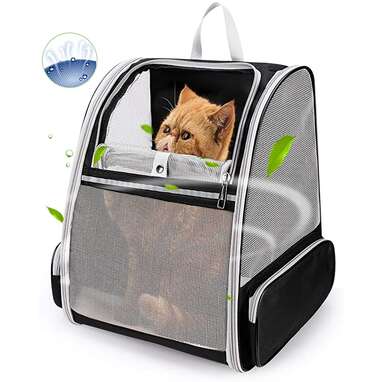 If you're looking for a great travel cat backpack, this one from LOLLIMEOW may be the perfect fit. Its dimensions fit within many airlines' personal item requirements, and the mesh panels ensure your pet is getting plenty of fresh air. The mesh siding also makes this an incredibly lightweight cat carrier.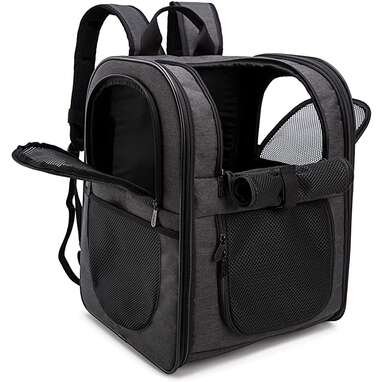 With multiple zip-up windows and mesh panels, as well as a safety attachment for her harness, your cat will love hanging out in the Apollo Walker pet backpack. And thanks to the adjustable padded straps and added chest and waist buckles, you'll love wearing the backpack, too.
This bubble-style cat backpack from BEIKOTT comes with its own collapsible water dish and a soft, washable pad on the inside. "Our cat loved this portable pack," one pet parent wrote. "Perfect for hikes, running errands, the vet, etc. … The straps are adjustable and there's good enough room for personal storage. Mini water bowl was such a plus!!"
This cat backpack on Amazon from Petcute features an expandable design that gives your cat room to spread out when you aren't wearing it. Simply zip free the mesh popout in the back and let her get comfortable. The acrylic windows also allow your cat to get a great view without you needing to worry about her clawing up mesh siding.