The Best Cat Accessories On Amazon
Guaranteed to win you some "thank you" purrs!
If you're itching to go on a shopping spree for your cat, look no further than this list of the best-rated Amazon cat accessories. Parents of cats and kittens have left these products rave reviews, and all the five-star ratings speak for themselves: These accessories will absolutely give your furry friend something to purr about.
Below you'll find a handful of top-rated cat accessories, from cat towers to collars and everything in between. The ratings are stellar, the reviews are top-notch and even the most fickle of cats will approve — even if they pretend they're unbothered, per usual.
No more paws in your mouth at 5:30 a.m. The PETLIBRO automatic cat feeder will release a pre-portioned serving of dry cat food at a set time each day — you can even record a voice clip to call them over to the feeder and encourage a stricter schedule. "Pistol Pete is an adorable feline, however the 4 a.m. "wake up and feed me" calls were getting old," one cat parent wrote. "The PETLIBRO automatic feeder is the perfect remedy; not just for those early a.m. wake-up calls, but also to portion out the feedings."
Put your green thumb to work with The Cat Ladies' organic cat grass kit. The grass itself is a mix of grass, oat, barley and rye, all of which help keep your cat's digestive tract regular (and reduce her hairballs). The kit comes with an adorable cat mug, a soil disk, seeds and easy-to-follow instructions.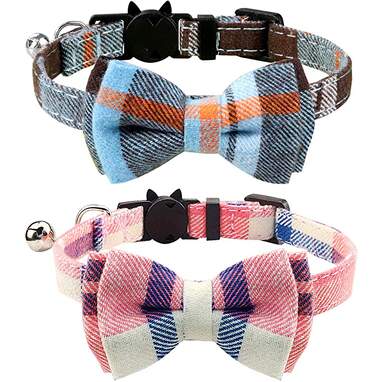 And if you're looking for something to attach that ID tag to, check out these breakaway bowtie collars from Joytale. They come in a handful of different plaid colorways, and can fit most cats. Plus, they're incredibly safe for your kitty to wear as the breakaway safety buckle will come loose as soon as tension is applied. "This bow-tie has given [my cat] confidence and boosted his chances with the ladies," one cat parent joked. "The collar is well-made, but lightweight enough that it doesn't seem to annoy the cat in the least."
Not only are these stainless steel cat ID tags adorable, but they'll keep your kitty safe in the event they pull a Houdini on you. The tags come in a variety of cute shapes, and customization is easy — simply use the customization tool at checkout to input your cat's name and who to call if they're found. As one cat parent wrote, this is "the last tag you will ever need for your pet."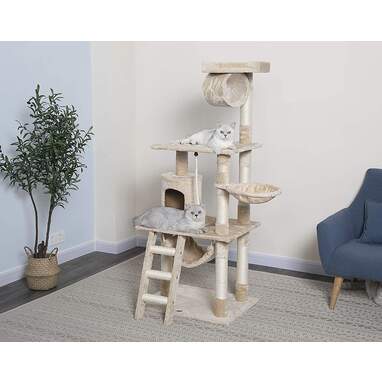 This isn't just any old cat tree. The Go Pet Club cat tree is basically a cat mansion. With four tiers, three hammocks and one cave, your cat won't know where to hang out first. This is a favorite cat accessory among Amazon shoppers, with more than 14,800 five-star reviews. Your cats will surely have an awesome time.
If you're looking to treat your cat to a box of goodies, this assortment of toys from Youngever has all the fixins'. It comes with crinkle balls, fluffy feather toys, foldable tunnels and more. It's a great starter kit for kittens, and will keep your adult cat busy for hours — just make sure to keep an eye on your cat while she plays so the toys don't become a potential danger.
It looks like a baby toy because it kind of is — just for your fur baby. The UPSKY roller toy features three levels of rolling-ball action that intrigues curious, active and lazy cats alike. "I have a feral cat that took me five years to catch and tame," one shopper wrote. "She LOVES THIS TOY!! I'd even say she is obsessed with it." Over 16,000 cat parents have left equally rave reviews.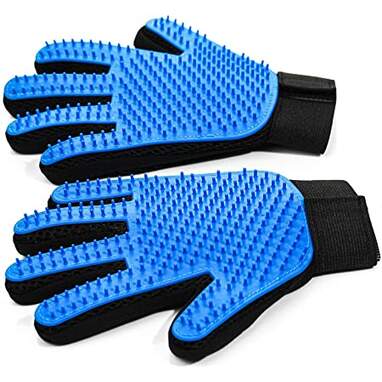 Your cat may think she's getting the love session of her lifetime, but she's actually getting a major grooming. These pet grooming gloves from DELOMO feature 225 silicone grooming tips that remove loose hair and dirt from your cat's coat. They're flexible, easy to slip on and off and remove hair like you've never seen before. Nearly 23,000 cat parents say their cats' visible shedding has decreased and their cats are more relaxed than ever.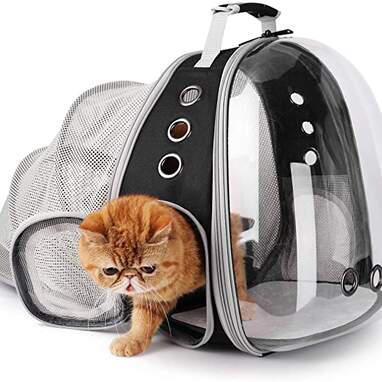 This futuristic bubble cat carrier lets your cat get a full view of her surroundings as she rides around on your back. The Lollimeow pet carrier features nine ventilation holes and an easy, foldable mesh tunnel to help your cat get in and out of the backpack with ease. "This is going to make it so much easier to travel with her," one cat parent wrote. "I don't have a car so I had to lug a huge pet carrier onto the bus. I can't wait to use this instead."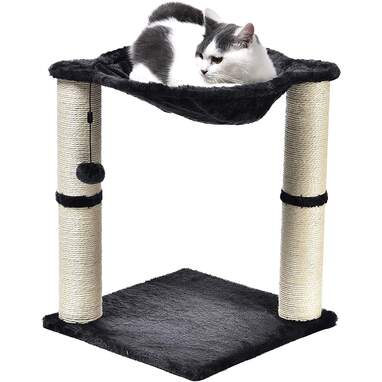 It's a hammock. It's a scratching post. It's honestly something you'll want in human-size. Over 23,000 cat parents say the Amazon Basics hammock is "worth every penny." "It took him all of five minutes to warm up to it and now it's his favorite thing," one five-star reviewer wrote.