The Best Automatic Cat Feeders On Amazon
No more 4 a.m. breakfast meows 😸
We independently pick all the products we recommend because we love them and think you will too. If you buy a product from a link on our site, we may earn a commission.
Though most pet parents' schedules revolve around their furry friends, sometimes unavoidable circumstances cause you to show up late for dinner. Cue the bad cat attitudes and sad eyes.
But thanks to automatic cat feeders, you can make sure your cat always gets fed on time. Whether you're going away for a day or two, finding yourself staying later and later at the office, or just want to skip the 4 a.m. wakeup call from your hungry cat, these automatic cat feeders from Amazon will save both of you a lot of stress.
And they all have rave reviews from pet parents who've tried them:
The PETLIBRO 6-liter automatic cat feeder can dish out up to six portion-controlled meals per day. This upgraded version of the original PETLIBRO feeder features a clog-free dispenser and a low-food warning alarm, and you can even record 10 seconds of your voice to give your cat praise before mealtimes.
If you're looking for a great gravity feeder that keeps your cat's food and water dishes full at all times, the Pawzone automatic feeder is a great option. You get one water dispenser and one food dispenser with each purchase, which can hold enough food and water to last a cat up to seven days (though this will vary depending on your cat's appetite).
"We decided to make an investment on an automatic food dispenser for our cat," one pet parent wrote in their five-star review of the Veken automatic cat feeder. "Because the times we've been going out [of] town, he flips his dish and spills his food everywhere … The voice recording was an extra perk, (literally) calling your cat to eat (amazing)." The clear hopper makes it easy to keep track of how much food is left in the system, and you can run the feeder on batteries, giving you peace of mind if there's a power outage while you're away.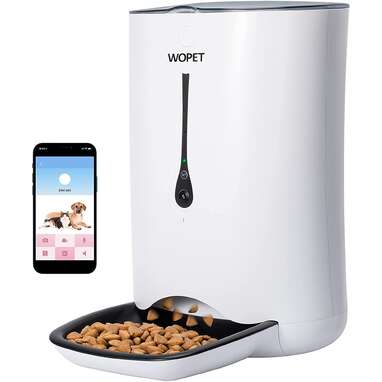 WOPET's SmartFeeder works with a downloadable app that allows you to set feeding times and access an HD camera to check in on your pet while they eat. You can also use the app to record a 10-second audio message that will play at mealtimes.
The 7-liter automatic cat feeder from Roffie will feed your cat four meals per day and dole out specific portion sizes — from 2 teaspoons to 4.5 cups of kibble. And you can use the easy "MIC" button to record a short message for your pet to hear just before mealtime.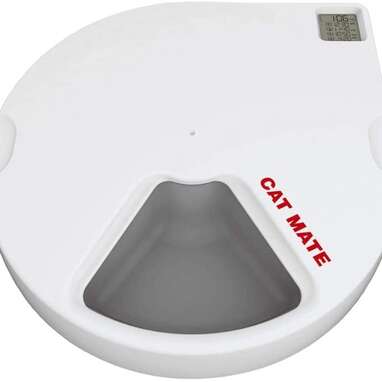 This automatic feeder from CatMate works great with both dry kibble and wet food. It features five food compartments that will open at designated times throughout the day, and this feeder even comes with an ice pack to keep food fresh.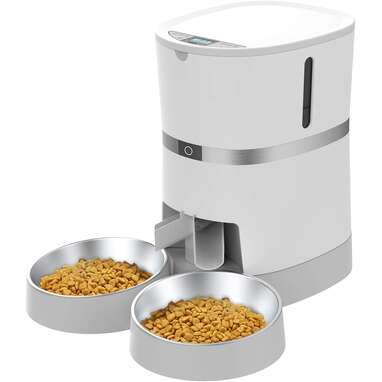 Two cats? No problem. The WellToBe dual automatic cat feeder on Amazon features a two-way splitter that directs kibble into two separate bowls. Simply program how much food should be served and when, and let the feeder do the work. "This model is one of the only ones I've seen on Amazon with a double-bowl setup and it works flawlessly," one cat parent wrote. "They both get fed the same amount at the same time and everything is fair."