The Best Amazon Wag Products
Stock your pantry with ALL the treats 🐶
Amazon launched its own pet product line dubbed Wag in 2018 with the intention of providing affordable, healthy pet foods. And within the past three years, Amazon shoppers (and their pets) have fallen hard for Wag, with many of the brand's treats racking up five-star reviews.
Below are the top-rated Wag products from Amazon. These products have found their way to the top of many pet parents' must-have lists. And judging on the reviews alone, the treats and supplements below are definitely worth a try.
Available in two different flavors, Amazon Wag's wet dog food topper is a tasty treat that can be mixed in with dry kibble or served on its own. And pet parents say it's nearly a dupe for wet food treats from more established dog food brands. "If your dog won't eat dry dog food without a topper — this is puuurfect!" one dog parent wrote.
Made with recognizable, natural ingredients, this jerky treat will have your dog wagging his tail and drooling for more. Over 1,700 Amazon customers have rated this jerky five stars, with one dog parent writing, "I normally don't write product reviews, but I feel I must spread the [word] on how great a product this one is! My pup would do anything for it," adding that it, "smelled so good out of the bag … I [wanted] to have a bite myself."
If you're looking to reduce your pup's plaque and tartar buildup while also treating him to something great, the Wag dental chews are a great option. They're just abrasive enough to clean teeth and freshen breath, and dogs love the tasty flavor. They come in four different sizes and have nearly 800 five-star reviews.
Even old dogs will learn new tricks if Wag's training treats are the reward. These dime-sized treats come in three delicious flavors and are the perfect portion to offer as a reward for a job well done. These treats are one of Wag's most-popular products, with one five-star customer writing, "My husky is a little bit of a rascal when it comes to training. But he loves these treats. Made the process a lot easier!"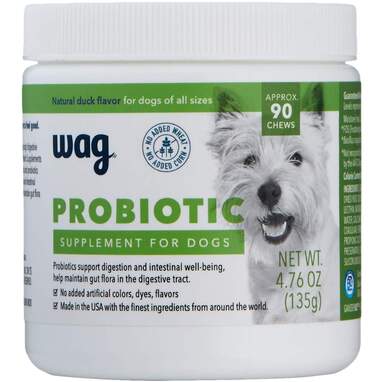 Some dogs need a little extra support for their wonky digestive systems, and that's where Wag's probiotic supplement comes in. The supplement chews promote intestinal wellbeing, a healthy amount of gut flora and better digestion. And according to dog parents, terrible gas, bloating and rumbly stomachs are a thing of the past.
If you're searching for an alternative to those run-of-the-mill dog biscuits, these chicken and waffle bites may become your dog's new favorite thing. One dog parent wrote, "My small dog absolutely loves these treats … Excellent for getting his attention to me instead of other dogs and cats."
Pups with stiff joints need a little extra love in their treats. These Wag bites contain glucosamine and chondroitin, which promote hip and joint health. "Our three dogs love these treats!" one pet parent wrote. "We have an 11-year-old and two male pups less than 2 years [old]. I bought the chicken treats with the glucosamine, figuring they'd be good for our older dog and good for our growing pups."