We independently pick all the products we recommend because we love them and think you will too. If you buy a product from a link on our site, we may earn a commission.
There's nothing more peaceful than watching your dog take a nap. And although most of us would let our dogs sleep in our beds, under the covers and head on the pillow, it's nice to give them their own space to cuddle up sometimes.
It can be a bit overwhelming to find the perfect dog bed, but fortunately pet parents and their pups have done the hard work of weeding through the dog beds on Amazon Prime to find the best of the best. The Dodo compiled a list of the comfiest, snuggliest and coziest dog beds out there, so your BFF can play fetch with you in his dream while staying
extremely
comfortable.
Available in sizes from 18 inches to 48 inches, this basic plush dog bed from Amazon is a favorite among pet parents because it's comfy, affordable and incredibly durable. It has over 38,800 five-star reviews, with one dog parent writing, "It has now been three years since we bought these [beds], and despite daily use and probably 50 washes, they're fine. About 75 percent as fluffy/poofy as they ever were, still an even distribution of stuffing, no rips or tears, everything is totally fine. In fact, I'm getting a little bored with them and for the first time in my entire life I may just buy new ones out of preference rather than necessity. I can't speak highly enough about these!!"
The Furhaven dog bed is much loved by breeds of all different sizes. It has a bolster L-shape for excellent head resting, an orthopedic cushion that supports joints, and perfectly plush upholstery that keeps your pup warm and cozy. "My big boy, Red, is a 13-year-old, 115-pound golden retriever. He's been having trouble walking and I can tell he hurts," one dog parent wrote. "When I took this out of the package (ordered XL) last night and put it on the floor, he stepped on it and that was it. He turned three times and was asleep … The real wonder came this morning when he stood up. He didn't struggle to rise and he stretched!!!"
For dogs who run hot — or who like to hang out with you outside — this elevated pet bed from Coolaroo is a chill alternative to the standard pet bed. Its off-the-ground design increases airflow, and the mesh fabric is super breathable and helps eliminate hot spots. "I purchased my first Coolaroo Elevated Dog Bed over six years ago for my 50-pound soft-coated wheaten (purchased the medium size)," one five-star reviewer wrote. "This bed has LASTED!"
This platform bed from BarkBox is a hit with dog parents, with over 18,900 five-star reviews. The magic is in the gel memory foam that supports and soothes your pup's aches and pains, and the cover zips off with ease for washing. "I bought the BarkBox bed for [my dog] and she got on it as soon as I put it down on the floor," one pet parent wrote. "I brought it upstairs for the night and she immediately got on it rather than asking to get up on my bed … She absolutely loves it and I do too."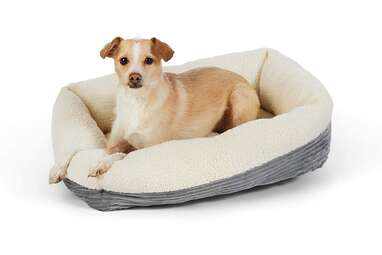 Made for smaller breeds, this warming pet bed from Amazon Basics retains and reflects your pup's body heat, making it the coziest space in the house for him. "From our experiences with our past dogs, they loved having beds with high sides so they had something to lean on," one five-star pet parent wrote. "This bed offers exactly that, with the inside of the bed offering plenty of padding too! We added a blanket on the inside for him to scratch around to settle in how he likes, but I would not say that the blanket was necessary. We are very happy with the bed and look forward to seeing how it holds up over time!"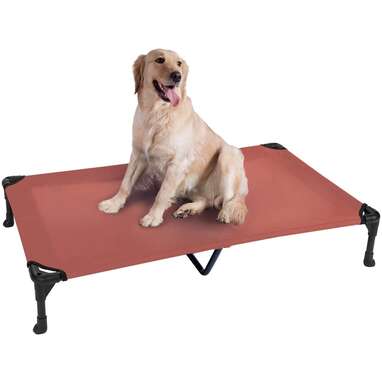 If you like the sound of a cooling pet bed, this one from Veehoo is another great option. Its slip-resistant legs are super supportive and will hold up under your pup's weight, and the mesh bedding is ultra-breathable. "The bed keeps the [miniature pinschers] off of the ground where the ants like to hang out, which keeps them from getting bit," one dog parent wrote. "My large dogs also enjoy this bed while they are taking breaks between rounds of fetch. The elevation of the bed and the fabric are perfect for helping hot dogs quickly cool down."
The orthopedic foam bed from Bedsure is reversible — plush fleece on one side for cozy winter snoozing, and cool oxford cloth on the other side for summer sleep. It comes in sizes medium to XXL, and features high-density egg crate foam that helps relieve sore joints. "This bed is awesome!" one five-star reviewer wrote. "I highly recommend this bed no matter the age of your pet."
The Best Friends by Sheri "Donut Cuddler" is the ultimate plush hangout spot for your pup — and is a favorite of Dodo office dogs. It's covered in super soft faux fur, and has deep crevices in which your dog can burrow, dig and find their perfect snooze spot. "I opened the package, shook out the bed and put it down. I turned around to pick up the trash and get a pair of scissors to take the tag off and my dog was in the bed," one of the 37,000 five-star reviewers wrote. "He loves it and will not get out!"
This bolster-style bed for large dogs from PUPPBUDD is plush, supportive and cozy. It's stuffed with eco-friendly fibers, and the entire thing can be thrown in the wash on a gentle cycle. "My dog absolutely loves this PUPPBUDD dog bed," one five-star pet parent wrote. "He now sleeps all night on his bed and [is] not scratching my door to let him in my room to sleep on a pillow. I am very happy with this purchase so far."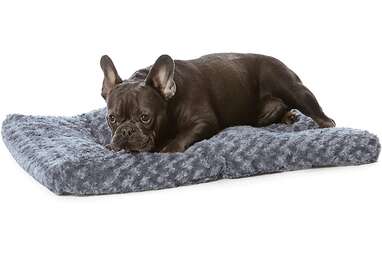 If you're on the hunt for a super simple dog bed, this option from Amazon Basics is where it's at. It comes in sizes from 23 inches up to 46 inches, and has ultra-soft plush upholstery your dog will love to cuddle on. Plus, it's the perfect size for crates and kennels. "My German shepherd puppy loves this in her kennel," one pet parent wrote. "She chews on it sometimes when she first wakes up, but there's no damage yet after two weeks, and she can chew! It fits perfectly in her kennel as well and is so soft."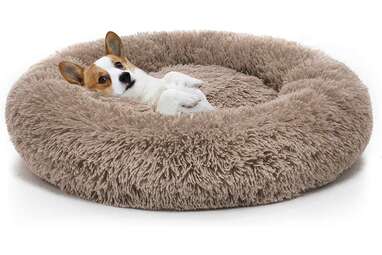 MIXJOY's donut-shaped orthopedic dog bed is covered with cuddly faux fur made for curling up in. "DO not be afraid to purchase this bed, it's wonderful!" one of the over 9,800 five-star reviewers wrote. "I throw it in the washer and the dryer and it comes out as soft as when I first bought it, and holds its shape! Great purchase!"
Your dog will feel like she's sleeping on a cloud when she curls up in JOYELF's memory foam bed. The high-density foam is designed for ultimate comfort while sleeping, and the removable cover is washable, making it great for parents of senior dogs who may have occasional accidents. "I bought this for my 9-year-old golden retriever who has experienced early onset arthritis," one dog parent wrote. "From the second I opened the packaging and put the mattress into the zipped casing, she was in it. She loves it and I love seeing how comfy she is."
Another simple dog bed from Amazon Basics is this much-loved donut bed covered in soft flannel. The raised edges act like pillows, perfect for your pup to rest his head on, and small breeds will love the nest-like shape. "We originally got this bed for our little 20-pound dog. Then the 20-pound cat found that he liked this bed, and would torment the dog to leave it," one five-star reviewer wrote. "Just to keep peace, we ended up buying four of these beds to put in different parts of the house so both would be happy. They are. They love these sweet little beds."