The Top 10 Cat Trees That Pet Parents Are Obsessed With
More like cat castles 🏰
Just because your cat lives indoors doesn't mean he doesn't pretend he lives in the jungle. Cat trees satisfy your BFF's climbing, jumping and stalking needs, and because they come in so many shapes and sizes, you can definitely find a cat tree that both fits your style and your space.
The only problem with cat trees is that there are just so many out there for you to choose from. To help you out, The Dodo rounded up 10 cat trees that are most-loved by Amazon reviewers so you can go into your decision-making process with thousands of other cat parents (and their cats) guiding you in the right direction.
This cat tree from Nova isn't just a tree — it's an actual palace. The tree has four levels for your cat to climb, including two hideouts, three scratching posts and six platforms where he can perch. Over 13,000 people have rated this tree five stars, with one cat parent writing, "My full-grown cats love it. The kitten loves it. They all use it, climb on it, sit inside one of the compartments or on the little levels."
If the 62-inch tree isn't cutting it for your cat, try Go Pet Club's 72-inch model, complete with two ladders leading to two hideouts, and three super-tall perches. Over 11,000 people say their cats love this tree. "Our kitty absolutely loves it," one five-star reviewer wrote, calling the tree "puurrfect!" They continued, "In fact, on the first day, she spent several hours hanging out there, exploring, playing and napping."
This 62-inch-tall tree from Go Pet is Amazon shoppers' next most-loved cat tree, with its sisal-covered posts and hammocks. And if your cat loves squeezing herself into a tight space, cat parents say this is the tree for her. "I have two relatively large cats that love this thing," one five-star parent wrote. "One of my cats spends a lot of time in the basket. It is a little snug but she seems to enjoy being cradled."
The Furhaven Pet cat tree comes in a variety of different configurations, so you can choose the one that best suits your space. No matter which one you choose, though, your cats are going to love it, fellow Amazon shoppers say. "I've only had it a few weeks and they have not left it alone," one of the 7,400 five-star cat parents wrote. "Every part of it is quality made. I have zero problems or complaints about it."
If you're looking for a sturdy, simple cat tree, Amazon Basics offers just that. Its three-story tree comes with seven jute-covered scratching posts, three carpeted platforms and a top-tier nest to hang out in. "I tried very, very hard to find a better tree (bigger, etc.) but this is definitely the best cat tree for the price," one of the 6,900 five-star reviewers wrote. "I love that it has so many scratching posts ... He literally spends most of his time in the dish on this tree. It's his absolute favorite place to sleep."
This cat tree from YAHEETECH is all about giving your cat lots of safe spaces to hide and cuddle up in. With two huge dens and three places to perch on top, this cat castle provides hours of endless play (and naps). And over 6,200 pet parents love this tree, too. "I put it up and my cat instantly was interested. Now it's her safe place," one cat parent wrote. "If I can't find her I look inside the top hut and she is usually there. It's sturdy, too. I'm very impressed."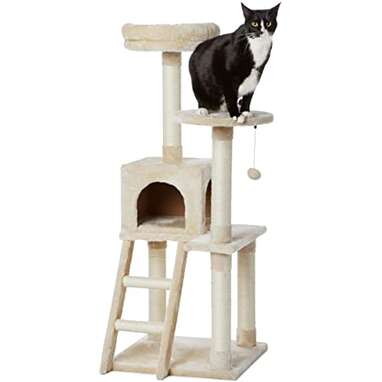 Cat parents also love the 4.6-star rated extra large version of the Amazon Basics cat tree, which comes in several different colors and configurations. Most come with a hideout and several top-tier nests and feature tons of scratching posts to keep claws busy and off the furniture.
Those of you who live in small spaces can appreciate the FEANDREA compact cat tree with two huts and a top nest. It sits at just 33 inches tall, yet the huts and nest are large enough to fit large cats. "I have a fat, old cat," one five-star reviewer wrote. "She loves the cubbies and can fit in them perfectly fine." Plus, it comes with a metal arm so you can anchor it to the wall for added stability.
Another simple option for no-nonsense cats is this tree from Catry. It's main feature is a hammock that hangs between two scratching posts. It also has a lookout spot that stands just over 27 inches high. Over 3,600 cat parents would recommend it, with one writing, "Cybil likes to sit in the hammock. Well made and easy to put together. Doesn't fall over like some other models. Would recommend for smaller cats or kittens."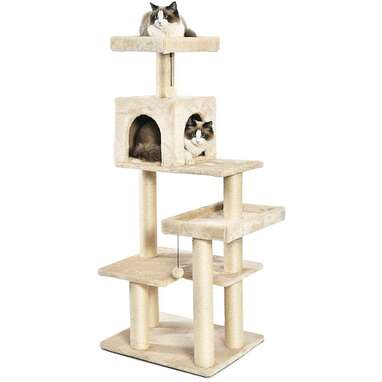 Finally, Amazon Basics rounds out the best-loved list with the brand's multi-level cat tree. It comes in a handful of different setups, with each one offering an impressive number of levels, hideouts and platforms. It's basically a deluxe kitty condo, and one five-star pet parent wrote, "After a long search and much deliberation, we decided on this cat tree, and couldn't be happier with what we got!! The assembly took less than 30 minutes and once we placed our cat on one of the levels to show him what it was for, we couldn't get him off of it."