The Absolute Best Cat Toys You Can Buy On Amazon Prime
Your cat's toy chest is about to be bursting at the seams.
There's nothing cuter than when your cat plays like they did when they were a kitten. But if your cat is picky, you may have found yourself on a seemingly endless quest to find a toy she actually wants to play with.
The Dodo rounded up the top highly-rated cat toys on Amazon Prime to bring that quest to an end. Cat parents are raving about all the toys listed below, with some reporting in their five-star reviews that these toys make even the least playful cats jump, bite, kick, and have a total blast.
This may just be the best (and smartest) cat toy ever. The floppy fish toy from Potaroma is USB-chargeable, and features "smart standby" so that it only moves when it senses touch. "My three cats have been playing with it almost nonstop, except for when I have to take it away to charge it," one of the 9,000 five-star cat parent reviewers wrote of the floppy fish. "One of them pretty much 'hogs' it and the other two can't get near it, though they try."
The Tower of Tracks from Petstages has a whopping 22,600 five-star reviews on Amazon because it's just that good. It's simple, with three spinning balls on three different levels, but study enough so that your cat can't push it over. Pet parents say it keeps their cat interested and mentally engaged.
Treat your cat to all their favorite things with this 30-piece assortment from Mibote. This set comes with a tunnel, feather toys, fluffy mice, rattling balls, catnip and more. "Really good quality toys! Great value for the price!" one five-star reviewer wrote. "I was pleasantly surprised. My cats love these toys. And the fish toy was bigger than I thought it would be. Great assortment."
Similar to the Petstages toy, the UPSKY version features a cute little topper and six balls to place in the tiers. "I have four kittens that are enjoying this, even days after the purchase," one of the over 17,000 five-star reviewers wrote.
Go fishing for your cat with this colorful feather telescopic fishing pole toy. She'll jump, run and pounce trying to catch the feather lure, which clips on easily with a lobster claw clasp. The entire set comes with 13 pieces, including interchangeable feather lures and squiggly worms, and has earned a 4.6-star rating from happy cat parents.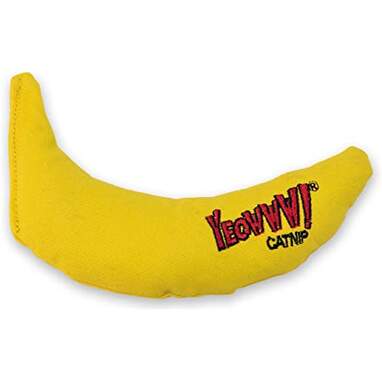 It's a banana stuffed with catnip (aka your cat's new best friend). The Yeowww! banana cat toy has over 12,700 five-star reviews on Amazon, with some parents saying it's the best catnip toy on the market. "The Yeowww! Catnip Banana is the closest thing you can get to a 'sure thing' in a cat toy," one five-star reviewer wrote. "I have probably bought three bunches of these so far for my cats, shelter/foster donations and gifts."
The YVE LIFE laser toy is basically a laser pointer robot — and cats absolutely love it. The USB-chargeable toy shoots a laser beam in a random pattern that can be adjusted to provide a larger or smaller radius of play area. More than 6,500 pet parents have rated this laser robot five stars and say it keeps their cats busy and tires them out.
All the Cat Dancer 101 is is a piece of wire and some rolled cardboard. Yup, that's it. That's all it takes to make your cat go absolutely wild. Over 15,700 cat parents swear by this toy, with one parent calling it "cat crack." "The more expensive toys may as well be nonexistent compared to the springy wires with cardboard thingys on the ends," they wrote. "I have to hide them … on top of the fridge, under the pillows, under the couch."
It's like ribbon dancing, except for your cat! The Rainbow Cat Charmer is a fun string toy on a stick that provides hours of entertainment for both you and cat. "This is my second one," one of the 12,700 five-star pet parent reviewers wrote. "It's all of my past and present cats' favorite toy. And,it's fun for me to use to play with them ... It's made well enough to have lasted 20 years (until my dog got jealous and ate part of the clear rod. That's the only reason I had to order a new one."
In most cats' opinion, the simpler the object, the better the toy. That's why over 11,500 cat parents say the SPOT plastic spring is their cat's favorite plaything. "They're so light, springy and the best part is they're QUIET, so no annoying jingle bell to hear," one five-star reviewer wrote of the toy. "I've never seen a cat LOVE a toy so much."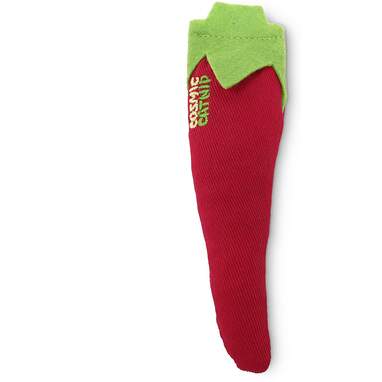 The OurPets catnip toys come in several fun shapes like a chili pepper, carrot, and cactus, all of which are filled with 100 percent North American-grown catnip. As one five-star cat parent wrote, the thing is filled with what can only be described as "dark magic." "Got my [catnip] carrot and with not much hope threw it on the floor. MAGIC exploded immediately," they wrote. "[My] cat went NUTS … kicks, licks, snouts, breaths, drools and more kicks. For THREE HOURS."
These little mice are perhaps the most classic cat toy out there with their fluffy faux-fur bodies and tempting tail. "He loves the things ... So here we are, I'm buying 60 of them at a time," one cat parent wrote in an Amazon review. "These mice are higher quality than the ones you get in stores, they have ears and rattlers inside, and lots of fur if your cat is the type who likes to 'groom' their mice." Plus, they come in an array of bright, fun colors so you won't spook yourself when you see them lying on the ground.