These Are The Cat Litters Real Pet Parents Are Obsessed With
Cleaning the litter box doesn't have to stink — literally 🤢
We independently pick all the products we recommend because we love them and think you will too. If you buy a product from a link on our site, we may earn a commission.
No one likes cleaning their cat's litter box. It's a stinky job, but someone's gotta do it. However, according to cat parents who have switched their litter to one of these best-selling brands, cleaning the litter box has become way less of a drag.
With fast-clumping, low-dust and odor-blocking properties, these cat litters from Amazon Prime are winners through and through. So, if you're thinking of making a switch for both your and your cat's sake, check out which litter brands are at the top of fellow cat parents' lists.
This super-simple multi-cat formula from Fresh Step is a much-loved classic for a reason. It stops odor with Febreze freshness, uses "ClumpLock" technology to form clumps instantly and over 31,000 cat parents say it lives it up to the hype. "I have two cats and would not consider using anything else," one five-star reviewer wrote. "I am not the greatest at cleaning the litter box every day or so and this litter solves that problem."
Dr. Elsey's litter is hypoallergenic thanks to its clay formula. It clumps well, locks in odor and is 99 percent dust-free. Over 23,900 five-star reviews say this litter is the best there is, with one cat parent writing, "Hands down the best pet-related purchase I have ever made. For the first time in 10 years my house doesn't smell like cat poop."
No scraping, no chipping, no scrubbing. The Arm & Hammer "slide" formula makes cleaning your cat's litter box super easy with its granules that clump moisture but don't stick to the pan. "I will never buy any other kind of cat litter, now that I've found this Arm & Hammer Slide!" one five-star cat parent wrote. "No more cat pee sticking like glue to the bottom of the litter box! Scooping it takes less time!"
The Tidy Cats LightWeight formula is half the weight of standard cat litter yet still packs the same clumping punch as its competitors. Plus, the Tidy Cats litter uses an ammonia blocker to reduce odor for up to 14 days. "The lightweight version, I feel, clumps even better than the previous, which means it lasts longer," one five-star reviewer wrote. "And the kids can help, my 70-year-old aunt likes to help, and now they all can."
Great for your standard litter box, and really great in PetSafe's reusable litter trays, the ScoopFree crystal formula boasts "unbeatable" odor control and a 99 percent dust-free guarantee. The crystal litter means less tracking mess around the house, and one five-star pet parent writes that it "eliminates litter odor to the max."
This all-natural, wood-based clumping litter on Amazon Prime from ÖKOCAT stops odor, is 99 percent dust-free and doesn't contain any toxic dyes, GMOs, artificial fragrances or synthetic chemicals. What's more is that the litter itself comes in a recyclable box. "I've tried many natural options," one of the over 2,200 five-star reviewers wrote. "This is my favorite, by far! This litter clumps better than any other natural product I've found, and better than a lot of clay-based ones, as well. There are rarely any little bits that fall off the main clump ball."
"The scent of this litter is really nice," one of the over 26,300 five-star pet parents wrote about Fresh Step's Advanced Extreme litter. "The clumping capabilities are amazing … One of the best features of this litter is the very low to no tracking." This formula fights odors with its extreme mountain spring scent and clumps on contact, making it easy to scoop and keep your cat's litter box clean.
The Arm & Hammer Platinum litter promises a 100 percent dust-free litter box and a seven-day odor-lock guarantee. It's extra-strength quality makes it great for a multi-cat household, and one cat parent called it "straight up magic," adding, "I didn't know cat litter could be this easy and effective."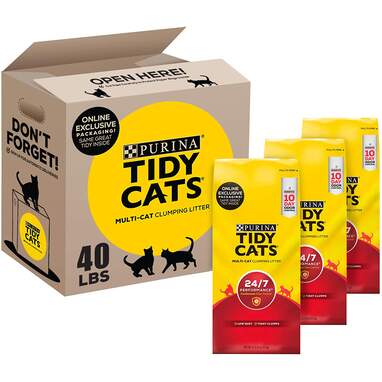 The clay granules found in the Tidy Cats 24/7 Performance litter lock in moisture and reduce odor, which makes cleaning the litter box a breeze. It comes in a clean linen scent and is shipped in a 100 percent recyclable box. "It took me quite a few tries to find a kitty litter that worked for us. This is now my monthly purchase," one cat parent wrote. "The biggest plus for me is the scent. This stuff has a nice scent, without being overwhelming … And you can't really beat the price. Highly recommend!"
This all-natural litter from Naturally Fresh is made from the fibrous material found in walnut shells, making it 100 percent biodegradable and zero-waste. The litter is also easy on your cat's paws and produces little-to-no dust. "My house, with 13 cats, has NO CAT SMELL," a foster cat parent wrote. "There is no dust. It's light. It clumps so much better than anything I've ever used. It pours like coffee grounds … Perfect for my asthmatic family members. I am never going back. YOU NEED THIS. I NEEDED THIS THE WHOLE TIME."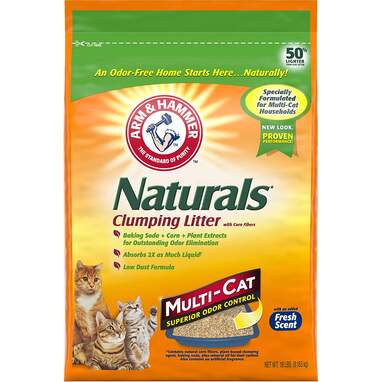 Arm & Hammer Naturals is an odor-free, absorbent option for a multi-cat household. Its formula is a mix of baking soda, corn and plant extracts, making it a great option for pet parents searching for natural, yet affordable, alternatives. "It has a very good scent, and will clump urine almost completely," one five-star reviewer wrote. "It truly is amazing."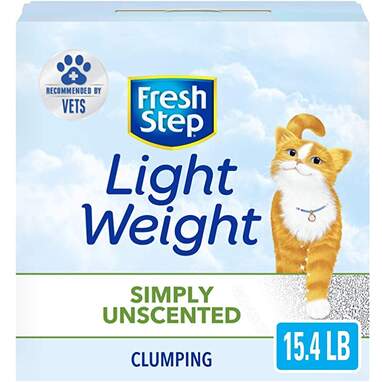 This "simply unscented" litter from Fresh Step clumps on contact and promises a low-dust litter box. Though the lightweight litter itself is unscented, the granules control odor for up to 10 days. "Our cats love this Fresh Step version and so do we," one cat parent wrote. "The way it clumps makes cleaning the litter box so much easier."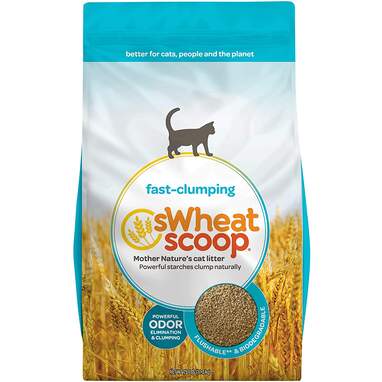 This wheat-based formula from sWheat is biodegradable and flushable, and uses wheat starches to trap odor. And it's not only all-natural, but it actually works. "I have the most gorgeous Maine Coon in the world … and the only litter he will tolerate is sWheat," one of the 2,300 five-star customers wrote. "I also love that this litter is flushable and biodegradable. It makes it so easy to keep his litter box clean, and he's a very finicky cat. He won't use his litter box if it needs [to be] scooped."
SmartCat's "no smell, can't tell" tagline holds up, with many people saying that the all-natural odor control is the best thing about this clumping litter from Amazon. But, to sweeten the pot, it's also chemical-free, fragrance-free and clay-free. "I spent the past few months trying different kinds of lightweight, non-clay kitty litter and came back to SmartCat," one five-star reviewer wrote. "It's clean … It clumps compactly … This is the best litter I know of."