The Best Flea And Trick Treatments For Cats That You Can Buy Right Now
Say bye to the itching and scratching 👋
We independently pick all the products we recommend because we love them and think you will too. If you buy a product from a link on our site, we may earn a commission.
You hate to see your cat itching, scratching and pulling at their fur trying to rid themselves of those nasty fleas and ticks. And with warmer weather officially here, a potential infestation may be around the corner.
If your cat is suffering from a flea or tick attack — or you want to make sure she never does — you can take action with a fast-acting, long-lasting flea and tick treatment. According to cat parents who have battled the flea plague with their own BFFs, these are the best cat flea and tick treatments on Amazon Prime that actually worked — and stopped fleas and ticks in their tracks for good.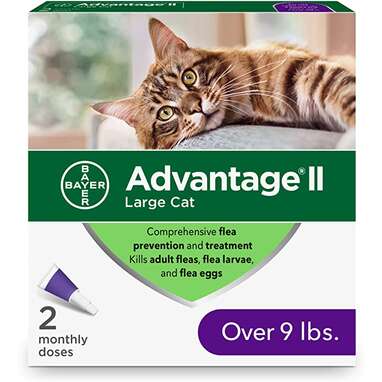 Advantage II is the most popular cat flea and tick treatment on Amazon, with over 31,000 five-star reviews. Each box comes with a several-month supply of treatment, which begins working 12 hours after initial application. And after 24 hours, the treatment becomes waterproof and will protect your cat for up to 30 days. "Absolutely fantastic," one five-star reviewer wrote. "It's now day two, and there's BARELY any frantic licking or scratching. I ran a flea comb through both of my cats, and there's nothing … Both of my cats are now calm, more playful and more peaceful."
This small-cat formula packs the same punch as the large-cat Advantage II treatment, but is suitable for cats weighing 5 to 9 pounds. "Advantage II has always been my favorite flea product for cats," one five-star customer wrote. "It works the fastest and is the most reliable in terms of long-term flea prevention."
Fleas will start to fall off your cat 24 hours after applying the PetArmor formula to their coat. And you can even set up text message alerts with PetArmor that remind you to apply their monthly doses. Over 3,700 people love PetArmor, with one five-star reviewer writing, "Cats had gotten fleas but this made them vanish. Was afraid to try an inexpensive brand of topical flea medication, but this stuff compares very well to brands such as Frontline."
The Cheristin topical flea and tick treatment starts killing pests within 30 minutes and lasts for up to six weeks. And according to the listing, Cheristin's active ingredient is spinetoram, which received a 2008 Presidential Green Chemistry award for low environmental impact on the agricultural industry. "I've been using this now for going on two years and [it] has totally eliminated my cat's flea problems," one five-star pet parent wrote. "She no longer gets fleas from going outdoors in the Southern California desert-type climate where fleas flourish."
In just six hours, your cat will be free from fleas with Catego's fast-acting formula. From there, Catego lasts 30 days and actively kills fleas, ticks and chewing lice, as well as flea eggs and larvae, and the formula is non-greasy and easy to apply. "The procedure could not be simpler," one pet parent wrote. "Literally within 10 minutes fleas were abandoning the kitten like rats on a sinking ship. Unfortunately I became their temporary new home, but that's another story."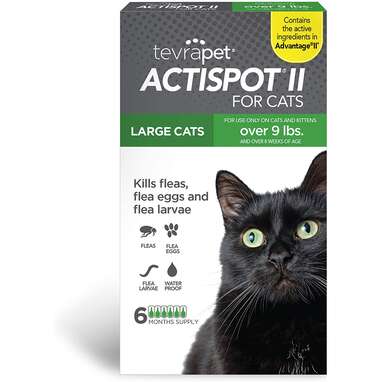 TevraPet's Actispot II contains six months' worth of flea and tick prevention for cats in one pack, and kills fleas and ticks on contact — no biting necessary. "To be completely honest, I didn't really expect this to work all that well," one cat parent wrote. "It's been two days, and I haven't combed a single flea off of her. Better yet, she's acting like herself again." Over 4,200 cat people say that TevraPet cured their flea problem.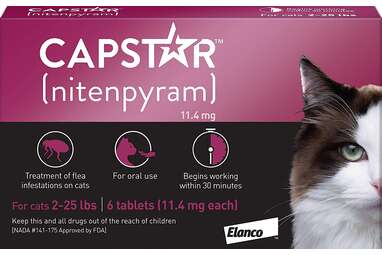 Capstar's oral cat flea treatment starts working 30 minutes after ingestion and rids 90 percent of your cat's flea infestation within six hours. It's safe to use daily if reinfestation occurs, and over 12,200 pet parents love how fast it works. "After battling fleas for over a month with no relief, this was magic," one cat parent wrote. "I tried everything — topical flea meds, diatomaceous earth rubbed into both the carpet and the cat's fur, flea bombs, flea combing, Dawn soap baths, and nothing worked. I crushed up one pill of Capstar for each cat and put it in their wet food … The fleas were literally dropping off the cats!! I'm finally flea free and could nearly cry with joy."
This 4.4-star rated oral cat flea treatment starts killing fleas on your cat within 30 minutes after she ingests a single tablet. And if reinfestation occurs, CapAction is safe enough to use on a daily basis to keep fleas and ticks at bay. "Finally after a lot of money and two years of fleas I found my miracle!!" one cat parent wrote. "CapAction works within 30 minutes. Now these two cats of mine think they are baby kittens running all around, not scratching every two seconds."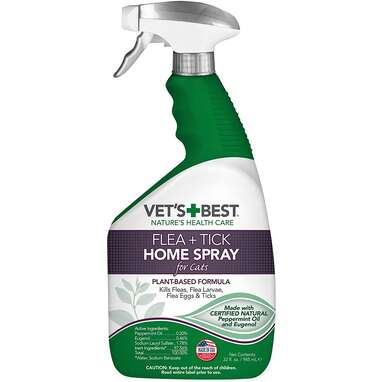 This plant-powered home spray from Vet's Best is formulated for cat households, and banishes fleas and ticks without using harsh chemicals. You can spray it on furniture, cat bedding, carpets and even directly on your cat. More than 6,700 five-star reviewers say this natural alternative actually works, with one cat parent saying, "Amazing, this really works … and we haven't had a recurrence since we used it. Love the stuff. Thank you!"