We independently pick all the products we recommend because we love them and think you will too. If you buy a product from a link on our site, we may earn a commission.
Now that you've brought home your new kitten, you want to make sure you're setting her up for success in life — and helping her become a strong, healthy cat begins with feeding her the right food.
There are so many nutritious kitten foods out there, including some great Amazon kitten foods you can get delivered right to your door. And according to pet parents who have tried the recipes below, both you and your kitten will be super excited when it's dinner time.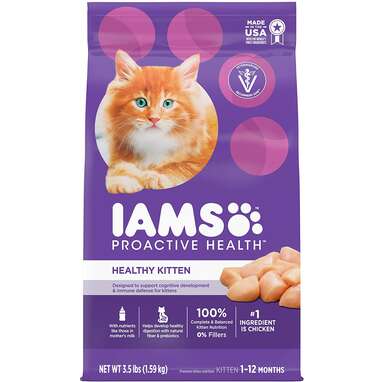 Available in both dry kibble and wet food, the IAMS Proactive Health formula contains nutrients like those found in mother's milk and helps develop healthy digestion with fiber and prebiotics. It's a great food for kittens 1 to 12 months old, and over 8,700 pet parents have rated this kitten food five stars. "I grabbed this ONE time at Walmart to get me through the night until I could go get more 'good food' and now this is ALL they will eat," one wrote. "They will cry 'til I get more."
High in protein, the Purina ONE kitten food on Amazon helps your cat build strong muscles, improve her coat and maintain her energy and a healthy immune system. Plus, this kibble is easy to digest and promotes vision and brain development as she grows up. "I picked up my kitty two weeks ago and since then I've been feeding him this food and wow!!!" one pet parent wrote. "His fur is so soft and shiny!"
Purina's Fancy Feast kitten food has "exceptional taste" and is "delightfully smooth," according to the Amazon listing. It's made with real milk and is formulated with ingredients to suit the needs of growing kittens. Each pack contains 24 cans of wet food in the flavor of your choosing.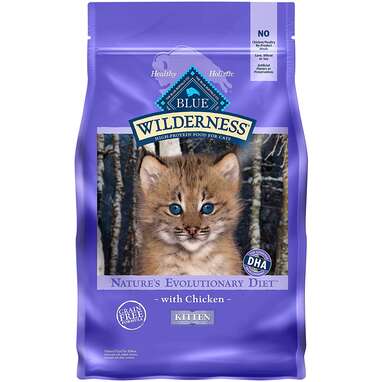 The Blue Buffalo Wilderness kitten food on Amazon is made with essential vitamins, antioxidant-rich ingredients and vital minerals that work to support a health immune system. This kibble is crafted with all-natural ingredients and fatty acids, like DHA and AHA, to support cognitive development. "If you love your kitties … it's a must," one five-star reviewer wrote. "Our hellions are about 7 months old, and are not only more energetic, but have great muscle tone, and even seem to be more intelligent/responsive to us than cats we have had in the past."
This variety pack of wet Pro Plan kitten food from Purina has been specially formulated for kittens in their first year of life and contains DHA, found in mother's milk, which helps build strong vision and promotes healthy brain development. The "kitten favorites" variety contains 32 cans of tasty pate and flaked wet food.
Hill's Science Diet kitten kibble contains fish-oil-derived DHA for brain health, high-quality protein for muscle development and important minerals kittens need to build strong, healthy bones. This Amazon kitten food is made in the USA using all-natural ingredients, and over 4,500 pet parents have rated this food five stars.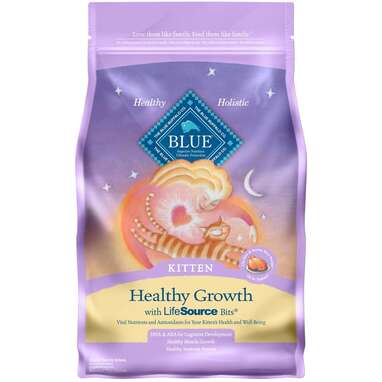 The Healthy Growth kitten formula from Blue Buffalo contains the brand's "LifeSource" bits packed with DHA, AHA and nutritious vitamins and minerals. This kitten food is made with healthy, natural fruits and vegetables and high-quality protein to help her build muscle tone. "After feeding my cat this food for two months, I've noticed his breath has gotten better and his coat is softer and shinier," one self-proclaimed "crazy cat lady" wrote. "They love it."
Purina's Kitten Chow is packed with DHA and other essential nutrients found in mother's milk to promote overall healthy development in the first year of your kitten's life. "I acquired a 6-week-old kitten that my neighbor found in her garage in mid-July. I've trusted Purina when I had dogs and so I got Purina Kitten Chow for Copper. She eats it up!!" one pet parent wrote. "My veterinarian says she is gaining weight appropriately and seems very healthy."