We independently pick all the products we recommend because we love them and think you will too. If you buy a product from a link on our site, we may earn a commission.
Should the worst happen and your dog makes a break for it, you want to make sure you can bring him back home ASAP. While all dogs should be microchipped, there are also plenty of GPS collars and attachable dog collar trackers that can help you track down your pet much sooner using an app on your smartphone.
But you might be overwhelmed trying to figure out which option to trust, especially since some of them can be pretty pricey. So after reading the reviews, The Dodo found the best GPS dog collars and trackers on Amazon. Most are affordable and easy to use, according to pet parents who've tried them, and all are guaranteed to give you peace of mind.

The waterproof GPS dog tracker from Tractive attaches to your dog's existing collar and tracks your dog in real time and reports to an app on your phone. You can set up virtual boundaries and receive alerts when those boundaries are crossed, and when in "LIVE" mode, you can receive location updates every two to three seconds.
With a 4.8-star rating on Amazon, this GPS dog collar from Dogtra is a win according to pet parents. Use the collar's GPS tracking with Google Maps on your phone to see where your dog is within a nine-mile radius. It also doesn't require cellular data to use.
AT&T users can download the Whistle Go app and begin tracking their dog using Google Maps as soon as he puts on the collar. You can set up notifications to receive alerts if your dog leaves a designated area, and track him up to 3,000 miles away. Plus, the device provides you with health and nutrition information about your dog, and monitors activities like licking and scratching that may point to skin issues or parasites.
The Tile GPS tracker is awesome for finding things like your car keys and wallet, but it can also be attached to your dog's collar like an ID tag. You can use the Tile app to locate your dog within a 400-foot radius, and it will ping until you locate him. Pet parents have said it works just as well as GPS trackers made specifically for dogs. "I take my dog for regular off-leash runs/walks," one pet parent wrote. "The Tile Pro tracks and finds things, including your dog … Because the Tile Pro has a nice loud sound and tracks a good distance, I think it's going to come in handy when he surprises me and chases something into the bushes."
The Samsung Galaxy SmartTag GPS tracker can be attached to your dog's ID tag, and Galaxy smartphone users can use it to keep track of their dogs' whereabouts within 130 yards. "If you have a Samsung device and a dog," one pet parent wrote, "this is something you need. The battery lasts [a very long time]. It closely monitors your dog's location. It's just what I need for my dog instead of spending $100+ for a GPS device."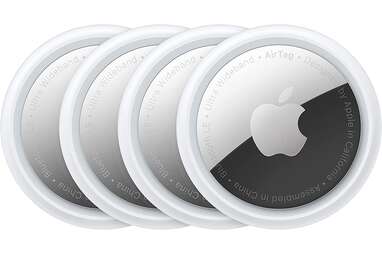 Apple's GPS tracker can be used with this collar attachment from CLZYLRS on Amazon to track your dog's location. You can track your dog using your iPad or iPhone, and the Air Tag will make a beeping noise until your dog is found. "Add one of the number of options for attaching the AirTag to your dog's collar, and you have a nearly perfect way to keep track of your dog," one five-star reviewer wrote. "It may not have been designed for this, but it works beautifully."
Track your pup in real time when you attach this Tracki GPS tracker to his collar. The super small and lightweight tracker has a rechargeable battery and is outfitted in a waterproof cover. You can pay a monthly fee to use Tracki, and it will connect to GPS satellites and Wi-Fi depending on your location to make sure you know where your dog is at all times.