We independently pick all the products we recommend because we love them and think you will too. If you buy a product from a link on our site, we may earn a commission.
If you've decided to take on the task of grooming your dog at home, you might be overwhelmed trying to find a great dog shampoo. There are so many excellent options out there, but The Dodo narrowed down the absolute best dog shampoos on Amazon to make the at-home bathing process stress-free.
Whether you're looking to treat irritated, itchy skin, deodorize or just gently clean away dirt and grime, there's a shampoo on this list that will work great for you and your dog.
With active ingredients like coal tar, salicylic acid and micronized sulfur, this Veterinary Formula Clinical Care antiseptic and antiseborrheic shampoo treats and heals skin scaling and parasitic infections.It has over 29,300 five-star reviews, with pet parents saying it's healed various skin conditions, including persistent dandruff.
This tearless shampoo and conditioner combo from Burt's Bees cleanses, soothes and softens your dog's skin and coat with all-natural ingredients like buttermilk and linseed oil. Its mild formula is safe for dogs of all ages, and over 11,700 pet parents have rated this shampoo five stars.
TropiClean's shampoo-and-conditioner formula is pH-balanced and free from harsh dyes and chemicals. It's soap-free, meaning it won't irritate and dry out your dog's skin, and when he's all dry, your pup will smell like papaya and coconut.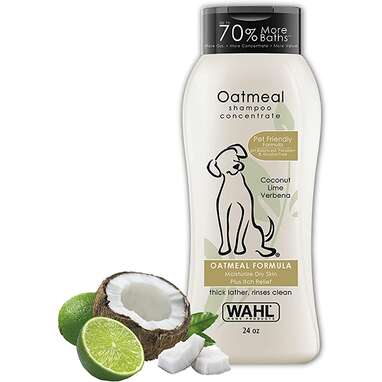 This alcohol-free dog shampoo on Amazon from Wahl offers a thick, moisturizing lather that allows you to use less shampoo per bath. "The best dog shampoo by far!!" one five-star reviewer wrote. "[My] pit bull has very sensitive skin and she gets hives with the four other shampoos I tried. This worked, no more problems. SMELLS AWESOME!!!!! And the smell lasts much longer than any other shampoo!"
If your dog's hair is everywhere and anywhere, try the FURminator deShedding shampoo formula, enriched with omega-3 and fatty acids, calendula extract and papaya leaf extract. Use monthly for best results.
This five-in-one shampoo and conditioner from Pro Pet Works contains vitamins A, D, E and B12, aloe vera gel, almond oil and oatmeal, which work together to restore your dog's natural oils and relieve dry, itchy skin. "My dog was itching a lot, so I did some research and found this," one pet parent wrote. "There was no overpowering perfume smell, [and] not even wet dog smell. The shampoo rinsed out really easy (usually takes a lot of rinsing), and his coat dried really fast … I'm glad I found this."
The Curaseb medicated shampoo is anti-yeast, antibacterial and antifungal, making it great for dogs who suffer from skin infections like hot spots or allergy-caused skin issues. This formula also deodorizes, so your dog will feel and smell a lot better.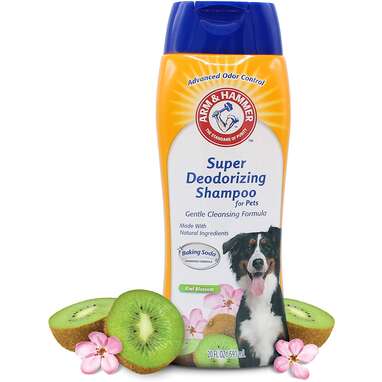 Using the deodorizing power of baking soda, the Arm & Hammer deodorizing dog shampoo means business. It eliminates stink while leaving behind a fresh scent of kiwi blossom. Plus, it's pH-balanced with dogs in mind, so it leaves their skin feeling great and itch-free.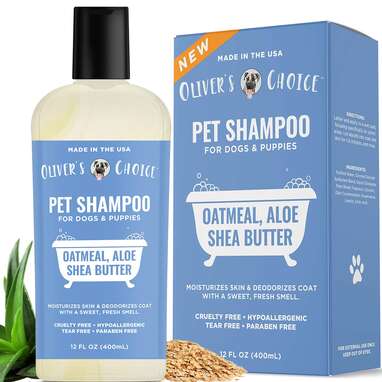 Oatmeal and aloe tag-team to relieve dry, stinky skin in the Oliver's Choice dog shampoo on Amazon. It works great for all different types of coats, is paraben- and cruelty-free, and is 100 percent biodegradable, making it an awesome natural option.
Formulated with Dead Sea minerals, the all-natural Arava medicated dog shampoo treats and heals skin conditions, scrapes, abrasions and more. It uses 28 active ingredients, including antibacterial, antifungal and anti-yeast botanical oils to help banish bacteria and fungi that your dog may pick up in his travels.
This lavender-and-mint-scented dog shampoo from Buddy Wash cleans and moisturizes with natural oils and extracts, including lavender, mint, sage and tea tree oil. It's a gentle cleanser that leaves behind a soft scent that will make you want to hug your dog all day long.
The Moosh natural dog shampoo on Amazon is 100 percent natural and organic, and uses Bentonite clay, argan oil, shea butter and aloe vera to soothe skin irritations and moisturize. This formula is super concentrated, so a little goes a long way, and each bottle will last you for tons of baths to come.