The Best Dog Products On Amazon
Because your pup deserves nothing but the best.
The dog parents of the internet have spoken. These Amazon products are the highest-rated, best-loved and most-raved-about items pup parents should have in their arsenal (if they don't already).
The Dodo compiled a list of the top 10 best-sellers in the dog supplies category that pet parents swear by. From a favorite dog toothpaste, to the best-of-the-best undercoat rake, to supplements, poop bags and more, you, too, will soon be leaving a five-star review urging others to hop on the bandwagon.
When you're done playing, adventuring and cuddling with your pup, you'll definitely want to have ChomChom's Roller on hand. This lint roller has over 55,000 five-star reviews because it picks up dog and cat hair like nobody's business. "I've had it in my possession for like two hours and I've cleaned everything," one customer wrote. "The couch, the blinds, the cat tree pad, the chair. I'm obsessed. I feel like this thing should win an award for being so awesome."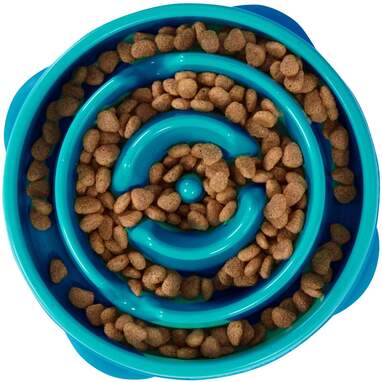 If you've got a fast eater on your hands, it's time to give her a Slo Bowl from Outward Hound. This labyrinth-shaped dog bowl slows down your pup's eating, which helps her to digest her meals more effectively. Over 40,000 dog parents swear by the bowl (even though some of their impatient dogs are less than pleased with it). Bye bye bloating, gas and post-meal vomiting!
Using the all-natural power of hemp and chamomile, these calming treats from Premium Care are the key to keeping dogs settled during fireworks, road trips, bad weather or any other stressful event. "This stuff is not a miracle worker. He didn't turn into a perfect pooch overnight," one five-star pet parent wrote. "But it does give him noticeable relief (wildly understated) without knocking him out."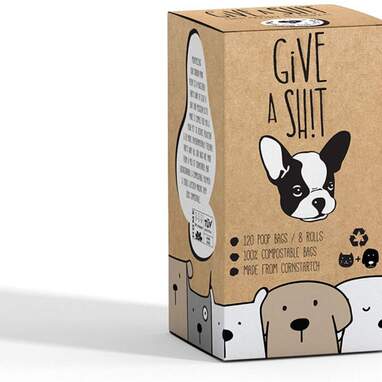 With such a hilarious name, these 100 percent biodegradable poop bags are hard to dislike. The cardboard box they come in and the inner paper rolls are made with recycled materials, and the bags themselves are made from cornstarch. One five-star reviewer wrote that these bags are the "best ones I have used *by far* in my quest for eco-friendly dog poop bags."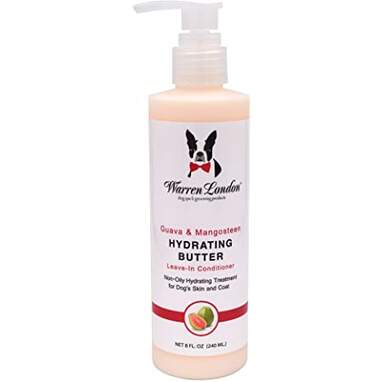 If your dog suffers from dry skin, try rubbing this leave-in conditioner on her coat to moisturize and improve her fur — you can apply the Warren London hydrating butter onto her wet fur after bathtime and let it air dry. It's non-oily and "smells fabulous," as one of the 3,900 five-star customers wrote.
This veterinarian-formulated toothpaste is made with safe and gentle ingredients like neem oil, aloe, grapefruit seed extract and baking soda, all of which work together to break down tartar, freshen breath and soothe irritated gums. It's a favorite toothpaste among dog parents, with one writing, "This product saved our Yorkie's remaining seven teeth. I had used other products prior to finding this one. I'm so thankful to have found it. Our Yorkie lived until she was 17 without losing one more tooth."
Both you and your dog will be in for a treat when the BarkBox monthly subscription box arrives on your doorstep every month. You can choose a subscription service based on the size of your pup, and BarkBox will gift her surprise toys and treats every month. "We love the themes!" one five-star customer wrote. "The toys are top quality! Highly recommend these for your whole family entertainment!!"
The snuffle mat is designed to "sniff train" your dog to promote mental and physical health. You can hide treats among the felt cloth tabs and let her get to work. "I wanted an interactive treat game that wouldn't be too difficult for a 15-year-old dog that's basically the furball version of a crotchety old man," one five-star customer wrote. "BINGO, by the time I blinked, my dog was face deep in this toy making snorting noises and rifling through the green things in search of food." Just make sure to supervise your dog, the reviewer adds, especially if she's the type to try to eat the green felt leaves.
The Pet Neat grooming brush promises to remove 95 percent of your dog's dead hair and tangles in just 10 minutes. It features a stainless steel safety blade that desheds and removes your dog's pesky undercoat. And according to nearly 31,000 pup parents, it's the best dog brush on the market.
These immune support chews offer your dog relief from her seasonal allergy symptoms. Made with natural ingredients like colostrum — a pre-milk that helps with allergies, immune function and digestion — apple cider vinegar, organic licorice root and wild Alaskan salmon, these bites are as tasty as they are effective. And pet parents report noticing a big difference in their pups' itchy skin after they begin taking these daily chews.