These Are Best Dog Carriers On Amazon
Yes, there is a safe dog basket for your bike!
We independently pick all the products we recommend because we love them and think you will too. If you buy a product from a link on our site, we may earn a commission.
Finding the perfect dog carrier for you and your pup is necessary for vet trips, car rides and traveling. But with so many options out there, the search for the right carrier can be a bit overwhelming.
No matter what design, shape or style you're looking for, The Dodo rounded up the best dog carriers on Amazon that will suit any pet parent's needs. From a stylish carrier that looks like a designer purse to a carrier that rolls on wheels, you'll find the one you've been searching for. Here are the best dog carriers that real pet parents can't stop raving about.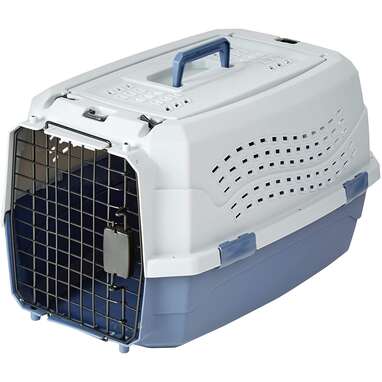 Keep it simple with the Amazon Basics hard-sided pet carrier that features two doors, including one top-loading door to make getting your dog in and out easier than ever. And like traditional hard-sided cases, the top unlatches from the bottom so you can give the carrier a clean if needed.
Over 18,500 pet parents have given the Henkelion pet carrier a five-star rating due to it's high-quality materials, multiple storage pockets and zip-close doors. "This is the perfect size for a small dog that travels on a plane," one pet parent wrote. "Will fit under most seats and is comfortable for the dog and easy to carry. The price is better than any I could find in stores."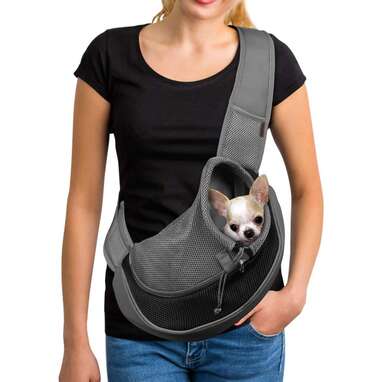 If traditional pet carriers haven't worked for you and your small dog, try a sling carrier instead. This one from YUDODO comes with an adjustable neck hole for your dog and a durable cushioned strap, and features a hook that can be secured to your dog's harness to make sure he's as safe as possible.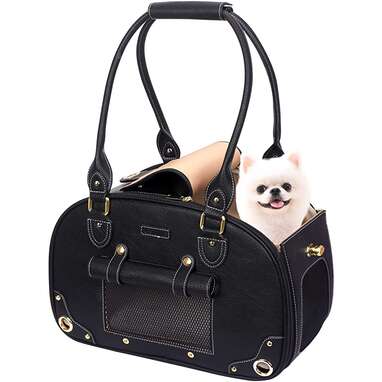 If you're on the hunt for a stylish dog carrier on Amazon, this one from PetsHome is a classy purse design that looks way more expensive than it is. You can pick up this gold-studded carrier in a variety of different colors — including some models that come with wheels — and each comes with a fixed leash attached to the inside that makes sure your pup stays in place when on the go.
The Amazon Basics soft-sided pet carrier is wall-to-wall mesh and can be opened at the top and at the side. It comes with a faux-sherpa mat for a bit of added comfort, and the sturdy strap is fully adjustable. Plus, as several pet parents pointed out in the reviews, it's the perfect carrier for air travel.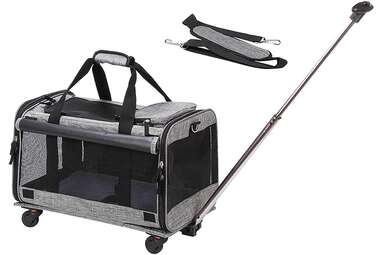 If your small dog is a bit on the hefty side, you might enjoy the Coopeter dog carrier on Amazon that comes with four wheels and a telescoping handle. Just like a suitcase or a standard wagon, you can easily pull your pup behind you rather than tote him in a bag over your shoulder. And the sides of the carrier zip open to reveal a spacious mesh area for your dog to stretch out in.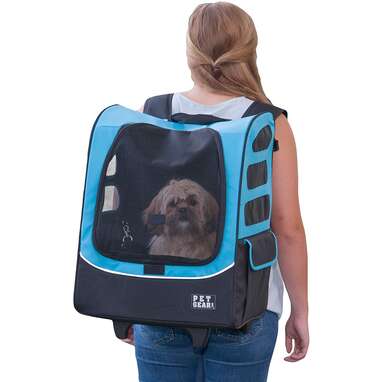 Similarly, the PetGear roller backpack offers a back-saving alternative to the classic pet carrier. Available in three sizes, the roller backpack can be worn or wheeled behind you like a suitcase thanks to the two wheels on the back. "Our dog is roughly the size of a cocker spaniel and fit very nicely into this carrier," one five-star reviewer wrote. "The wheels and retractable handle make it far easier to bring our pet on train trips."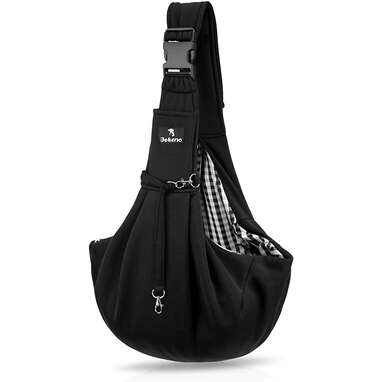 The Jeneko small dog sling can hold up to 10 pounds and is 100 percent reversible. It comes with a safety latch for your dog's harness and buttons closed to keep your dog tucked inside. Plus, the cozy cotton material is breathable and machine washable.
Another great backpack dog carrier on Amazon is the Apollo Walker backpack that zips open in four different places. It features two side pockets and breathable mesh sides, and has a buckle that snaps closed around your waist for added support.
"Absolutely the best bag I own!" one pet parent wrote about the Katziela pet carrier with removable wheels. "I am a flight nanny and it's my go-to bag for most of the pups I transport … I am also a flight attendant and can tell you that it is airline approved, and even though it looks large, once it's removed from the wheelbase, it fits in even the smallest under seat space with ease." It's the perfect bag to use for airline travel and makes simple trips to the vets so much less stressful.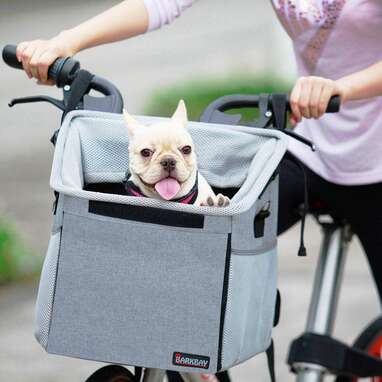 If your only mode of transportation is your bike — there's a dog carrier for you, too! This bike dog carrier from BARKBAY attaches to your handlebars and features an adjustable neck hole to ensure your pup doesn't jump out. Once you're at your destination, just slip on the adjustable shoulder strap to take the carrier with you.